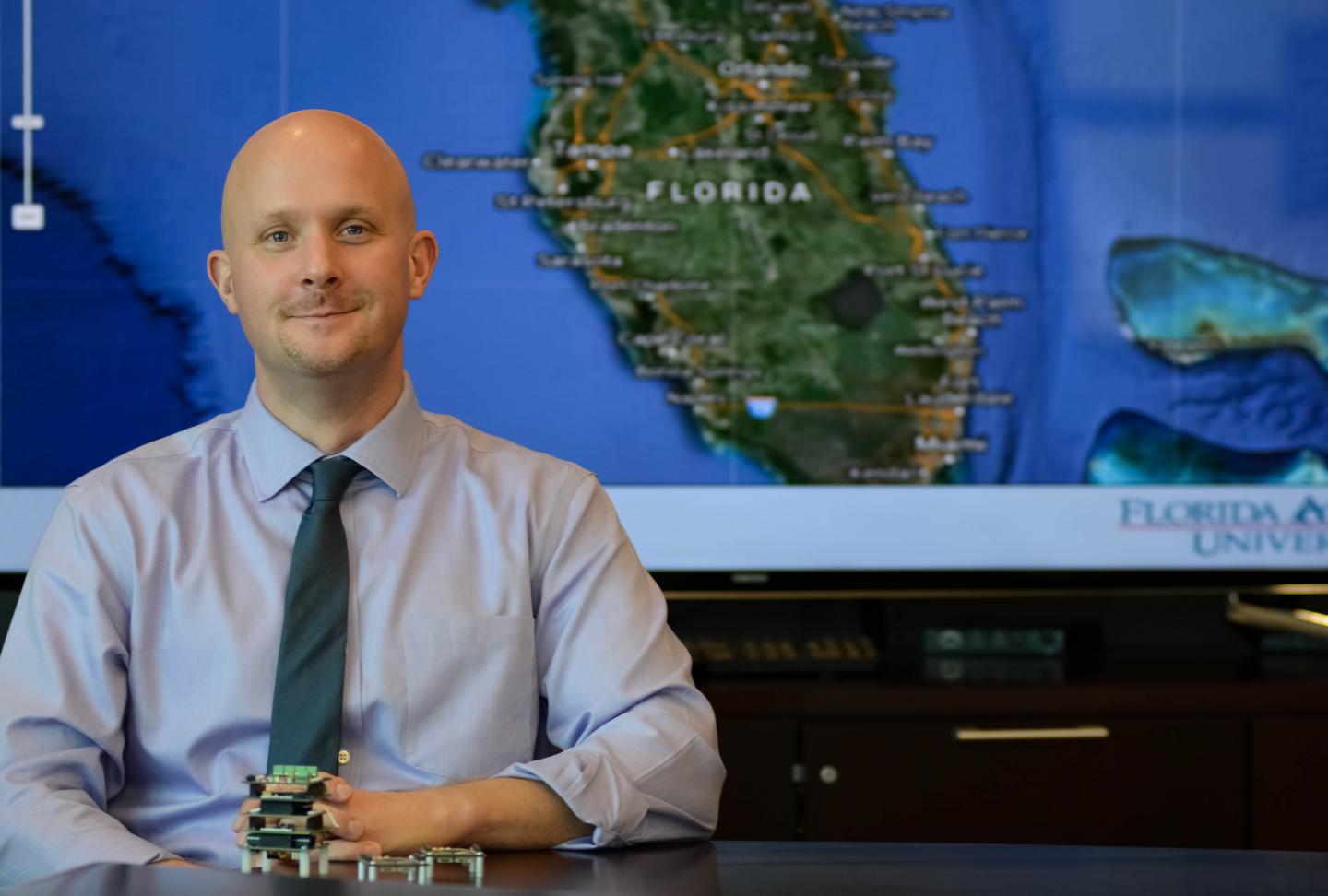 Florida Atlantic University has received a $500,000, two-year grant from the National Science Foundation (NSF) to install networking infrastructure to amplify its ability to conduct data-intensive science and engineering research. The network design, referred to as a DMZ, isolates research traffic from other university network operations to achieve high performance. The network will provide faculty and students with a tenfold increase in capacity.
The DMZ will span the Boca Raton, Jupiter, and Harbor Branch campuses, as well as Scripps Florida and the Max Planck Florida Institute for Neuroscience. The DMZ will link all five sites to computation and storage facilities provided through the Sunshine State Education and Research Computing Alliance (SSERCA) via the University's existing link to the Florida Lambda Rail. The DMZ makes it possible for FAU to contribute to and benefit from growing computational and networking capacity across the state.
"This project is exciting because of its potential to catalyze work across so many disciplines. Securing the award required strong partnerships across FAU's colleges and institutes, and the outstanding leadership of our Office of Information Technology. FAU is a place that understands the importance of collaborative research," said Jason Hallstrom, Ph.D., principal investigator, director of FAU's I-SENSE, and a professor in the Department of Computer and Electrical Engineering and Computer Science at FAU. "The investment will provide the infrastructure necessary for FAU to maintain its trajectory as the fastest growing research university in the country."
By separating its research network from its academic and administrative infrastructure, FAU's DMZ will support congestion-free network transfers among researchers working across multiple campuses in an increasingly data-intensive research environment. Participating researchers span disciplines, including computer science, civil engineering, mechanical engineering, medicine, chemistry, genomics, ocean engineering, and marine science; in areas that include big data research and training, transportation logistics, nanomaterials, biomarker analysis, computational chemistry, marine mammal classification, and undersea communication.
The DMZ will enable geographically distant colleagues to collaborate more effectively.
"Researchers working on marine compounds for cancer treatment will have the ability to exchange datasets with colleagues at Scripps Florida, as though the two groups were working in the same office," said Hallstrom. "Collaboration latency will be dramatically reduced, enabling researchers working across campuses to leverage the collective strength of the institution."
In 2015, FAU's Office of Information Technology developed a five-year "Campus Cyberinfrastructure Plan" to enhance IT infrastructure across FAU's campuses to support the University's ambition to become a top-tier research institution.
"The DMZ is part of our overall IT strategy to provide the experience and technology to support innovative scientific research and cutting-edge education across Florida Atlantic University's campuses," said Jason Ball, associate provost for information technology and chief information officer at FAU.
According to Daniel C. Flynn, Ph.D., FAU vice president for research, "faculty, researchers and students at Florida Atlantic University will now have the benefit of enhanced data intensive science and engineering as a result of the DMZ. This also will foster both research and education by applying data-intensive technologies to address issues that are of national interest in the biological and physical sciences as well as engineering."
###
About Florida Atlantic University:
Florida Atlantic University, established in 1961, officially opened its doors in 1964 as the fifth public university in Florida. Today, the University, with an annual economic impact of $6.3 billion, serves more than 30,000 undergraduate and graduate students at sites throughout its six-county service region in southeast Florida. FAU's world-class teaching and research faculty serves students through 10 colleges: the Dorothy F. Schmidt College of Arts and Letters, the College of Business, the College for Design and Social Inquiry, the College of Education, the College of Engineering and Computer Science, the Graduate College, the Harriet L. Wilkes Honors College, the Charles E. Schmidt College of Medicine, the Christine E. Lynn College of Nursing and the Charles E. Schmidt College of Science. FAU is ranked as a High Research Activity institution by the Carnegie Foundation for the Advancement of Teaching. The University is placing special focus on the rapid development of critical areas that form the basis of its strategic plan: Healthy aging, biotech, coastal and marine issues, neuroscience, regenerative medicine, informatics, lifespan and the environment. These areas provide opportunities for faculty and students to build upon FAU's existing strengths in research and scholarship. For more information, visit http://www.fau.edu.
---