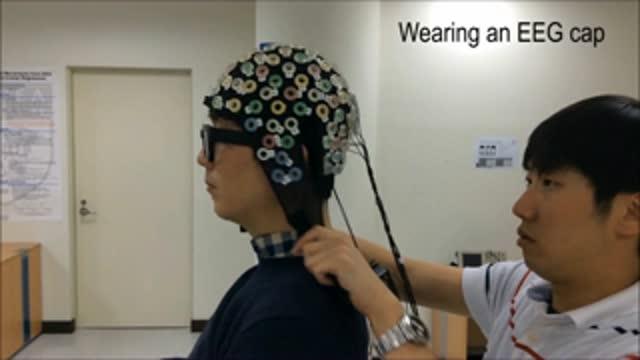 Scientists working at Korea University, Korea, and TU Berlin, Germany have developed a brain-computer control interface for a lower limb exoskeleton by decoding specific signals from within the user's brain.
Using an electroencephalogram (EEG) cap, the system allows users to move forwards, turn left and right, sit and stand simply by staring at one of five flickering light emitting diodes (LEDs).
The results are published today (Tuesday 18th August) in the Journal of Neural Engineering.
Each of the five LEDs flickers at a different frequency, and when the user focusses their attention on a specific LED this frequency is reflected within the EEG readout. This signal is identified and used to control the exoskeleton.
A key problem has been separating these precise brain signals from those associated with other brain activity, and the highly artificial signals generated by the exoskeleton.
"Exoskeletons create lots of electrical 'noise'" explains Klaus Muller, an author on the paper. "The EEG signal gets buried under all this noise - but our system is able to separate not only the EEG signal, but the frequency of the flickering LED within this signal."
Although the paper reports tests on healthy individuals, the system has the potential to aid sick or disabled people.
"People with amyotrophic lateral sclerosis (ALS) [motor neuron disease], or high spinal cord injuries face difficulties communicating or using their limbs" continues Muller. "Decoding what they intend from their brain signals could offer means to communicate and walk again."
The control system could serve as a technically simple and feasible add-on to other devices, with EEG caps and hardware now emerging on the consumer market.
It only took volunteers a few minutes to be training how to operate the system. Because of the flickering LEDs they were carefully screened for epilepsy prior to taking part in the research. The researchers are now working to reduce the 'visual fatigue' associated with longer-term users of such systems.
"We were driven to assist disabled people, and our study shows that this brain control interface can easily and intuitively control an exoskeleton system - despite the highly challenging artefacts from the exoskeleton itself" concludes Muller.
###
Notes to Editors
A video of the device being tested is available:
Video (credit: © Korea University / TU Berlin)
The full paper, video, and an image can be downloaded here.

Contact
For further information, a full draft of the journal paper or contact with one of the researchers, contact IOP Senior Press Officer, Steve Pritchard: Tel: 0117 930 1032 E-mail: steve.pritchard@iop.org. For more information on how to use the embargoed material above, please refer to our embargo policy.
Enquires in German language should be made to Stephanie Terp, Press Officer, TU Berlin - steffi.terp@tu-berlin.de.

IOP Publishing Journalist Area
The IOP Publishing Journalist Area gives journalists access to embargoed press releases, advanced copies of papers, supplementary images and videos
Login details also give free access to IOPscience, IOP Publishing's journal platform. To apply for a free subscription to this service, please email the IOP Publishing Press team at ioppublishing.press@iop.org, with your name, organisation, address and a preferred username.

A lower limb exoskeleton control system based on steady state visual evoked potentials
The published version of the paper 'A lower limb exoskeleton control system based on steady state visual evoked potentials' (J. Neural Eng. 12 056009) will be freely available online from Tuesday 18 August 2015. It will be available at http://iopscience.iop.org/1741-2560/12/5/056009.
Journal of Neural Engineering
Journal of Neural Engineering was created to help scientists, clinicians and engineers to understand, replace, repair and enhance the nervous system.

IOP Publishing
IOP Publishing provides publications through which leading-edge scientific research is distributed worldwide.
Beyond our traditional journals programme, we make high-value scientific information easily accessible through an ever-evolving portfolio of books, community websites, magazines, conference proceedings and a multitude of electronic services.
IOP Publishing is central to the Institute of Physics, a not-for-profit society. Any financial surplus earned by IOP Publishing goes to support science through the activities of the Institute.
Go to ioppublishing.org or follow us @IOPPublishing.

Access to Research
Access to Research is an initiative through which the UK public can gain free, walk-in access to a wide range of academic articles and research at their local library. This article is freely available through this initiative. For more information, go to http://www.accesstoresearch.org.uk.

The Institute of Physics
The Institute of Physics is a leading scientific society. We are a charitable organisation with a worldwide membership of more than 50,000, working together to advance physics education, research and application.
We engage with policymakers and the general public to develop awareness and understanding of the value of physics and, through IOP Publishing, we are world leaders in professional scientific communications.
In September 2013, we launched our first fundraising campaign. Our campaign, Opportunity Physics, offers you the chance to support the work that we do.
Visit us at http://www.iop.org or follow us on Twitter @physicsnews.
---
Journal
Journal of Neural Engineering