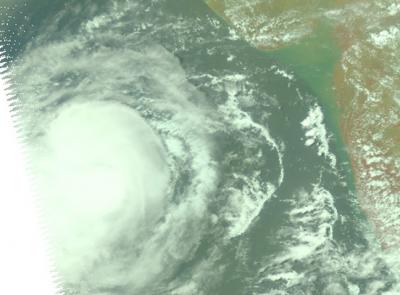 Tropical Cyclone 02A has consolidated and strengthened over a 24 hour period between June 10 and 11 and an image from NASA's Aqua satellite showed a more rounded tropical storm, despite wind shear.
As Tropical Cyclone 02A consolidated and strengthened into a tropical storm it was re-named Nanauk. NASA's Aqua satellite passed over Nanauk on June 11 at 08:29 UTC (4:29 a.m. EDT) and the Atmospheric Infrared Sounder (AIRS) captured an infrared and near-infrared image of the storm. The near-infrared image provided an almost visible look at the clouds that revealed a well-rounded tropical cyclone with good circulation. The infrared image showed that the storms that surrounded the center of circulation had very cold and high cloud tops. The AIRS images were created by NASA's Jet Propulsion Laboratory in Pasadena, California.
Animated enhanced infrared satellite imagery shows that a large area of strong convection and building thunderstorms has continued over the low-level circulation center. Nanauk is still being buffeted by moderate to strong easterly vertical wind shear (20 to 30 knots). The wind shear has pushed the strongest thunderstorms into the western quadrant of the storm.
By 1500 UTC (11 a.m. EDT) Tropical cyclone Nanauk's maximum sustained winds were near 55 knots. It was centered near 17.5 north latitude and 65.8 east longitude, about 452 nautical miles east-southeast of Masirah Island. Nanauk was moving to the west-northwest at 6 knots.
Forecasters at the Joint Typhoon Warning Center expect Nanauk to continue strengthening for another day and a half before running into higher wind shear and dry air as it approaches the Arabian Peninsula.
###
---