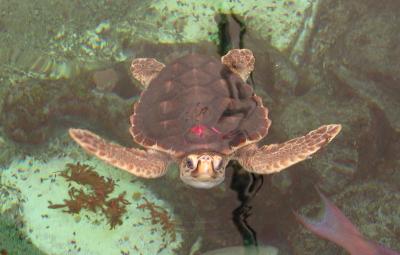 BOCA RATON, Fla. -- Thursday, November 6, 2008, Dr. Kirt Rusenko, Marine Conservationist, and staff from Gumbo Limbo Nature Center in Boca Raton will release two juvenile loggerhead sea turtles raised in captivity into the Indian River Lagoon near Sebastian Inlet.
The loggerheads, dubbed Milton and FeeBee, hatched on Boca Raton's beaches in July 2002 and were part of a sex ratio study conducted by Dr. Jeanette Wyneken of Florida Atlantic University. The gender of sea turtles is determined mostly by the temperature of the sand. Warmer temperatures produce more females, while cooler temperatures produce more males. The study aims to better learn how many males and females are born every year to more successfully determine the health of threatened sea turtle populations. The sex of sea turtles cannot be determined using obvious external characteristics until they are adults.
Milton and FeeBee, along with hundreds of other turtles were raised for 2-3 months until they weighed 4 ounces. Then, their gender was determined by examining internal characteristics using a laparoscope. After the study, Milton (male) and FeeBee (female) were raised at Gumbo Limbo Nature Center and became ambassadors for their species to the thousands of visitors who come to Gumbo Limbo each year. The Florida Fish and Wildlife Conservation Commission requires that once turtles reach a shell length of 18 inches they be released. The turtles, which have reached this size, will be released in the Indian River Lagoon because loggerhead turtles of this size are typically found in this body of water.
The pair of sea turtles will be satellite tagged by Dr. Kate Mansfield of the University of Miami's Rosenstiel School of Marine and Atmospheric Science. Captive-raised turtles are rarely satellite tagged, so this release will give scientists a unique opportunity to see if these turtles behave differently than wild turtles. It will also allow the general public to follow the paths of Milton and FeeBee on their journey in the Atlantic Ocean through the Gumbo Limbo Nature Center and its site www.gumbolimbo.org.
###
Gumbo Limbo Nature Center is an eco-education complex operated as a partnership between the City of Boca Raton, Gumbo Limbo Nature Center Inc., Florida Atlantic University, and the Palm Beach County School System. It is dedicated to preserving and sharing the unique South Florida coastal marine hammock and sea turtle conservation programs with school children, researchers, and the interested public.
Gumbo Limbo Nature Center Inc. is a non-profit 501(C) (3) organization dedicated to supporting the research, education and conservation efforts of the Gumbo Limbo Environmental Complex.
PHOTO OP: Thursday November 6 at 8:30 am, Dr. Kirt Rusenko and staff will be available with Milton and FeeBee at the Gumbo Limbo Nature Center. At 9:00 am, the group will travel to the release site, located along A1A approximately one mile south of Sebastian Inlet in Sebastian, Fla.
---