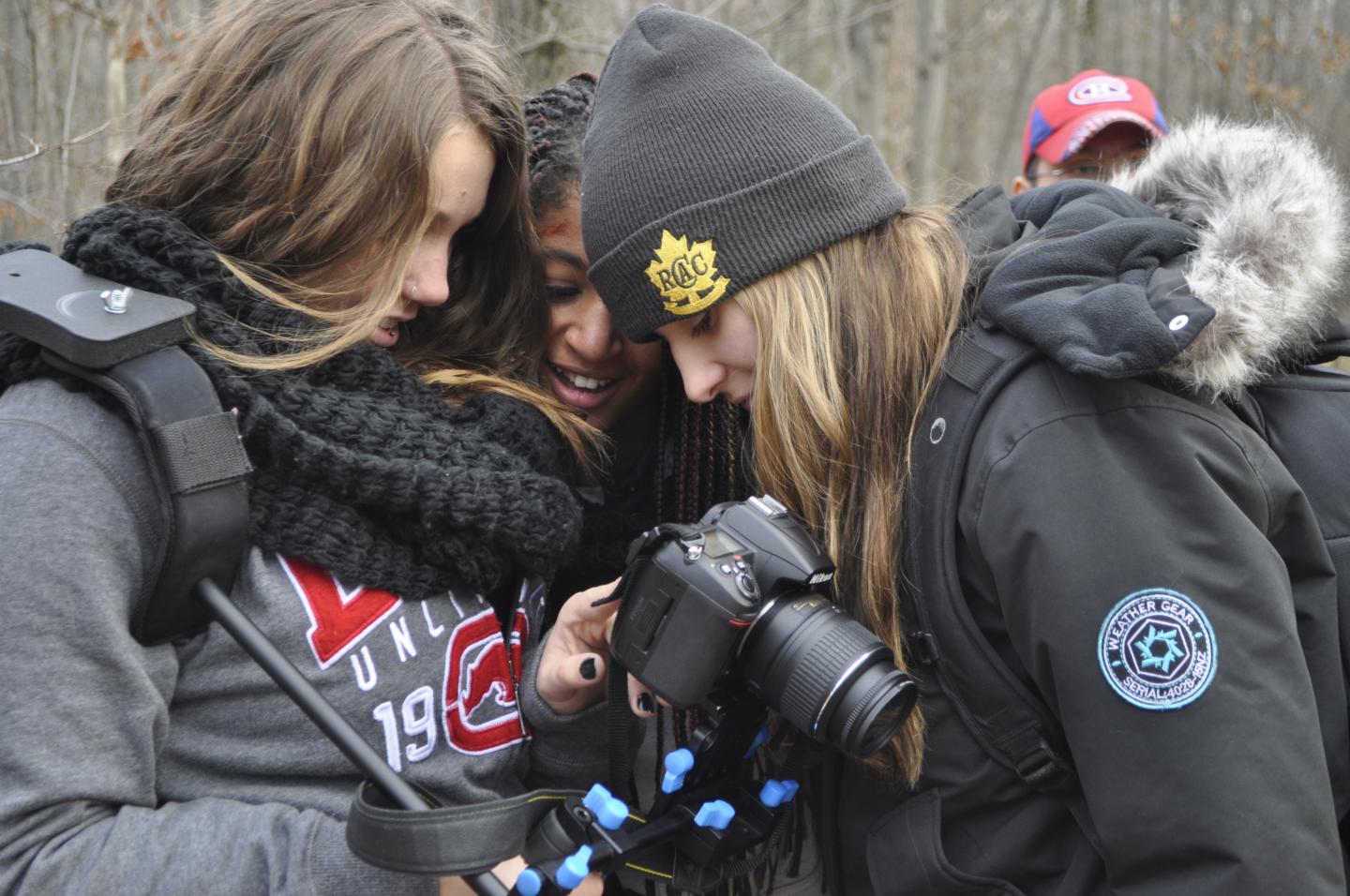 This news release is available in French.
Montreal, April 14, 2015 -- "No Facebooking in class!" is a refrain often heard by high school teens. But new research from Concordia proves that social media can be a powerful educational device -- especially when a student isn't doing so well to begin with.
In the new book Youth Practices in Digital Arts and New Media (Palgrave 2015), Juan Carlos Castro, co-editor and co-author along with Martin Lalonde investigate how an after-school program in Quebec is revolutionizing learning for at-risk youth by using social media as a teaching tool, rather than a classroom annoyance.
In their chapter, "Amplifying Youth Cultural Practices by Engaging and Developing Professional Identity through Social Media" art education researchers Castro and Lalonde engage with students and educators at Maison Kekpart, a Montreal-area community centre for at-risk youth.
The centre offers a unique program known as La Relève, which provides professional work experience for young people facing academic challenges. Students ranging in age from 13 to 17 participate in an internship in multimedia production, led not by traditional teachers, but by artists who themselves are active in those areas.
The goal: help kids become more engaged in their formal schooling by giving them the tools to use social media to build the professional, civic and social competencies that will guide them through their adult life.
"Young people today use social media not only to stay connected with their real-world friends, but also to engage in self-expression and identity formation," says Lalonde, who is currently pursuing his PhD in art education at Concordia, supported by a SSHRC Joseph-Armand Bombardier doctoral Scholarship, and is first author on the article.
"La Relève taps into that natural, social impulse and uses it to show participants that they can use those outlets to build professional skills."
Students work directly with artist-educators on projects related to sound design, digital imaging and video production, using tools like Facebook, Instagram and YouTube not only to express themselves, but also to develop professional multimedia skills. They work on projects related to selfies, mashups and memes -- social media phenomena that are already part of their day-to-day lives -- to bolster their technical skills and learn how to make professional calibre productions.
"This is more than an internship; it's an opportunity for at-risk youth to see the inherent value of education," says Castro, Lalonde's supervisor and an assistant professor of art education.
"Through La Relève, they learn skills that can help them express themselves more clearly, as well as land a job. At the same time, they start to actively understand that education can be useful to them, and that it can directly apply to their lives. That's an attitude that they then take back to their regular school settings."
For the researchers, as well as the educators at Maison Kekpart, it's a win-win proposition that could eventually be adapted to the traditional school system.
"Social media is an integral part of these kids' lives. By showing them that it can also be part of their educational and professional spheres, educators can help keep them interested in school. Ultimately, this can lead to better classroom engagement and fewer drop-outs. But it will be up to government agencies and school administrators to embrace and implement these ideas," says Lalonde.
###
Partners in research: This study was made possible thanks to the Citizens of Tomorrow project, funded by the Social Sciences and Humanities Research Council of Canada, and based at the University of British Columbia. The goal of Citizens of Tomorrow is to investigate marginalized Vancouver and Montreal urban youth's participation in community digitally mediated arts programs, and how their engagement with identity, culture, health and well-being is impacted. Juan Carlos Castro is a co-primary investigator on the project.
Related links:
Media contact:
Cléa Desjardins
Senior advisor, media relations
University Communications Services
Concordia University
Phone: 514-848-2424, ext. 5068
Email: clea.desjardins@concordia.ca
Web: http://www.concordia.ca/now/media-relations
Twitter: @CleaDesjardins
---