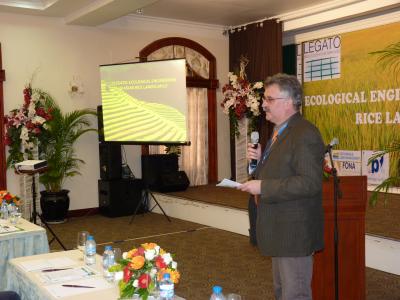 In a world facing the challenges of climate change, demographic boom and deficit in food resources, the word "sustainable" and the concept behind it become increasingly relevant. Sustainability in the way humanity uses available resources is key to a brighter and greener future.
In the context of sustainable food production, there is a clear need for crop productivity increases and diversification. Optimising rice ecosystem functions and services in Southeast Asia and their stabilisation under future land use and climate change, is the main focus of the project LEGATO 'Land-use intensity and Ecological Engineering – Assessment Tools for risks and Opportunities in irrigated rice based production systems'.
The 3rd annual LEGATO conference, which took place from 10 to 15 March 2014 in Ho Chi Minh City, Vietnam, addresses these pertinent issues of sustainable rice ecosystems in Southeast Asia. The conference aims at looking at various aspects of sustainable rice farming, the latest innovations in this area and their implementation in the socio-cultural, economic and ecological specifications of Southeast Asia, presenting results from LEGATO research and its implementation through the project's case studies.
One of the hot topics was silicon (Si) as a beneficial element for rice plants. A sufficient Si supply can enhance the strength and rigidity of rice plants, improve their resistance against pathogens, the efficiency of fertilizers, and prevent the uptake of toxic metals. Preliminary results reported at the conference showed that the studied rice fields in the Philippines are characterized by high content of plant-available Si, while in Vietnam the content is much lower. The supposed reason for the differences is that the release of Si by mineral weathering is larger in Philippine than in Vietnamese soils.
Variations in plant-available Si within regions might be due to management of rice straw, which comprises more than 70% of total plant Si uptake. Results of interviews with farmers carried out within the project confirmed that some farmers burn the straw after harvest and apply ash to the fields, and some farmers export part of the straw from fields. The export might deplete plant-available Si in soils.
Among the other topics discussed during the conference are the impact of rice management practices on biodiversity and its functional role in rice ecosystems, the natural ways for control of pests, the use of entertainment education in restoration of rice landscape biodiversity, pesticide use and abuse and many others.
Representatives from agricultural and other applied organisations of Thailand, Indonesia and Vietnam (such as the Vietnam Plant Protection Association, and the Thai Agro Business Association) also shared their valuable experience on some good and bad practices on land management and rice farming in SE Asia.
"We make use of the experience of a wide range of stakeholders, reaching from farmers to agricultural extension services, governmental bodies and scientists. We integrate this knowledge and use it as reference for the development of sustainable land use strategies and practices. Taking this integration very seriously is a very unique approach for research-based future sustainability of ecosystems and agricultural production" says the LEGATO coordinator Josef Settele of the Helmholtz Centre for Environmental Research – UFZ, Halle. Germany.
###
---