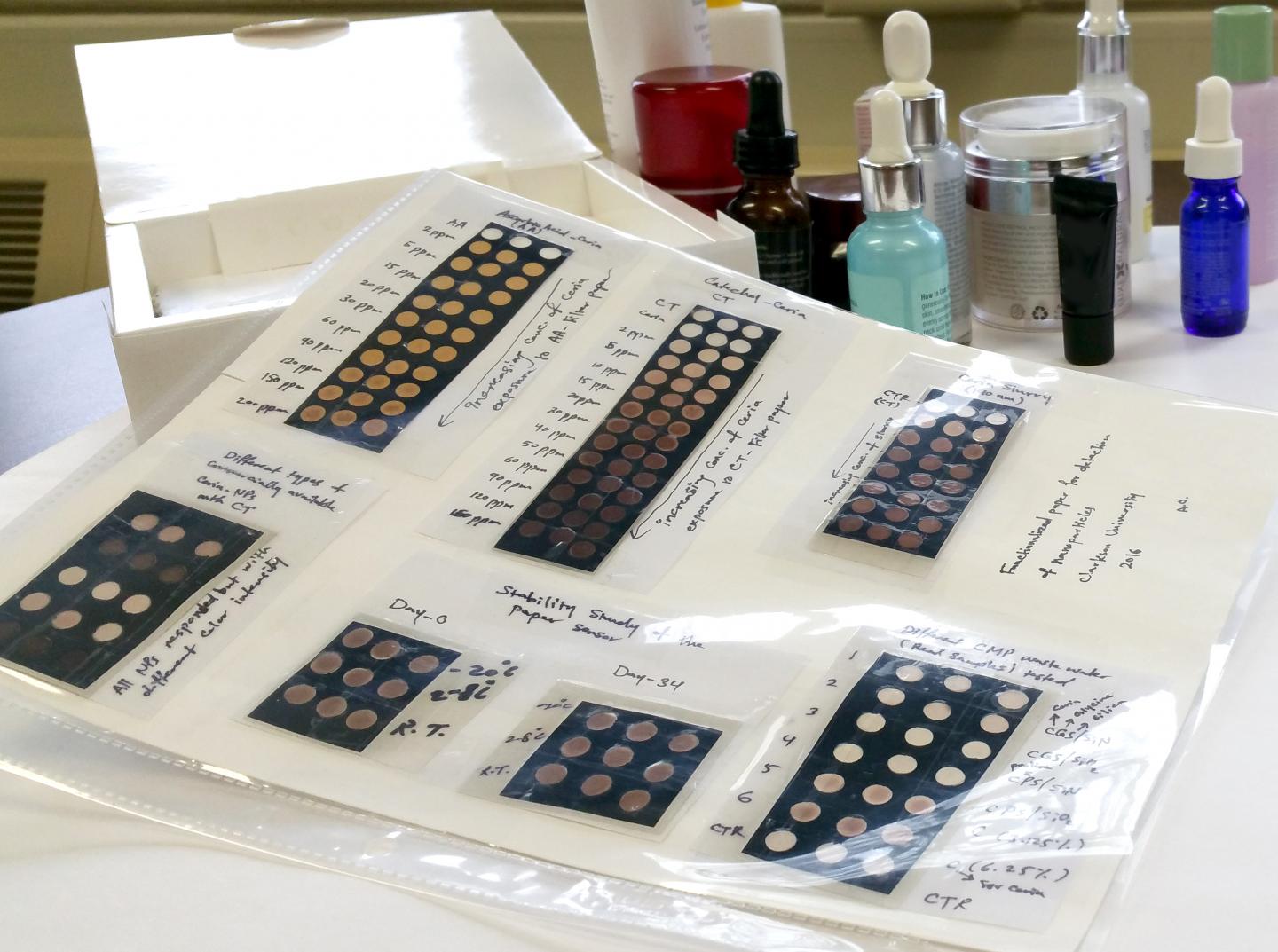 WASHINGTON, Aug.21, 2017 -- Detecting food and cosmetic spoilage and contamination. Identifying new medicinal plants in a remote jungle. Authenticating tea and wine. Scientists have developed a low-cost, portable, paper-based sensor that can potentially carry out all of these functions with easy-to-read results.
The researchers are presenting their results today at the 254th National Meeting & Exposition of the American Chemical Society (ACS). ACS, the world's largest scientific society, is holding the meeting here through Thursday. It features nearly 9,400 presentations on a wide range of science topics.
A brand-new video on the research is available at http://bit.ly/acssensors.
"I've always been interested in developing technologies that are accessible to both industry and the general population," Silvana Andreescu, Ph.D., says. "My lab has built a versatile sensing platform that incorporates all the needed reagents for detection in a piece of paper. At the same time, it is adaptable to different targets, including food contaminants, antioxidants and free radicals that indicate spoilage."
What sets Andreescu's sensors apart from others, she says, are the nanostructures they use to catch and bind to compounds they're looking for.
"Most people working on similar sensors use solutions that migrate on channels," Andreescu says. "We use stable, inorganic particles that are redox active. When they interact with the substances we want to detect, they change color, and the intensity of the change tells us how concentrated the analyte is."
Additionally, because all of the reagents needed to operate the device are incorporated in the paper, users don't need to add anything other than the sample being tested.
The potential applications are wide-ranging. For example, much of her sensor work thus far has focused on detecting antioxidants in tea and wine. Andreescu, who's at Clarkson University, and her colleagues have found that these products have unique antioxidant "fingerprints" that could be used for authentication purposes. The portable sensor could also be used by researchers exploring remote locations, such as the Amazon rainforest, in search of natural sources of antioxidants, she notes.
More recently, Andreescu extended her work to root out food contamination and environmental pollutants. One sensor prototype can spot ochratoxin A, a fungal toxin commonly found in a range of products, including cereals and coffee. She says this direction could be expanded further to look for salmonella and E. coli.
Now, her team is taking the work in yet another direction, developing paper-based devices that change color as cosmetics and food go bad. These sensors bind to the reactive oxygen species that products accumulate as they age and eventually spoil. Although testing for this application is still ongoing, Andreescu says this technology could one day be incorporated into smart labels that would tell consumers when to throw a product out.
###
A press conference on this topic will be held Monday, Aug. 21, at 2 p.m. Eastern time in the Walter E. Washington Convention Center. Reporters may check-in at the press center, Room 154A, or watch live on Youtube http://bit.ly/ACSLive_DC. To ask questions online, sign in with a Google account.
The fundamental work in Andreescu's lab that enabled the development of this technology was funded by the National Science Foundation.
The American Chemical Society, the world's largest scientific society, is a not-for-profit organization chartered by the U.S. Congress. ACS is a global leader in providing access to chemistry-related information and research through its multiple databases, peer-reviewed journals and scientific conferences. ACS does not conduct research, but publishes and publicizes peer-reviewed scientific studies. Its main offices are in Washington, D.C., and Columbus, Ohio.
To automatically receive press releases from the American Chemical Society, contact newsroom@acs.org.
Note to journalists: Please report that this research was presented at a meeting of the American Chemical Society.
Title
Easy-to-use, portable and inexpensive nano-engineered sensors for assessing food quality and safety
Abstract
The demand for inexpensive field portable devices that could respond to the today's needs for low cost and rapid detection with on-site measurement capabilities is growing. This presentation will discuss development, scalable manufacturing, analytical characterization and deployment of portable biosensors that incorporate functional nanoparticles, and their application for food monitoring and quality assurance. To fabricate the sensors, we use nanoparticles that have tunable redox activity, optical and catalytic properties and can transduce and catalytically amplify signals in chemical and biological detection schemes involving biomolecules. The modification of nanoparticles with biological receptors and adaptation of this technology to paper-based sensors will be described. The biofunctionalized surface reacts specifically and generates distinct optically or electrochemically detectable signals based on the chemical composition and concentration of active ingredients. A unique feature of these devices is the built-in detection mechanism with all the sensing components needed for analysis deposited onto the sensing platform that can function as an all-in-one bioanalytical device. These sensors have been interfaced with portable databases and user-friendly signal transduction methods, and have demonstrated excellent analytical performance when used in the field. The platform can be inexpensively produced in large quantities by printing; it can also be added to packaging and used as smart label during manufacturing, storage and use. Several prototype systems designed for food safety monitoring and authentication of active ingredients in cosmetic and food products will be discussed, with examples of applications. These sensors can be used by consumers, regulatory agencies or industry to check the quality, shelf life and origin of raw materials or products.
---