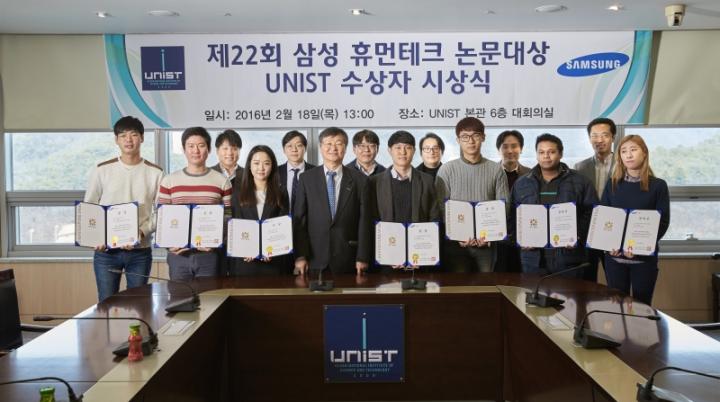 On February 18th, the award ceremony for the recipients of the 2016 Samsung HumanTech Paper (HTP) Award took place at Ulsan National Institute of Science and Technology (UNIST), Ulsan, South Korea.
The ceremony was held to acknowledge seven deserving engineering students at UNIST for their scientific contributions at the 22nd Samsung HTP Award contest. Among the many eminent individuals, the following seven graduate students won prestige for their latest research in their respective fields.
The winners are: Min Woo Ryu (Advisor: Prof. Kyung Rok Kim), SeoJin Choi (Advisor: Prof. Jaehyouk Choi), SungDong Lim (Advisor: Prof. Hyunhyub Ko), EuiJin Jeong (Advisor: Prof. Kyunghan Lee), SangYoon Ji (Advisor: Prof. Jang-Ung Park), EunMin Go (Advisor: Prof. Sang Kyu Kwak), Atul Rahman (Advisor: Prof. Jongeun Lee).
Moreover, current statistics indicate that this is the fourth largest number, following Korea Advanced Institute of Science and Technology (KAIST), Seoul National University, and Pohang University of Science and Technology (POSTECH).
Atul Rahman (School of Electrical & Computer Engineering, UNIST) stands out among the seven award recipients, as he is one of the only two international students in South Korea to receive the award, this year.
The Samsung HTP, sponsored by Samsung Electronics Co., Ltd. in South Korea, recognizes an elite cadre of creative young researchers who through competition have demonstrated excellence in research. Each year, over 1,500+ papers were submitted, yet only a small percentage of papers are selected to receive this prestigious recognition.
In this year, out of 2,105 excellent papers considered from high schools and universities, only 119 papers were selected to receive the awards.
###
---