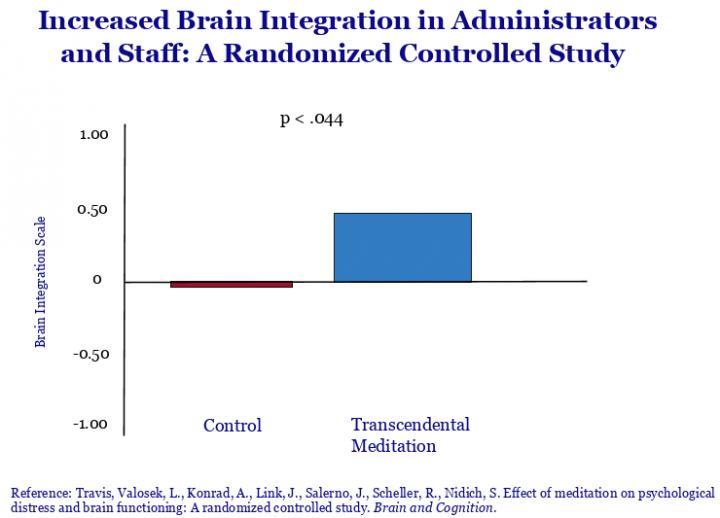 Psychological stress diminishes workplace outcomes while brain functioning enhances them
Psychological stress adversely affects organizational commitment, work engagement, and productivity, and contributes to poor mental and physical health. This adds up to a significant loss of value for an organization. While psychological stress takes a toll, conversely, healthy brain functioning is associated with increased performance and well-being.
Transcendental Meditation enhances brain functioning and reduces psychological distress in school administrators and staff
A new randomized control study published in Brain and Cognition involved 96 central office staff at the San Francisco Unified School District. Researchers also observed brain patterns of 79 of the subjects using Electroencephalogram (EEG) recording. The study found that over a four-month period, those practicing the Transcendental Meditation (TM) technique experienced significant improvements in psychological distress and brain functioning, as compared to controls. This study is the largest randomized control trial investigating the impact of TM on brain functioning.
These findings are consistent with past research showing a reduced response to stress factors and more integrated brain functioning resulting from TM practice. This and previous studies suggest the experience during TM affects perceptual processing and supports one's ability to deal with challenges.
The primary outcomes in the study were the Profile of Mood States (POMS) and Brain Integration Scale (BIS), which is designed to show the level of connectivity between brain areas. At posttest, TM participants showed a significant decrease on the POMS Total Mood Disturbance and anxiety, anger, depression, fatigue, and confusion subscales, and a significant increase in the POMS vigor subscale. TM participants in the EEG-subgroup significantly increased in BIS scores.
"Management performance and organizational effectiveness are directly compromised by psychological distress and lack of healthy brain functioning," said Laurent Valosek, coauthor of the study and Executive Director of the Center for Wellness and Achievement in Education. "This research indicates that TM can be used as a tool for improving psychological health and brain integration, important foundational factors that contribute to leadership competency."
Connection between brain functioning and overcoming challenges
This study and past research support the idea that the experience of transcending created during Transcendental Meditation systematically transforms inner experience and brain functioning, leading to changes in how one faces challenges. The challenges will continue, however one becomes increasingly resilient and effective in overcoming them.
These results have implications for organizations interested in improving the mental health, emotional competency, and resilience of their employees.
###
Travis F, Valosek L, Konrad IV Arthur, Link J, Salerno J, Scheller R, Nidich S. Effect of meditation on psychological distress and brain functioning: A randomized controlled study. Brain and Cognition, Summer, 2018.
ABOUT THE CENTER FOR WELLNESS AND ACHIEVEMENT IN EDUCATION
The Center for Wellness and Achievement in Education (CWAE) is a San Francisco Bay Area-based non-profit organization. CWAE's mission is to optimize educational performance, reduce violence, stress, and substance abuse, and improve the psychological wellness of students, faculty, and administrators by strengthening the underlying neurophysiology of perception, learning and behavior. CWAE serves more than 2,500 youth, teachers and administrators in the San Francisco Bay Area. Among the youth served, 98% are of color and 62% live in low-income homes.
---
Journal
Brain and Cognition