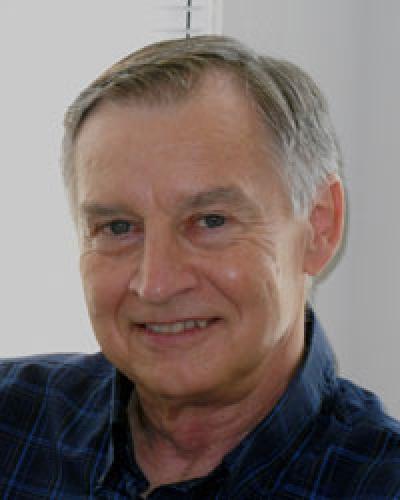 BETHESDA, Md., April 7, 2011 – Arthur E. Johnson, a distinguished professor at the Texas A&M Health Science Center's College of Medicine, has been chosen to give the Fritz Lipmann Lectureship at the American Society for Biochemistry and Molecular Biology annual meeting in Washington, D.C. Johnson will give his talk, "Membrane Protein Biogenesis," at 9:03 a.m. Monday, April 11, in Ballroom C of the Walter E. Washington Convention Center, where thousands of scientists will have convened for six scientific societies' joint meetings during the Experimental Biology 2011 conference.
"Art revolutionized our understanding of how complex protein machines operate," says Vytas A. Bankaitis of the University of North Carolina at Chapel Hill School of Medicine, who nominated Johnson for the award. "The level of international acclaim and respect afforded to him by the larger scientific community is richly deserved on the basis of his outstanding research accomplishments over a distinguished career."
The lectureship, which is awarded every two years, recognizes investigators who make conceptual advances in biochemistry, bioenergetics and molecular biology. Johnson was named the winner for pioneering the use of site-specific incorporation of non-natural amino acids into polypeptides and biophysical fluorescence approaches toward detailed elucidation of the dynamics and functional mechanisms of complex molecular machines.
After completing his undergraduate studies in chemistry at the California Institute of Technology in the 1960s, Johnson taught and coached football in Boston. He then went on to earn his doctorate in chemistry at the University of Oregon in 1973 and conduct postdoctoral work at Columbia University.
Thereafter, he joined the faculties of the University of Oklahoma in 1977 and Texas A&M University in 1994. Today, he holds the E. L. Wehner-Welch Foundation chair in chemistry at the College of Medicine.
To this day, Bankaitis says, the approaches Johnson pioneered remain the most powerful, yet accessible, tools to study the dynamics of complex biochemical systems. Additionally, he says, Johnson always has been "a gentleman scientist."
"These days, it is all too common for researchers to be driven to prolific productivity by the motive of enterprise – the desire to be recognized, to win awards, to establish themselves personally," he emphasizes. "While all of these motives are legitimate in proper measure, what is often lost is the proportion between mentorship and enterprise, between noble scientific pursuit and competition for the more material rewards, between a genuine desire to foster the independent careers of young researchers and exploitation of those talents.
"Art Johnson has always been a consummate professional – a great scientist, an effective and engaged mentor, a dedicated and effective teacher, and an outstanding citizen with respect to professional service."
The Fritz Lipmann Lectureship was established by friends and colleagues of Nobel laureate Fritz Lipmann and is awarded every other year for conceptual advances in biochemistry, bioenergetics or molecular biology. The award provides a plaque, a $3,000 purse, and transportation and expenses to the ASBMB annual meeting to present a lecture.
###
About Experimental Biology 2011
Six scientific societies will hold their joint scientific sessions and annual meetings, known as Experimental Biology, from April 9-13, 2011, in Washington, D.C. This meeting brings together the leading researchers from a broad array of life science disciplines. The societies include the American Association of Anatomists (AAA), American Physiological Society (APS), American Society for Biochemistry and Molecular Biology (ASBMB), American Society for Investigative Pathology (ASIP), American Society for Nutrition (ASN), and American Society for Pharmacology and Experimental Therapeutics (ASPET).
More information about EB2011 for the media can be found on the press page: http://experimentalbiology.org/content/PressInformation.aspx.
About the American Society for Biochemistry and Molecular Biology
The ASBMB is a nonprofit scientific and educational organization with more than 12,000 members worldwide. Most members teach and conduct research at colleges and universities. Others conduct research in various government laboratories, at nonprofit research institutions and in industry. The Society's student members attend undergraduate or graduate institutions. For more information about ASBMB, visit www.asbmb.org.
---