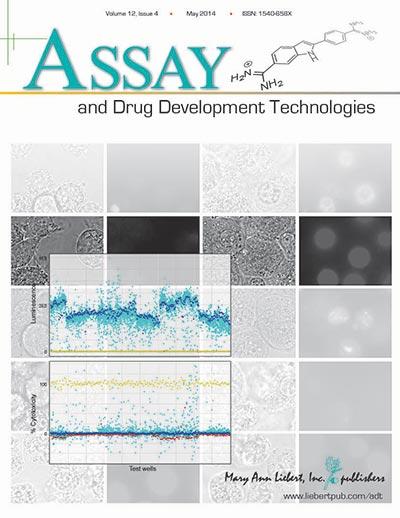 New Rochelle, NY, May 30, 2014—High throughput screening of compounds in live cells is a powerful approach for discovering new drugs, but the potential for cell toxicity must be considered. A novel technique that uses DNA-binding fluorescent dyes to evaluate the cytotoxicity of an experimental compound in real-time during screening, saving time and resources, is described in ASSAY and Drug Development Technologies, a peer-reviewed journal from Mary Ann Liebert, Inc., publishers. The article is available on the ASSAY and Drug Development Technologies website.
Lucius Chiaraviglio and James Kirby, Beth Israel Deaconess Medical Center, evaluated 19 fluorescent DNA-binding dyes and identified four dyes that were not harmful to cells and could not cross the cell membrane if a cell was viable. The authors demonstrated the ability to use these dyes to detect cell death during drug screening in the article "Evaluation of Impermeant, DNA-Binding Dye Fluorescence as a Real-Time Readout of Eukaryotic Cell Toxicity in a High Throughput Screening Format."
###
About the Journal
Assay and Drug Development Technologies is an authoritative peer-reviewed journal published 10 times a year in print and online. It provides early-stage screening techniques and tools that enable identification and optimization of novel targets and lead compounds for new drug development. Complete tables of content and a complementary sample issue may be viewed on the ASSAY and Drug Development Technologies website.
About the Publisher
Mary Ann Liebert, Inc., publishers, is a privately held, fully integrated media company known for establishing authoritative peer-reviewed journals in many areas of science and biomedical research, including OMICS: A Journal of Integrative Biology and Genetic Testing and Molecular Biomarkers. Its biotechnology trade magazine, Genetic Engineering & Biotechnology News (GEN), was the first in its field and is today the industry's most widely read publication worldwide. A complete list of the firm's 80 journals, books, and newsmagazines is available on the Mary Ann Liebert, Inc., publishers website.
Mary Ann Liebert, Inc.
140 Huguenot St., New Rochelle, NY 10801-5215
http://www.liebertpub.com
Phone: (914) 740-2100
(800) M-LIEBERT
Fax: (914) 740-2101
---
Journal
Assay and Drug Development Technologies