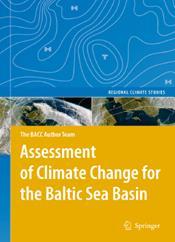 The recently published Second Assessment of Climate Change for the Baltic Sea Basin makes an important contribution to understanding variations in the climate. The report also captures the most important changes to the regional climate in the Kattegat and Baltic Sea areas, home to 90 million people.
No fewer than 141 scientists from 12 countries have contributed studies covering various aspects of climate research. Among other things, the report shows that the region is growing warmer and that this process will probably continue.
Warmer and more acidic waters
Some of this warming is probably due to human factors. The changes can so far be seen in factors that are linked to temperature, such as snow and ice.
"Changes in precipitation and river run-off are harder to detect but should become clear in the future," says Anders Omstedt, Professor of Oceanography at the University of Gothenburg. "Climate change will have many different effects on both land and water ecosystems. Because these ecosystems are exposed to so many different factors, further studies are needed to clarify the causal relationships and the risk of them combining negatively."
Estimates suggest that our coasts could become warmer, more acidic and more oxygen-deficient, presenting an increased threat to marine ecosystems.
"Although we already have global studies of the climate through the UN's climate panel, the IPCC, our understanding of climate change needs to be enhanced at regional level where many other changes are taking place," says Omstedt. "This report supplements our knowledge of climate change in the Kattegat and Baltic Sea areas with regional research."
Regional studies needed
This is the second report to be published by the independent research network BACC (Baltic Earth Assessment of Climate Change) on the regional climate in the Kattegat and Baltic Sea. Partly an update of BACC I from 2008, it also includes a number of brand-new studies and new chapters.
The report covers climate changes since the last ice age some 12,000 years ago, but has a focus on the last 200 years. It also presents projections using regional climate models and describes how climate change could affect ecosystems on land and in rivers, lakes and coastal waters through to 2100.
"The report will be of great use to researchers on matters concerning the atmosphere, land and sea in the region," says Omstedt. "It contains extensive data and attempts to paint a complete picture of climate change in the Baltic region so that we can better gain perspective and know where we stand today."
Rising sea levels and coastal erosion
BACC II also looks at sea level changes, coastal erosion and effects on urban areas. A number of new chapters examine possible causes of regional climate variations that are combining with the global consequences of increased greenhouse gases.
The report covers all of the Kattegat and Baltic coasts. It is aimed primarily at the scientific community and is intended for use in education and in research applications. Thanks to close collaboration with HELCOM (the Baltic Marine Environment Protection Commission, or Helsinki Commission), the BACC II results will also be used in the Baltic nations' planning of future activities.
"The scientists contributing to the report did so independently and without remuneration, the report has been reviewed by independent peers, and each contributor took part entirely on their own account," adds Omstedt. "The material is well suited to teaching at university marine and earth sciences departments and elsewhere."
###
Download the report here: http://www.springer.com/gp/book/9783319160054
Contact:
Anders Omstedt, professor, Department of Earth Sciences, University of Gothenburg
+46 (0)31 786 2881, anom@gvc.gu.se
Photography: Portrait of Anders Omstedt by Johan Wingborg
---