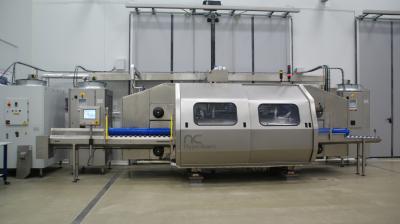 This release is available in Spanish.
The AZTI-Tecnalia technological centre, in a project undertaken by the Tecnolat and Llet de Catalunya dairy product companies within the FUTURAL project, has verified that, as an alternative to the traditional heat treatment for decontamination of a number of dairy products, high pressure technology is highly recommendable. In fact, according to a press release from Tecnolat, the results, especially with ready-to-eat fruit products and in the inactivation of moulds and yeasts in other dairy products, "were highly positive and promising".
The research and trials carried out by AZTI-Tecnalia showed that, for example, sweetened ready-to-eat fruit products, once subjected to various high pressure treatments at different intensities, showed a total inactivation of the bacteria analysed. In this case the technology also showed itself to be a good technique for conservation, given that the progress of the treated samples was optimum, microbian growth not being observed throughout their useful life.
The trials also showed the effectiveness of this technology in the inactivation of specific moulds and yeasts in dairy foods. Once processed with high pressure, it was observed that the treated samples not only conserved their properties and characteristics of quality throughout their useful life (estimated to be three months) but also, sensorially - the products treated with high pressure tasted better than the traditional (heat treated) samples.
The project has acted to optimise the most suitable high pressure treatment for obtaining the usual ingredients in the dairy industry, as an alternative to traditional heat treatment, thus obtaining products with longer useful life and with practically intact organoleptic characteristics.
High pressure technology
High pressure processing is a technology of conservation which is an alternative to conventional heat treatment. Its particular characteristics make it such that it can develop and market food products which are not only innovative, but also have excellent hygiene quality and less affected sensorial qualities.
The High Pressure team subjected the food to high pressure - up to 6,000 bars -, which resulted in the inactivation of most altering or pathogenic micro-organisms. This would be the equivalent of pasteurisation, but modifying the properties of the food much less than using traditional treatment. Moreover, this technology can enable the prolongation of its useful life, affecting the sensorial quality of the food less than conventional heat treatment.
It should be pointed out that AZTI-Tecnalia has a pilot plant with 55 L equipment – the only one at world level for developing fresher, sterilised products, given that this equipment enables combining high pressures and high temperatures, while minimising heat treatment. This new technology, recognised by the USDA in the United States as an alternative for obtaining stable products with low acidity at ambient temperature; is also known as pressure-assisted thermal sterilisation.
Besides its participation in this project, AZTI-Tecnalia is working on the sterilisation of food products through applying high pressure with increases in temperature, also obtaining promising results with this new line of research.
###
---