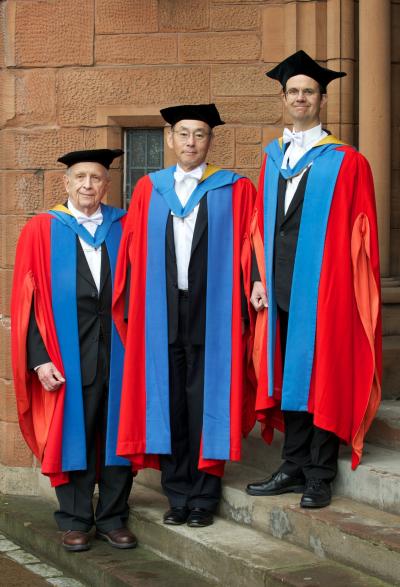 Three winners of the Nobel Prize in Physics- including the current US Secretary of Energy- have received honorary degrees from the University of Strathclyde in Glasgow, Scotland.
Dr Steven Chu, who was joint Nobel laureate in 1997 and who was appointed to President Barack Obama's administration in 2009, received an Honorary Doctorate of Science from the University. Strathclyde conferred the same honour on Professor Eric Cornell, of the University of Colorado at Boulder, who jointly won the Nobel Prize in 2001, and Professor Roy Glauber, of Harvard University, who was joint Nobel Laureate in 2005.
During their visit to Glasgow, all three were also speakers at A National Celebration of the 50th Anniversary of the Laser, an event held in the city and organised by Strathclyde to highlight Scotland's role in the expansion of the industry since the first laser demonstration in 1960.
Dr Chu said: "For more than two centuries, the University of Strathclyde has been known around the world for leadership in science and academic excellence. It has always lived up to the vision of its founder- to be a place of 'useful learning-' and recognises that quality education is an essential ingredient for economic prosperity.
"I greatly appreciate this honour from the University of Strathclyde and I look forward to continued scientific cooperation between the United States and Scotland."
Strathclyde Principal Professor Jim McDonald said: "It is an immense honour for us to be welcoming some of the world's most distinguished and eminent scientists to Strathclyde. Their discoveries have opened up many new possibilities in physics and in applications which can help tackle the major challenges of the 21st century.
"Scotland has been at the forefront of laser research and industry since the devices first emerged in the 1960s. The laser industry is worth £660 million to the Scottish economy- this strong economic performance is underpinned by Strathclyde and other universities providing a dynamic research base and highly skilled new recruits for the industry."
Before taking up his post as US Secretary of Energy, Dr Chu jointly received the Nobel Prize in Physics in 1997 for his work on cooling and trapping atoms. He was previously a Professor of Physics and Molecular and Cellular Biology at the University of California, Berkeley, the director of the Lawrence Berkeley National Laboratory and a Professor of Physics at Stanford University.
He has devoted his recent scientific career to the search for new solutions to energy challenges and stopping global climate change - a mission he continues with even greater urgency as Secretary of Energy.
Professor Cornell was a joint winner of the 2001 Nobel Prize for his study of condensation and condensate materials. He studied at Stanford University in California and at the Massachusetts Institute of Technology before joining the University of Colorado in 1992. He is also a Physicist at the United States Department of Commerce National Institute of Standards and Technology.
Professor Glauber jointly received the Nobel Prize for his work in quantum theory. A Harvard student in the 1940s, he returned to work there in 1952 and is currently holds the post of the University's Mallinckrodt Professor of Physics.
Another Nobel Physics Laureate, the Honourable Professor Sir Charles Kao, received an honorary degree from Strathclyde at a ceremony in Hong Kong in September.
###
---