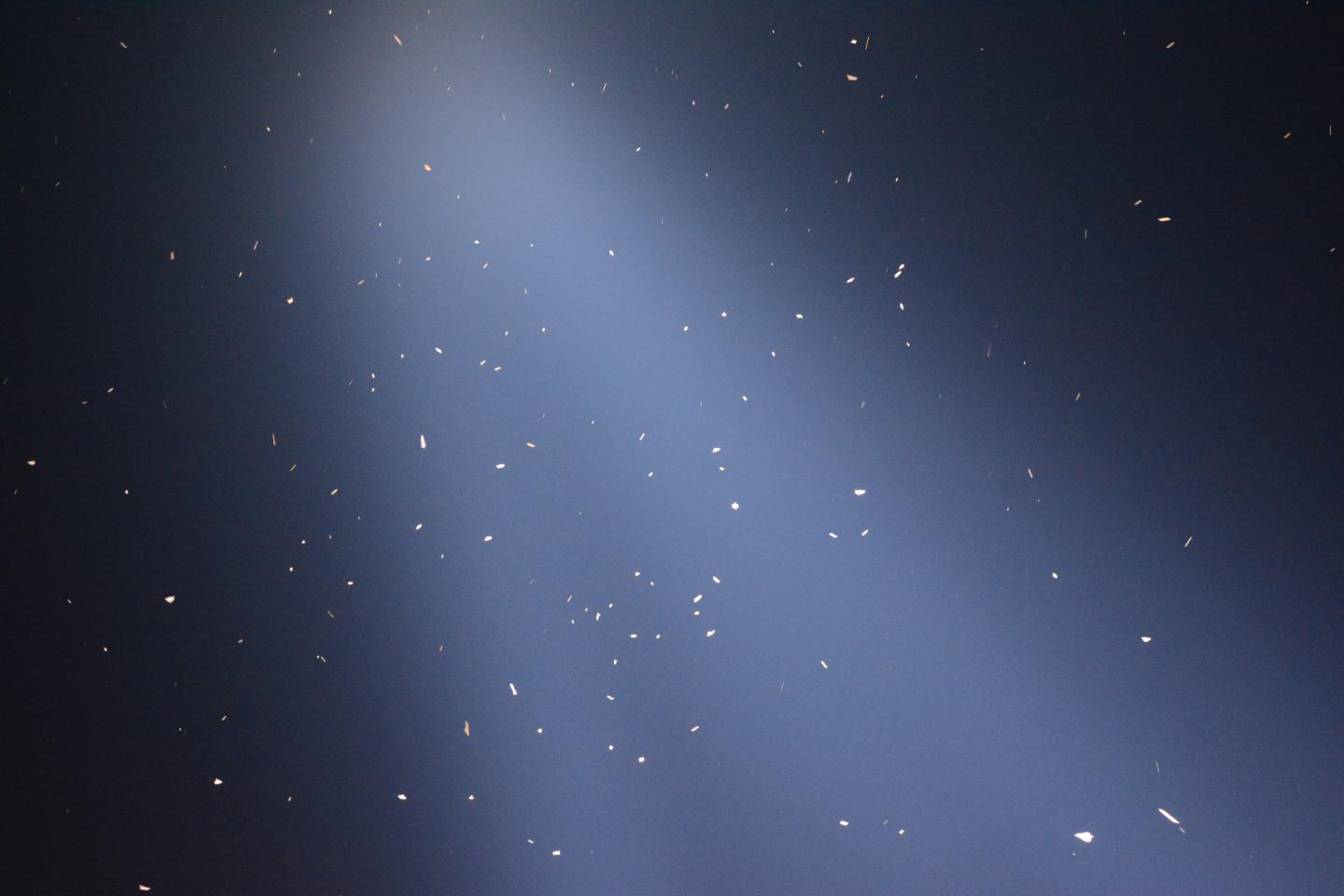 A groundbreaking study published in 2017 found that artificial light from the Tribute in Light installation at the National September 11 Memorial and Museum in New York City had a dramatic effect on bird migration.
Colorado State University's Kyle Horton, now an assistant professor in the Department of Fish, Wildlife and Conservation Biology, was a co-author on this study, which found that lights in the night altered the behaviors of birds migrating through the area. Researchers successfully used radar data to count as many as 1.1 million birds moving in and out of the light over the course of seven years, measuring the one day each year when the twin beams were active.
A new project led by Horton aims to learn even more about the effects of cities as ecological traps for migrating birds. The scientist recently received a $780,000 award from NASA, one of nine projects funded by the agency's Biological Diversity program.
He will team up with Michigan State University's Geoffrey Henebry, professor in the Department of Geography, Environment, and Spatial Sciences and the Center for Global Change and Earth Observations. Henebry brings years of experience working with diverse types of remote sensing data to characterize patterns and changes in land surface.
Horton said the new project - which will focus on urban areas in the Central Flyway, primarily in the Great Plains - aims to provide researchers and advocacy groups with more information on the impact of artificial light on bird behaviors and populations at a large scale.
Ecological traps
While art installations and city lights in places like Las Vegas have not resulted in mass mortality events, the birds' temporary detour remains a concern. Thanks to data gathered by scientists including Horton and volunteers, the Tribute of Light installation is now turned off for 20 minutes when the number of birds in the area reaches around 1,000, allowing them to disperse.
Birds have been attracted to manmade light sources for hundreds of years, including lighthouses and fishing vessels working at night, said Horton.
But the notion of an ecological trap comes to mind when thinking about birds and light pollution from large cities. The lights from urban centers in the United States attract migrating birds in a way similar to plastics in the ocean attracting seabirds, and detouring from their usual migration route may ultimately hurt the birds' fitness, Horton explained. The research team is applying that lens to better understand the risks for migratory birds.
"Light is attracting these migratory birds for some reason, and we don't fully understand why," said Horton. "However, it's clear that birds get pulled into sub-optimal habitats in places like downtown Houston, New York City or Chicago, where the risk of them colliding with buildings elevates."
Horton said during the detour, the birds might encounter predators like cats or have difficulties foraging for food.
"Birds are burning all of this energy to go north and south," he said. "If they can't get enough energy and nutrition from the landscape, it could hurt their chance of getting to their final destination."
Weather radar data, community science and more
The research project will use community science data through eBird, an online database of bird observations created by the Cornell Lab of Ornithology. It will also use several NASA products, including ECOSTRESS, which looks at land surface temperature and emissivity, evapotranspiration and evaporative stress index, and GEDI for geolocated waveforms, canopy cover fraction and leaf area index profiles.
At the heart of their research, Horton and Henebry will use more than 25 years of NEXRAD weather radar data to gauge the number of airborne migratory birds, speed and direction of nightly movements and land use during stopovers.
"We have a tremendous opportunity to bring together unique modern remote sensing datasets to learn what is happening to migratory birds in cities across the U.S.," Horton said.
###
---