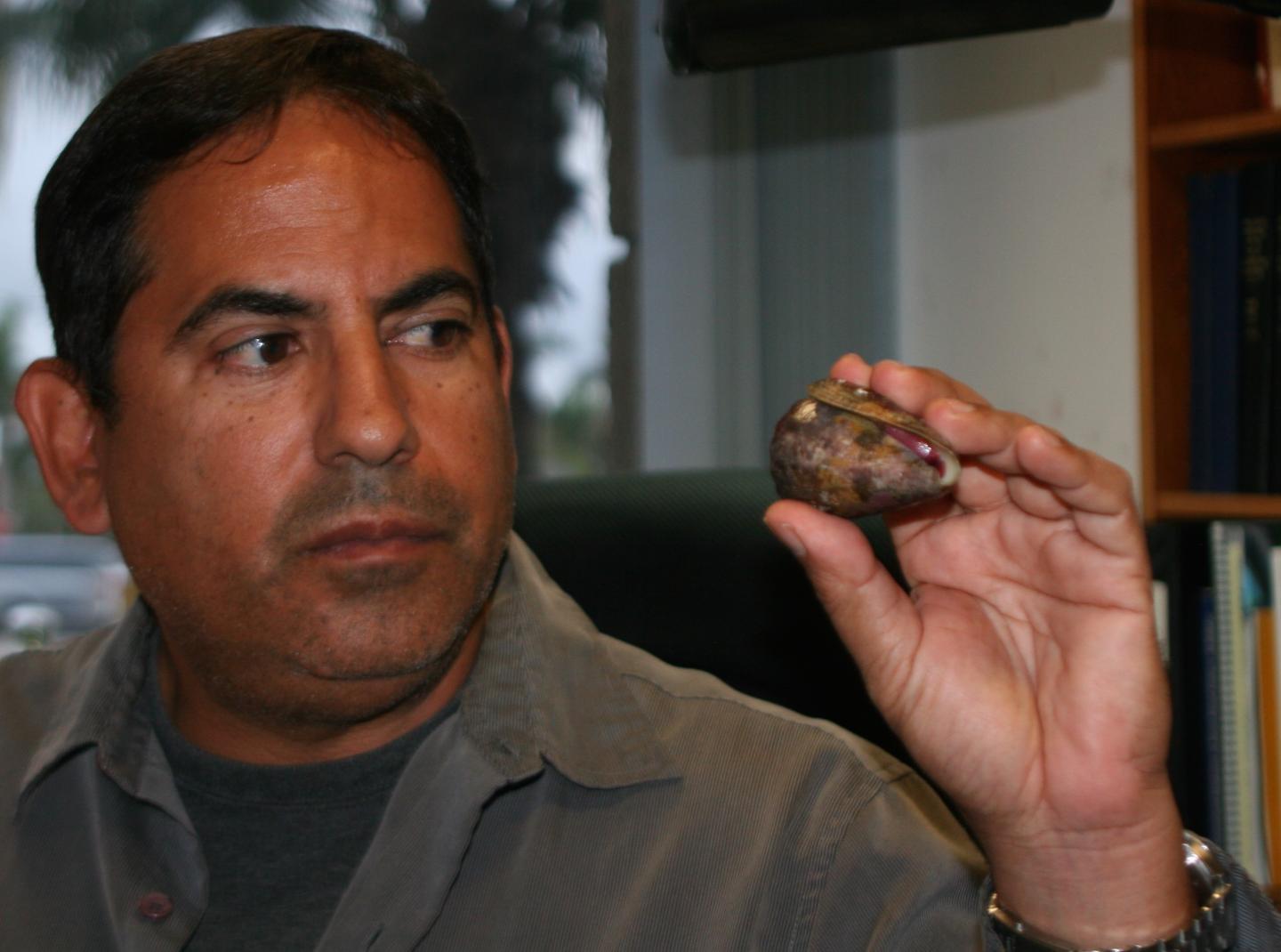 While considered a delicacy in some parts of the world, snails have found a more intriguing use to scientists and the medical profession offering a plethora of research possibilities. Cone snails are marine mollusks, just as conch, octopi and squid, but they capture their prey using venom. The venom of these marine critters provides leads for detection and possible treatment of some cancers and addictions.
Frank Marí, Ph.D., professor in the Department of Chemistry and Biochemistry in FAU's Charles E. Schmidt College of Science at Florida Atlantic University, has focused his research on cone snail venom and has published a study in the current issue of the Journal of Biological Chemistry.
"The venom produced by these animals immobilizes prey, which can be worms, other snails and fish," said Marí. "The venom is an extraordinary complex mixture of compounds with medicinal properties."
The venom components selectively target cells in the body and make them valuable drug leads and powerful molecular tools for understanding the human body's processes. One class of venom components is the alpha-conotoxins, named so because they target nicotinic receptors that are central to a range of diseases such as Alzheimer's disease, schizophrenia, tobacco addiction and lung cancer.
The venom of a particular species of cone snail, Conus regius, collected by the Marí group at the Florida Keys, is particularly rich in alpha conotoxins. Aldo Franco, Ph.D., who worked in Marí's lab, described more than ten new alpha-conotoxins in his Ph.D. dissertation at FAU. Among these, they found RegIIA, a compound that potently blocked the alpha3beta4 nicotinic receptor. This particular receptor when activated can be associated with lung cancer and nicotine addiction.
"We investigated in detail how RegIIA interacts with the alpha3beta4 nicotinic receptors and embarked on engineering new compounds that were more specific toward alpha3beta4 receptors and not other nicotinic receptors," said Marí. "Our aim is to open new avenues for cancer and addiction research inspired on compounds from marine animals."
Cone snails can be found throughout the Florida coast at different depths. Marí and his team regularly collect these animals using SCUBA and sometimes using deep-water submarines.
###
The study was done in collaboration with Royal Melbourne Institute of Technology's Professor David Adams and Dr. Richard Clark from University of Queensland, Australia.
The research was supported by Australian Research Council and the National Institutes of Health funding.
About Florida Atlantic University:
Florida Atlantic University, established in 1961, officially opened its doors in 1964 as the fifth public university in Florida. In commemoration of its origin, FAU is celebrating its 50th anniversary throughout 2011. Today, the University serves more than 28,000 undergraduate and graduate students on seven campuses and sites. FAU's world-class teaching and research faculty serves students through 10 colleges: the Dorothy F. Schmidt College of Arts & Letters, the College of Business, the College for Design and Social Inquiry, the College of Education, the College of Engineering & Computer Science, the Graduate College, the Harriet L. Wilkes Honors College, the Charles E. Schmidt College of Medicine, the Christine E. Lynn College of Nursing and the Charles E. Schmidt College of Science. FAU is ranked as a High Research Activity institution by the Carnegie Foundation for the Advancement of Teaching. For more information, visit http://www.fau.edu.
---
Journal
Journal of Biological Chemistry