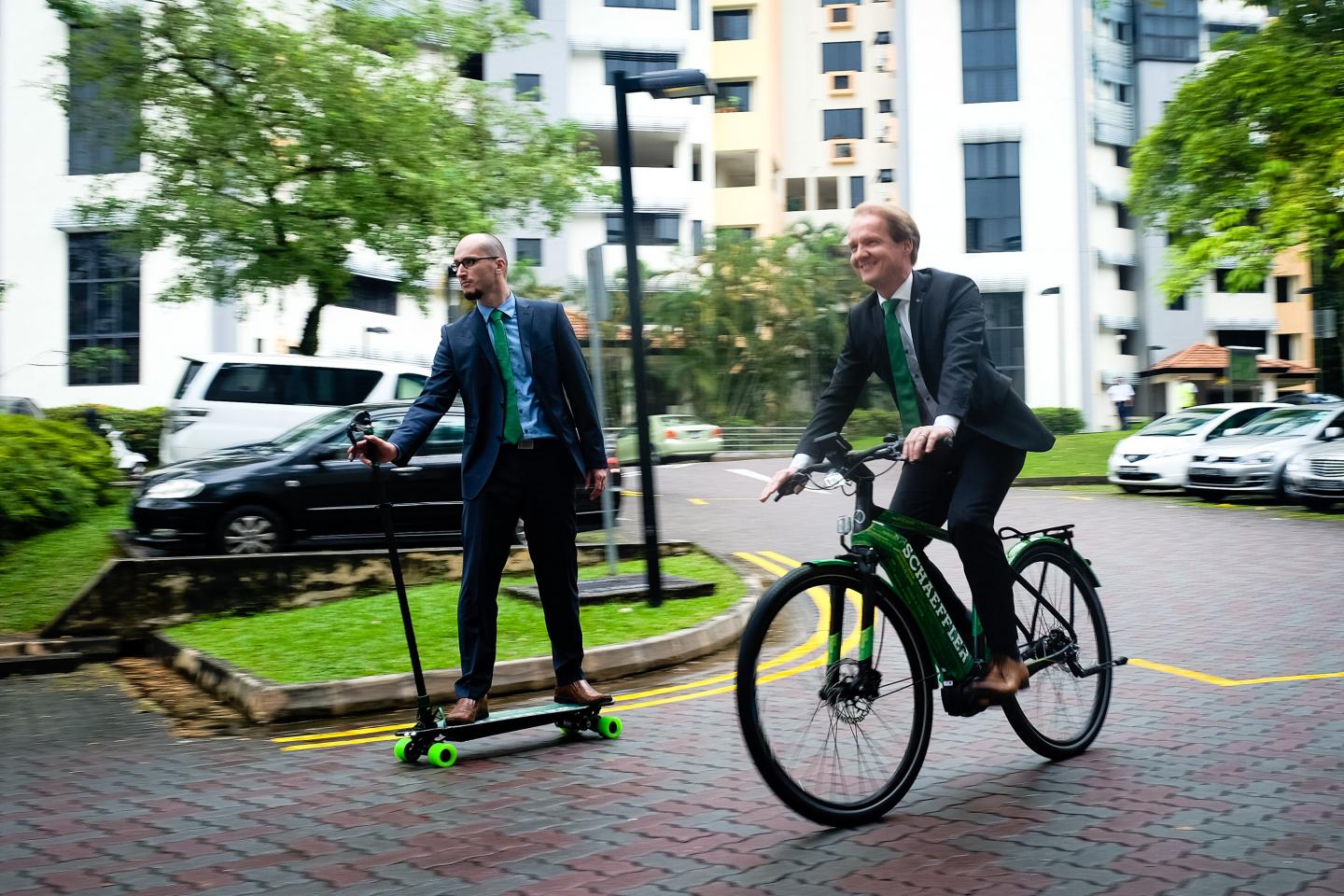 In future, you could get off the train and hop onto an electric kickboard equipped with a smart unit that can warn you of potential hazards while it navigates you home.
You could also transform the same electric kickboard into a smart trolley for your grocery shopping.
Such next-generation personal mobility devices may soon become reality in a new joint research lab by Nanyang Technological University, Singapore (NTU Singapore) and Schaeffler Group that has a combined funding of S$5 million over three years.
Schaeffler Group, a leading global automotive and industrial components supplier headquartered in Germany, will set up the lab as part of the Schaeffler Hub for Advanced REsearch at NTU (SHARE at NTU).
The new lab, Schaeffler's first SHARE lab outside Europe, is housed at NTU's School of Electrical and Electronic Engineering, ranked 6th in the world in the recent Quacquarelli Symonds (QS) World University Rankings by Subject 2017. NTU was also ranked 4th globally by QS in Engineering and Technology.
NTU Vice President (Research) and Chief of Staff, Professor Lam Khin Yong, said the collaboration will tackle transportation challenges for Singapore within the context of the country's Smart Nation vision.
"NTU has deep expertise in smart mobility technologies and a strong track record of industry collaborations. Together with Schaeffler, we aim to develop innovative personal transport solutions that will be safer and more efficient, which will support Singapore's drive towards a car-lite society," Prof Lam said.
Professor Dr.-Ing. Peter Gutzmer, Deputy CEO and Chief Technology Officer at Schaeffler AG, said: "Schaeffler has a strong legacy of close collaboration and joint research with universities mainly in Europe. With this agreement to set up the first SHARE lab outside Germany, we are laying a solid and long-term foundation for cooperation in the Asia Pacific region."
Both organisations signed a master research agreement today at NTU's campus, where Schaeffler demonstrated some of its advanced technology concepts for personal mobility, including the E-Board, an electronic skateboard-like device that comes with a control stick, and an e-bike equipped with an automatic bicycle gearshift system.
Schaeffler places particular emphasis on investing in research and development. In 2016 alone, this commitment led to more than 2,300 new patent registrations. As a result, Schaeffler is among the leading companies in Germany in terms of inventions.
Two models of Schaeffler's future-oriented four-wheeled bio-hybrid that offer electric-assisted pedalling in a four-wheel format, were also showcased at the signing ceremony today.
Working models of the bio-hybrid and E-Board were demonstrated at CES 2017, the global consumer electronics and consumer technology tradeshow in Las Vegas in January. Schaeffler's Bio-Hybrid combines the health benefits of a bicycle with the ease of a assisted electric bike that has similar comfort levels to that of a car.
Developing technologies for future megacities
The new joint lab will study various aspects of personal urban mobility and intelligent transportation systems for mega cities of the future.
The research projects include studying human user behaviour on personal mobility devices in Singapore and the development of portable smart technologies that can enhance the users' safety and last-mile experience.
CEO Schaeffler Asia Pacific Mr Andreas Schick, said: "Our long-term vision is to develop Singapore as a hub for research and innovation for urban mobility. The proactive efforts from the Government of Singapore make it a highly conducive place for developing technologies for future megacities and Schaeffler is keen to tap into these opportunities, working together with the big and highly educated talent pool," said
Chair of NTU's School of Electrical and Electronic Engineering Professor Yoon Soon Fatt, added: "NTU is already a living lab for advanced mobility concepts and technologies, with an interconnected network of smart devices in cars, buses and traffic infrastructure under the NTU-NXP Smart Mobility Test Bed. Coupled with our world-class engineering faculty, the campus becomes the perfect place to develop next-generation mobility devices."
Leveraging campus-wide smart mobility test bed at NTU
The partnership between NTU and Schaeffler will also ride on the NTU-NXP Smart Mobility Test Bed, which consists of vehicles equipped with smart units and roadside units with video cameras mounted on street lamps throughout the NTU campus.
Schaeffler is also part of the NTU-NXP Smart Mobility Consortium, which was founded by NTU and NXP Semiconductors with 12 industry members to develop innovations in smart mobility.
NTU and Schaeffler will develop applications that will allow personal mobility devices to interact seamlessly and safely with traffic infrastructure and vehicles around them, using an industry standard vehicle-to-everything (V2X) wireless communication technology.
###
Media contact:
Lester Kok
Manager
Corporate Communications Office
Nanyang Technological University
Email: lesterkok@ntu.edu.sg
Ashish Shukul
Director
Communications and Marketing Asia Pacific
Schaeffler Singapore Pte. Ltd.
Email: ashukul@schaeffler.com
About Nanyang Technological University
A research-intensive public university, Nanyang Technological University, Singapore (NTU Singapore) has 33,500 undergraduate and postgraduate students in the colleges of Engineering, Business, Science, Humanities, Arts, & Social Sciences, and its Interdisciplinary Graduate School. It also has a medical school, the Lee Kong Chian School of Medicine, set up jointly with Imperial College London.
NTU is also home to world-class autonomous institutes - the National Institute of Education, S Rajaratnam School of International Studies, Earth Observatory of Singapore, and Singapore Centre for Environmental Life Sciences Engineering - and various leading research centres such as the Nanyang Environment & Water Research Institute (NEWRI), Energy Research Institute @ NTU (ERI@N) and the Institute on Asian Consumer Insight (ACI).
Ranked 13th in the world, NTU has also been ranked the world's top young university for the last three years running. The University's main campus has been named one of the Top 15 Most Beautiful in the World. NTU also has a campus in Novena, Singapore's medical district.
For more information, visit http://www.ntu.edu.sg
About Schaeffler
The Schaeffler Group is a leading global integrated automotive and industrial supplier. The company stands for the highest quality, outstanding technology, and strong innovative ability. The Schaeffler Group makes a key contribution to "Mobility for tomorrow" with high-precision components and systems in engine, transmission, and chassis applications as well as rolling and plain bearing solutions for a large number of industrial applications. The technology company generated sales of approximately EUR 13.2 billion in 2015. With around 85,000 employees, Schaeffler is one of the world's largest family companies and, with approximately 170 locations in over 50 countries, has a worldwide network of manufacturing locations, research and development facilities, and sales companies.
Follow us on Twitter @schaefflergroup to get all of our latest press releases and news.
---