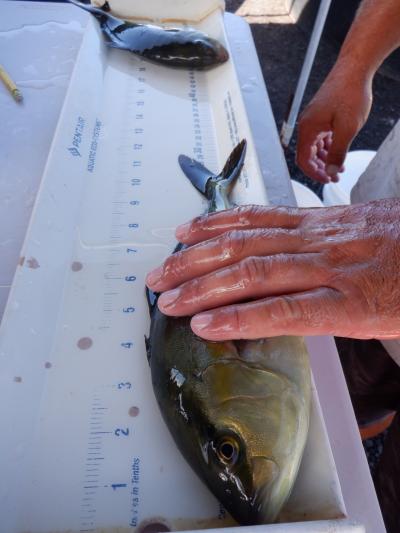 Researchers in Kona, Hawaii, have made a breakthrough in the quest to develop a cost-effective "fish-free" feed for farm-raised Kampachi, or almaco jack, a carnivorous marine fish prized for its rich, buttery flavor.
The ability to replace fishmeal and fish oil currently used in carnivorous marine fish diets will have important implications for ocean sustainability and meeting the growing demand for seafood around the world.
The trial results are detailed in a technical article in the Global Aquaculture Alliance's Advocate.
"This is the first time - to our knowledge - that fishmeal and fish oil have been totally eliminated from the diet of a marine carnivorous fish, with no deleterious consequences," said Neil Anthony Sims, CEO of the Hawaii-based mariculture company, Ocean Era, where the trial was conducted. "Kampachi are a fast-growing, sashimi-grade fish, so this a significant breakthrough for the sustainability and scalability of marine fish farming."
Aquaculture, the world's fastest growing food sector, consumes more than 70 percent of the world's fish oil and fishmeal, which are derived from forage fish like sardines, anchovies and menhaden. Roughly 20 percent of the global wild catch, or 18 million tons of fish each year are converted into fishmeal and fish oil for use in animal feed.
During the three-month trial funded by a Saltonstall-Kennedy grant from the National Oceanic and Atmospheric Administration (NOAA), 480 juvenile Kampachi (Seriola rivoliana) were fed one of four diets. Two of the diets contained no fishmeal, and one of these also contained no fish oil. Fishmeal replacement relied primarily on poultry meal, from up-cycled poultry trimmings. Fish oil replacement was achieved using Veramaris® natural marine algal oil, which contains high levels of two critical omega-3 fatty acids, DHA and EPA. A fishmeal and fish oil diet was used as a control, together with an additional commercial control diet. The fish were stocked into sixteen tanks for the comparative grow-out trial.
The fish that were fed the zero fishmeal / zero fish-oil diet performed as well as the fish fed with the fishmeal and fish-oil diet. Performance was evaluated in terms of growth, feed conversion ratio (FCR), fillet yield and survival. FCR is the ratio of the amount of feed it takes to grow one kilogram of fish.
The fish fed the zero fishmeal / zero fish-oil diet also had a more desirable taste compared to the fish fed the commercially available control diet.
"The results clearly show that algal oil can replace fish oil 100 percent without any reduction in growth of this marine fish," said Rick Barrows, a fish nutrition expert with Aquatic Feed Technologies and co-principal investigator of the study.
The feed formulations used in this trial are available as open source formulae through the F3 Feed Innovation Network (F3 FIN) for anyone working to replace wild-caught fish ingredients in animal feed. F3 FIN encourages sustainable innovations in fish-free aquaculture feed ingredients by sharing experimental protocols, testing facilities and ingredient providers.
Algae oils have been shown to contain twice the amount of EPA and DHA omega-3 fatty acids as fish oil, both of which are important for maintaining fish health and imparting heart and brain health benefits to humans.
"Development of diets that use these upcycled ingredients and microalgal oils is critical to the long-term scalability of marine fish culture, and therefore to our ability to sustainably feed a planet of nine billion people with heart-healthy seafood," said Sims.
The project, titled "Developing cost-effective fishmeal-free and fish oil-minimized diets for high market value U.S. marine fish aquaculture," was funded through NOAA's Saltonstall-Kennedy Grant Program (NA18NMF4270208). The United States Department of Agriculture's (USDA) Agricultural Research Service provided feed milling support for the trial. Anthropocene Institute and Ka'upulehu fishponds were collaborating partners on the NOAA grant.
The Saltonstall-Kennedy Grant Program funds projects that address the needs of fishing communities, optimize economic benefits by building and maintaining sustainable fisheries, and increase other opportunities to keep working waterfronts viable.
A video about the study can be viewed on YouTube at: https://youtu.be/rW9yk_U6z1U
###
About Ocean Era, LLC:
Ocean Era, LLC (formerly Kampachi Farms, LLC) is a Kona, Hawaii, based R&D company, dedicated to softening humanity's footprint on the seas, by expanding production of the ocean's living resources.
---