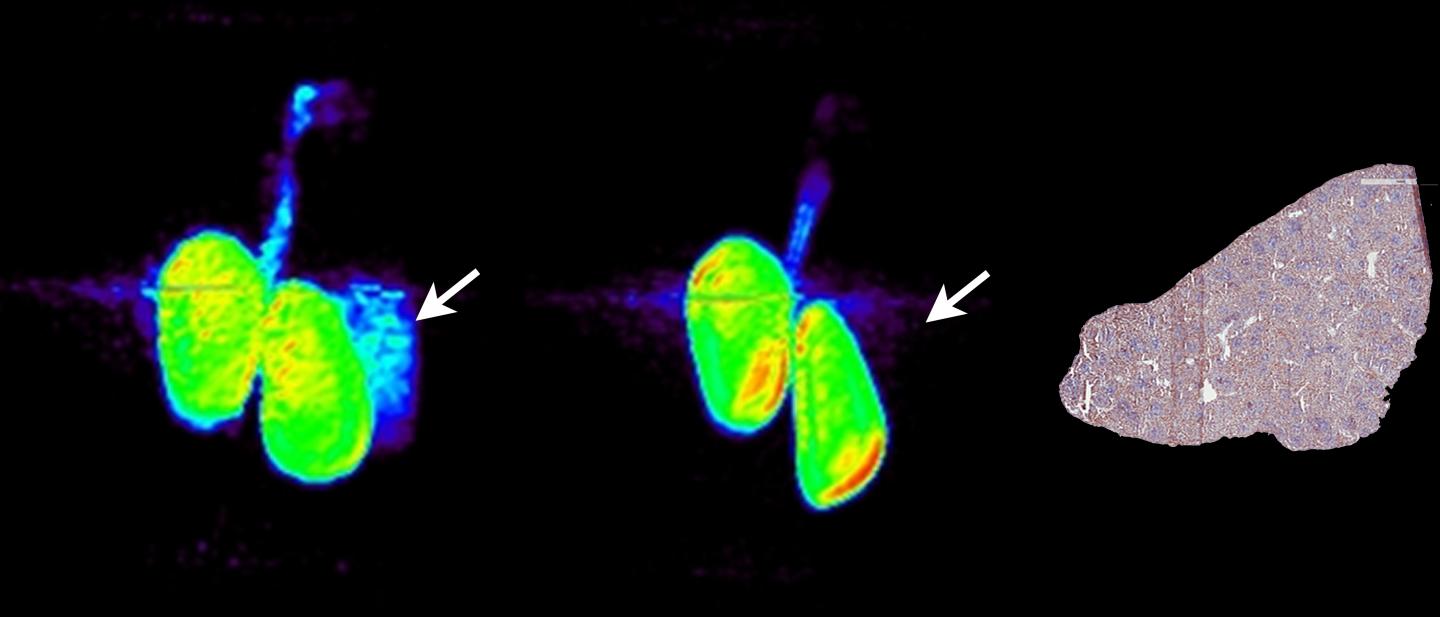 RESTON, Va. - Researchers have developed a same-day, noninvasive positron emission tomography (PET)-based imaging approach to assess PD-L1 positive tumors, and the study is presented in the featured article of The Journal of Nuclear Medicine's March issue.
A healthy immune system strikes a delicate balance between eradicating infections and cancers and not overreacting to damage one's own tissue. Immune checkpoints help control the immune response, but tumors exploit these checkpoint pathways by expressing special proteins that evade antitumor immune responses. One major checkpoint inhibitor pathway is the PD-1 pathway, and its ligand is PD-L1.
In this study, the PD-L1 ligand, which enables cancer to evade a person's immune system, has been successfully targeted for the first time with a fluorine-18 (18F)-labeled PD-L1 radioligand. Until now, efforts to predict response to treatments targeting PD-1 or PD-L1 have typically been limited to evaluation of a single patient biopsy sample.
"This approach represents an opportunity for physicians to noninvasively assess all of a patient's tumors for PD-L1 expression with a single PET scan and timely readout," explains David J. Donnelly, PhD, at Bristol-Myers Squibb Research and Development in Princeton, New Jersey. "This may help guide treatment decisions and assess treatment response, to help identify the right treatment for the right patient at the right time and right dose."
For the study, an anti-PD-L1 adnectin (an engineered, target-binding protein) was labeled with 18F to generate 18F-BMS-986192, which was then evaluated in mice bearing bilateral PD-L1(-) and PD-L1(+) subcutaneous tumors. 18F-BMS-986192 was also evaluated for distribution, binding and radiation dosimetry in healthy cynomolgus monkey. The results of the study demonstrate the feasibility of the approach, and the radiation dosimetry estimates indicate that the tracer is safe to administer in human studies. Clinical studies are now underway to measure PD-L1 expression in human tumors.
###
Authors of "Synthesis and Biological Evaluation of a Novel 18F-labeled Adnectin as a PET Radioligand for Imaging PD-L1 Expression" include David J. Donnelly, R. Adam Smith, Paul Morin, Daša Lipovšek, Jochem Gokemeijer, Daniel Cohen, Virginie Lafont, Tritin Tran, Erin L. Cole, Martin Wright, Joonyoung Kim, Adrienne Pena, Daniel Kukral, Douglas D. Dischino, Patrick Chow, Jinping Gan, Olufemi Adelakun, Xi-Tao Wang, Kai Cao, David Leung, Samuel J. Bonacorsi, Jr., and Wendy Hayes, Bristol-Myers Squibb Research and Development, Princeton, New Jersey.
ABOUT THE SOCIETY OF NUCLEAR MEDICINE AND MOLECULAR IMAGING
The Society of Nuclear Medicine and Molecular Imaging (SNMMI) is an international scientific and medical organization dedicated to raising awareness about nuclear medicine and molecular imaging, vital elements of precision medicine that allow diagnosis and treatment to be tailored to individual patients in order to achieve the best possible outcomes.
SNMMI's more than 15,000 members set the standard for molecular imaging and nuclear medicine practice by creating guidelines, sharing information through journals and meetings and leading advocacy on key issues that affect molecular imaging and therapy research and practice. For more information, visit http://www.snmmi.org.
---
Journal
Journal of Nuclear Medicine