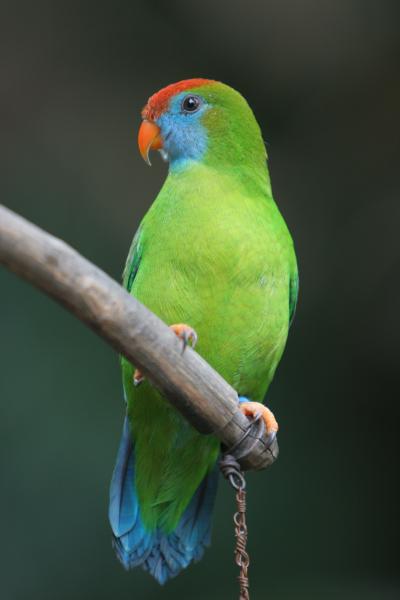 CHICAGO -- Scientists have discovered two new species -- a parrot and a mouse -- that live only on a small island in the Philippines. This island, Camiguin, is the smallest Philippine island, of which there are 7,000, known to support a bird or mammal species that is endemic (lives nowhere else).
The scientists' research, which is embargoed, is described in the April 5 issue of Fieldiana: Zoology, a peer-reviewed, scientific journal about biodiversity research published by The Field Museum.
These new discoveries and the biological diversity they document strengthen the case for preserving the small area of natural rain forest still found on the island.
"Knowing that at least 54 species of birds and at least 24 species of mammals live on Camiguin, and that some of these animals are found nowhere else on earth, makes us realize how important this island is in terms of conservation," said Lawrence Heaney, Curator of Mammals, at The Field Museum and a co-author of several of the reports in this publication. "For these animals to survive, we've got to save the dwindling forests where they live."
The island was once almost entirely covered by rain forest, but by 2001 only 18% was still forested, Heaney said. That amount has dropped since then, as logging, agriculture and human settlement have continued to erode the forests. In fact, almost half the island is now covered with coconut plantations.
"The Philippines is increasingly recognized as a global center for biodiversity, with exceptionally high levels of endemism," said Blas Tabaranza Jr., Director of the Terrestrial Ecosystems Project of the Haribon Foundation, a Philippine conservation NGO based in Manila, and a co-author of several of the Fieldiana reports. "Unfortunately, the Philippines has also vaulted into notoriety as one of the most severely deforested tropical countries in the world."
The scientists have declared Camiguin's rain forest to be a key global conservation priority. Efforts to protect the remaining rain forest in which these animals live as a national park have been underway for several years, in collaboration between The Field Museum, Haribon Foundation, local government, and Philippine Department of Environment and Natural Resources.
Camiguin's forests are not only necessary to protect endangered wildlife, such as the two newly discovered endemic species. They are also essential for the ecotourism that provides much of the island's income. In addition, the forests provide ecological support for the coral reefs surrounding the island that require low levels of runoff and siltation.
According to Tabaranza, the rain forest protects watersheds on the island's steep slopes, helping to control soil erosion and prevent landslides. In February 2006, a mudslide on denuded slopes on the neighboring island of Leyte virtually obliterated the farming village of Guinsaugon and killed an estimated 1,500 residents.
Camiguin is only 102 square miles (265 square kilometers). It has been continuously isolated from its neighbors, even during the Ice Ages of the Pleistocene, when sea levels dropped to 130 yards (120 meters) below present levels. This isolation contributed to the differentiation of the island's animals.
Detective work
The two new species were discovered as the result of recent and earlier field studies.
The parrot is a Hanging-parrot, or Colasisi, with bright green feathers covering most of the body. The throat and thighs are bright blue, and the top of the head and tail are brilliant scarlet-orange. Males and females have identical plumage, which is quite unusual in this group of parrots.
The description is based on previously unstudied specimens in The Field Museum and the Delaware Museum of Natural History collected in the 1960's by D. S. Rabor. The name for the new species is Loriculus camiguinensis, or Camiguin Hanging-parrot.
"This description is based on a series of specimens that had been part of The Field Museum's collections for almost 40 years, so our work highlights the value of collecting and preserving scientific specimens, because you may not initially realize the significance of specimens," said John Bates, Curator of Birds and Chair of Zoology at The Field Museum, and a co-author of one of the Fieldiana reports. "If we did not have a series of specimens from Camiguin and additional series of Hanging-parrots from other Philippine Islands, we probably would have assumed that the single bird that prompted our investigation was just odd looking, and we would not have been able to recognize it as distinctive."
One of L. camiguinensis' characteristics that was key to identifying it as a new species is the fact that its plumage is relatively dull compared to other Philippine Hanging-parrots. This is consistent with the documented tendency for some isolated bird populations to lose bright plumage, the authors note.
Because L. camiguinensis has not been recognized as a separate species, little is known about its habits, and it has been overlooked in terms of conservation. The discovery has spurred interest in the field studies needed to establish the population size and requirements as a prerequisite for conservation planning and action.
After learning about the Fieldiana manuscript, Thomas Arndt, publisher of the German bird magazine Papageien, made a trip to Camiguin to look for these birds.
The new mammal is a Philippine forest mouse, now identified as Apomys camiguinensis. It has large ears and eyes, a long tail and rusty-brown fur, and it feeds mostly on insects and seeds. The description is based on mice captured on Camiguin during a biological survey Heaney and Tabaranza conducted in 1994 and 1995, high on the steep slopes of one of the island's volcanoes.
Local people had not previously known of the mouse, though they have known of the parrot because of its value in the pet trade.
In 2002, Heaney, Tabaranza, and Eric Rickart, of the Utah Museum of Natural History, described a different species of forest-living rodent, Bullimus gamay, from Mt. Timpoong, the same mountain where the new mouse was collected. A frog (Oreophryne nana) named in 1967 had been thought to be the only vertebrate restricted to the island prior to the surveys by Heaney and Tabaranza.
"Very few states in the United States, and few countries in Europe, have four endemic species of vertebrates, making it clear why tiny Camiguin Island is deserving of international attention," Heaney said. "And it is almost certain that other organisms on Camiguin are also endemic; they just have not been studied yet."
###
Digital images available:
Striking, color illustration of new parrot and mouse
Both these animals are endemic (found only there) to Camiguin Island in the Philippines. The growing realization that this tiny island is rich in biodiversity has made it a global priority for conservation.
Illustration by Michael Skakuj, Courtesy of The Field Museum
Photo of new parrot
This newly described Camiguin Hanging-parrot is only found on the Philippine island of Camiguin. The tiny island is especially rich in biological diversity but increasingly threatened by logging, agriculture and human settlement.
Photo by Thomas Arndt, Courtesy of The Field Museum
---