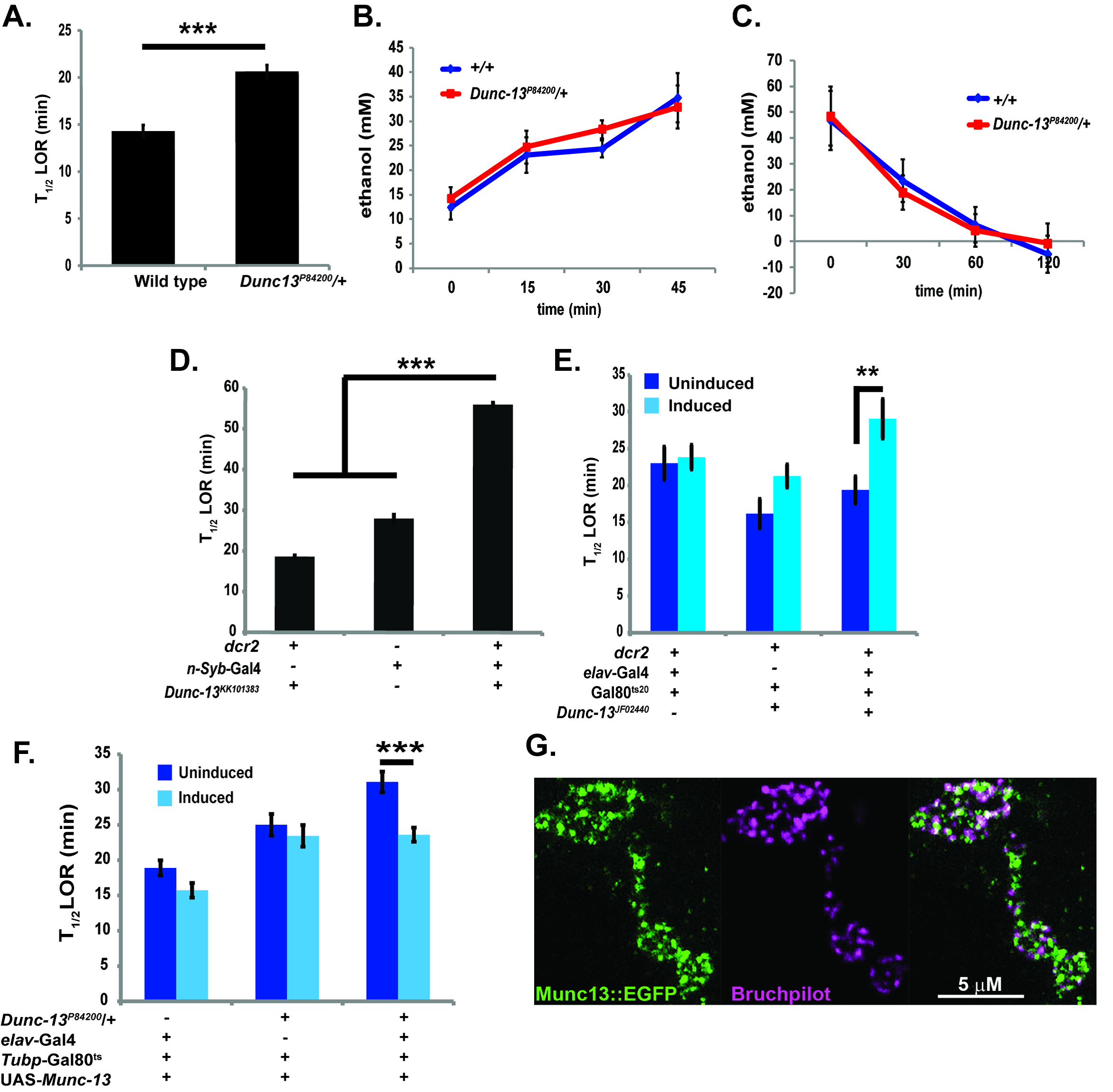 Repeated exposure to large quantities of alcohol may lead to tolerance by reducing the activity of a protein that regulates communication between neurons, according to a study of fruit flies published in eNeuro.
Binge drinking has lasting effects on brain activity, but it is not clear how ethanol -- the intoxicating component of alcoholic beverages -- creates these changes. One possibility is that ethanol interacts with a family of proteins (Unc13) that help control the release of neurotransmitters across the synaptic gap between neurons. In mice, worms and flies, mutations affecting Unc13 reduce activity of the cell on the transmitting side of the synapse.
Gregg Roman and colleagues previously found that fruit flies with reduced activity of the gene Dunc13 consumed significantly more ethanol than flies without the mutation. Building on these findings, the researchers now demonstrate that ethanol interferes with the binding of diacylglycerol -- a chemical compound that facilitates neurotransmitter release -- and reduces the activity of the Unc13 protein. Flies with reduced Dunc13 activity took longer to become sedated after being exposed to intoxicating levels of ethanol. The research provides new insight into the neurobiology of alcohol tolerance.
###
Article: Ethanol Regulates Presynaptic Activity and Sedation through Presynaptic Unc13 Proteins in Drosophila
DOI: https://doi.org/10.1523/ENEURO.0125-18.2018
Corresponding author: Gregg Roman (University of Mississippi, Oxford, USA), groman@olemiss.edu
About eNeuro
eNeuro, the Society for Neuroscience's open-access journal launched in 2014, publishes rigorous neuroscience research with double-blind peer review that masks the identity of both the authors and reviewers, minimizing the potential for implicit biases. eNeuro is distinguished by a broader scope and balanced perspective achieved by publishing negative results, failure to replicate or replication studies. New research, computational neuroscience, theories and methods are also published.
About The Society for Neuroscience
The Society for Neuroscience is the world's largest organization of scientists and physicians devoted to understanding the brain and nervous system. The nonprofit organization, founded in 1969, now has nearly 37,000 members in more than 90 countries and over 130 chapters worldwide.
---
DOI
10.1523/ENEURO.0125-18.2018