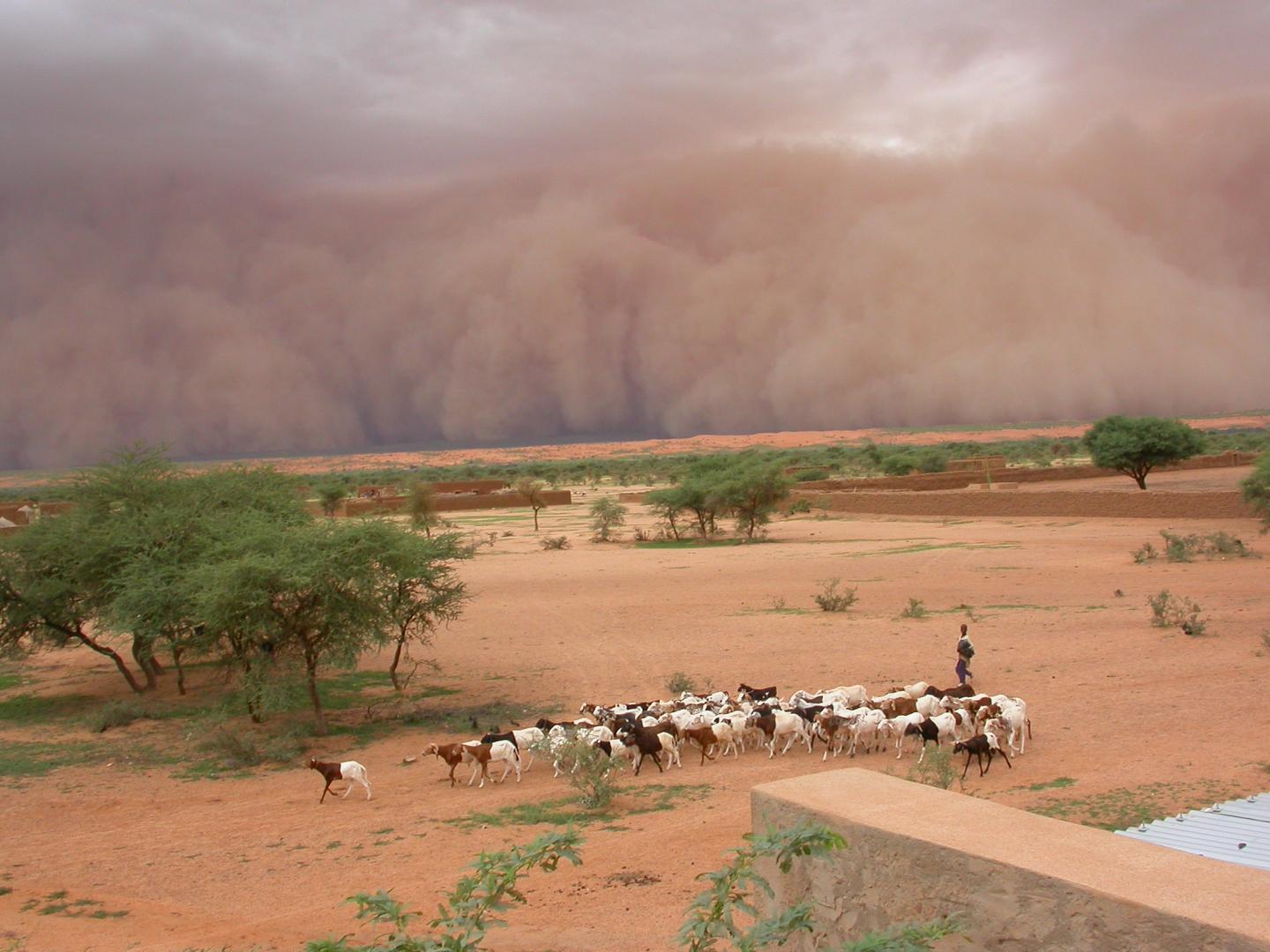 The UK-based Centre for Ecology & Hydrology (CEH) has led an international team of scientists who reveal global warming is responsible for a tripling in the frequency of extreme West African Sahel storms observed in just the last 35 years.
Professor Christopher Taylor, a Meteorologist at CEH, and researchers from partner institutions including Universite? Grenoble Alpes in France, also suggest that climate change will see the Sahel experience many more instances of extreme rain in future.
Professor Taylor and the fellow scientists' findings -- published in the journal Nature -- note that further strengthening of intense storms in the Sahel known as Mesoscale Convective Systems (MCSs) will increase the risk of more frequent and severe flooding and disease due to poor sanitation in West African cities. The findings will also this week be presented at the General Assembly of the European Geosciences Union at its meeting in Vienna, Austria.
The Sahelian storms are some of the most explosive storms in the world, containing clouds that can grow to a height of 16km above the ground. In 2009 a downpour of 263mm over several hours forced 150,000 residents of Ouagadougou, in Burkina Faso, to leave their homes. The study, which has analysed trends from 35 years of satellite observations across Africa, provides unique insight into how some of the most violent storms in the world are responding to rising global temperatures.
The research indicates that MCS intensification is linked to increasingly hot conditions in the Sahara desert resulting from man-made greenhouse gas emissions. Saharan warming affects storm intensity across the Sahel, a band of semi-arid land to the south of the desert which is home to some of the most vulnerable populations on the planet.
Professor Taylor, said, "Global warming is expected to produce more intense storms, but we were shocked to see the speed of the changes taking place in this region of Africa."
Co-author Professor Douglas Parker, Professor of Meteorology at the University of Leeds, UK, said, "African storms are highly organised meteorological engines, whose currents extract water from the air to produce torrential rain. We have seen these engines becoming more efficient over recent decades, with resulting increases in the frequency of hazardous events."
###
The research was funded by the Department for International Development (DFID) Future Climate for Africa programme under the African Monsoon Multidisciplinary Analysis 2050 (AMMA 2050) project and the Natural Environment Research Council (NERC).
Other institutions involved in the research included the National Centre for Earth Observation, the University of Leeds as well as those from France: the Centre National de Recherches Me?te?orologiques, Universite? Grenoble Alpes, Universite? Paris Diderot and Sorbonne Universite?.
Notes to editors
Case study - flooding in Burkina Faso
Dr Abdoulaye Diarra, Senior Researcher at the International Institute for Water and Environmental Engineering in Ouagadougou, Burkina Faso:
"A total of 77 flood events have been recorded in Burkina Faso during the 31 year period from 1986 to 2016. The floods dynamic has increased in the Burkina from a frequency of 11 major events over 10 years (1.1 flood event/year) between1986 to 2005 to a frequency of 55 over 11 years (5 flood events/year) from 2006 to 2016.
"The damages are generally more important in the urban area where runoff is very important and watercourses are limited. The 2009 flood (1 September), focused in Ouagadougou, caused heavy damage in the capital. More than 50 percent of the city's territory, including the main hospital of the city, was flooded.
"In total eight people died, more than 250 houses and 670 classrooms were destroyed, the main water purification plants for the city were out of use and nearly 150,000 people were affected within and around Ouagadougou."
Contact details
For interview requests and images contact Wayne Coles, Media Relations Officer, Centre for Ecology & Hydrology, UK, Mobile: +44 (0)7920 295384, Email: wcoles@ceh.ac.uk
Lead author, Professor Christopher Taylor, Meteorologist, Centre for Ecology & Hydrology, UK, Email: cmt@ceh.ac.uk
Co-author, Professor Douglas Parker, Professor of Meteorology at the University of Leeds, UK, telephone: +44 (0)113 343-6739, mobile: 07747 505811, Email: D.J.Parker@leeds.ac.uk
Paper reference
Christopher M. Taylor, Danijel Belusic, Francois Guichard, Douglas J. Parker, Theo Vischel, Oliver Brock, Philip P. Harris, Serge Janicot, Cornelia Klein, Geremy Panthou, 'Frequency of extreme Sahelian storms tripled since 1982 in satellite observations',' Nature, published online 1800 GMT/1400 US Eastern Time, 27 April 2017. DOI: 10.1038/nature22069
The paper will be available via this URL when the embargo ends: https://www.nature.com/articles/doi:10.1038/nature22069
The Centre for Ecology & Hydrology (CEH) is the UK's Centre of Excellence for integrated research in the land and freshwater ecosystems and their interaction with the atmosphere. CEH is part of the Natural Environment Research Council, employs more than 450 people at four major sites in England, Scotland and Wales, hosts over 150 PhD students, and has an overall budget of about £35m. CEH tackles complex environmental challenges to deliver practicable solutions so that future generations can benefit from a rich and healthy environment. You can follow the latest developments in CEH research via @CEHScienceNews on Twitter
The University of Leeds is one of the largest higher education institutions in the UK, with more than 31,000 students from 147 different countries, and a member of the Russell Group research-intensive universities. We are a top 10 university for research and impact power in the UK, according to the 2014 Research Excellence Framework, and positioned as one of the top 100 best universities in the world in the 2015 QS World University Rankings. We are The Times and The Sunday Times University of the Year 2017. http://www.leeds.ac.uk
The National Centre for Earth Observation (NCEO) is a distributed centre with over 80 scientists from UK institutions, led by Professor John Remedios at the University of Leicester. It provides NERC with national capability in Earth observation science and incorporates world-class capabilities in interpretive Earth observation to meet the needs of society through long-term core science and translation of knowledge and environmental data for government and business.
NCEO has world-class capabilities in processing and analysing the vast quantities of data generated by satellites, aircraft and ground-based instruments to monitor and understand global and regional environmental change.
For more information contact jan.fillingham@nceo.ac.uk, telephone 01183786728 /07872416466 https://www.nceo.ac.uk/
---