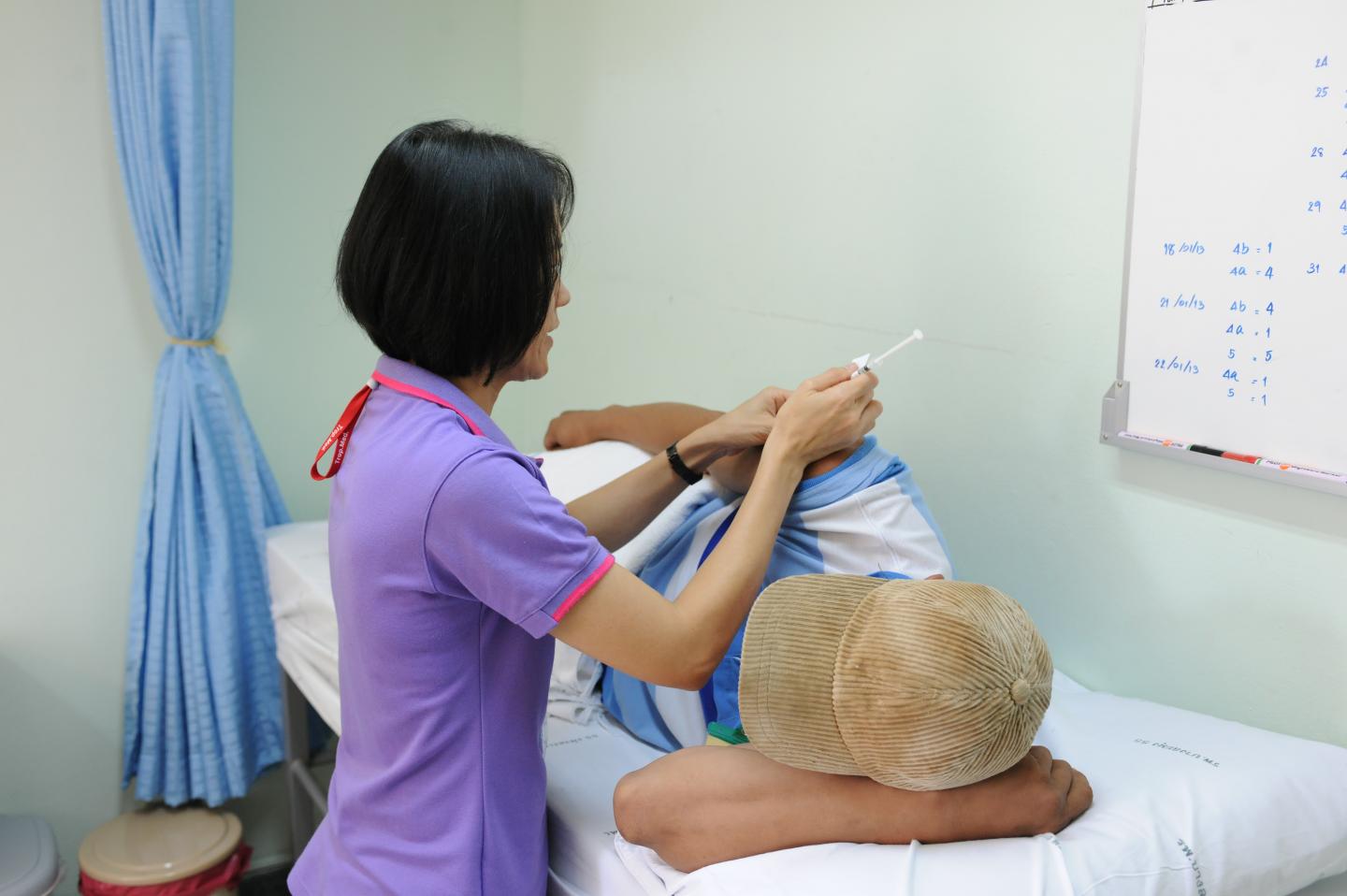 The Army-led RV144 HIV vaccine trial provided the first evidence in humans that a safe and effective preventive HIV vaccine is possible. A new study has shown that boosting RV144 volunteers 6-8 years later with AIDSVAX B/E vaccine resulted in higher immune responses than were seen immediately after RV144.
In the RV144 vaccine trial, led by the U.S. Military HIV Research Program at the Walter Reed Army Institute of Research, the efficacy at 3.5-years was 31.2%; however, a higher early effect (60%) was seen at 12 months.1 The RV144 study was conducted in partnership with the Thai Ministry of Public health and the Faculty of Tropical Medicine, Mahidol University.
"This early, high protective immune response seen in RV144 suggested that an additional boost might improve the magnitude and duration of immune response," said Col. Robert O'Connell, M.D., Chief of Retrovirology at the Armed Forces Research Institute of Medical Sciences (AFRIMS) in Bangkok and senior author of the paper. "Information from this new study will inform vaccination schedules in future efficacy trials."
RV144 tested an ALVAC-HIV prime vaccine boosted by AIDSVAX B/E. The new study, RV305, was a randomized, double blind, placebo-controlled trial. HIV-negative RV144-vaccinated Thai volunteers received a vaccine boost with ALVAC-HIV or AIDSVAX B/E, either combined or alone. Findings from RV305 were published in The Journal of Infectious Diseases.
The late-boost study, led by scientists from AFRIMS and the Thai Ministry of Health, found that vaccine boosts containing AIDSVAX B/E generated increased, but short-lived, humoral and CD4+ T-cell responses that did not rise further after subsequent boosting.
Correlates of risk analyses performed after the RV144 trial showed that immunoglobulin G antibodies (IgG) bind to specific envelope regions (V1V2) on the HIV virus. By binding the HIV, IgG protects the body from infection.2 These IgG antibodies correlate inversely with infection risk, meaning the higher the count of IgG antibodies, the lower the risk of HIV infection.
RV305 volunteers who received AIDSVAX B/E produced significantly higher numbers of binding antibodies than those who did not receive the AIDSVAX B/E boost. IgG titers increased 14-fold compared with 2 weeks after the last RV144 vaccination.
"We remain grateful to all of the volunteers who returned to participate in this study 6 to 8 years after the original trial. It is a testament to the long standing joint commitment between Thailand and the United States to ending the HIV epidemic," said Sandhya Vasan, M.D., Science Director of the Department of Retrovirology at AFRIMS.
###
Rerks-Ngarm S, Pitisuttithum P, Excler JL, Nitayaphan S, Kaewkungwal J, Premsri N, Kunasol P, Karasavvas N, Schuetz A, Ngauy V, Sinangil F, Dawson P, deCamp AC, Phogat S, Garunathan S, Tartaglia J, DiazGranados C, Ratto-Kim S, Pegu P, Eller M, Karnasuta C, Montefiori DC, Sawant S, Vandergrift N, Wills S, Tomaras GD, Robb ML, Michael NL, Kim JH, Vasan S, O'Connell RJ, RV305 Study Team. Randomized, Double-Blind Evaluation of Late Boost Strategies for HIV-Uninfected Vaccine Recipients in the RV144 HIV Vaccine Efficacy Trial. J Infect Dis. 2017 Apr 15;215(8):1255-1263. doi: 10.1093/infdis/jix099. PMID: 28329190.
1. Robb, M.L., Rerks-Ngarm, S., Nitayaphan, S., Pitisuttithum, P., Kaewkungwal, J., Kunasol, P., Khamboonruang, C., Thongcharoen, P., Morgan, P., Benenson, M., Paris, R.M., Chiu, J., Adams, E., Francis, D., Gurunathan, S., Tartaglia, J., Gilbert, P.,Stablein, D., Michael, N.L., Kim, J.H. Risk behaviour and time as covariates for efficacy of the HIV vaccine regimen ALVAC-HIV (vCP1521) and AIDSVAX B/E: a post-hoc analysis of the Thai phase 3 efficacy trial RV 144. Lancet Infect Dis. 2012; 12(7):531-7.
2. Haynes BF, Gilbert PB, McElrath MJ, Zolla-Pazner S, Tomaras GD, Alam SM, Evans DT, Montefiori DC, Karnasuta C, Sutthent R, Liao HX, DeVico AL, Lewis GK, Williams C, Pinter A, Fong Y, Janes H, DeCamp A, Huang Y, Rao M, Billings E, Karasavvas N, Robb ML, Ngauy V, de Souza MS, Paris R, Ferrari G, Bailer RT, Soderberg KA, Andrews C, Berman PW, Frahm N, De Rosa SC, Alpert MD, Yates NL, Shen X, Koup RA, Pitisuttithum P, Kaewkungwal J, Nitayaphan S, Rerks-Ngarm S, Michael NL, Kim JH. Immune-correlates analysis of an HIV-1 vaccine efficacy trial. N Engl J Med. 2012 Apr 5;366(14):1275-86. doi: 10.1056/NEJMoa1113425. PMID: 22475592.
About the Walter Reed Army Institute of Research
Headquartered in Silver Spring, Maryland, the Walter Reed Army Institute of Research (WRAIR) provides unique research capabilities and innovative solutions to a range of force health and readiness challenges, with special focus on infectious diseases.
The Armed Forces Research Institute of Medical Sciences (AFRIMS) is one of WRAIR's overseas laboratories that is a joint institute with the Royal Thai Army. AFRIMS has been a benchmark of success in tropical infectious disease research and development. It operates as a joint medical research venture between the U.S. Army and the Royal Thai Army.
The U.S. Military HIV Research Program (MHRP) at WRAIR conducts research to develop an effective HIV vaccine and integrates prevention, treatment, diagnosis and monitoring as part of a global effort to protect troops and reduce the impact of HIV worldwide. MHRP has six clinical research sites in the US, Africa and Asia. For more information, visit http://www.hivresearch.org or find MHRP on Facebook, http://www.facebook.com/hivresearch, and Twitter at @MHRPInfo
Funding
This work was supported by the US Army Medical Research and Materiel Command (Military Infectious Diseases Research Program) (cooperative agreements W81XWH-11-2-0174 and W81XWH-07-2-0067 with the Henry M. Jackson Foundation for the Advancement of Military Medicine); the National Institute of Allergy and Infectious Disease (interagency agreement Y1-AI-2642-12 with the US Army Medical Research and Materiel Command and an F31 fellowship), and the Bill & Melinda Gates Foundation (CAVIMC grants OPP1032144 and OPP1146996).
---
Journal
The Journal of Infectious Diseases