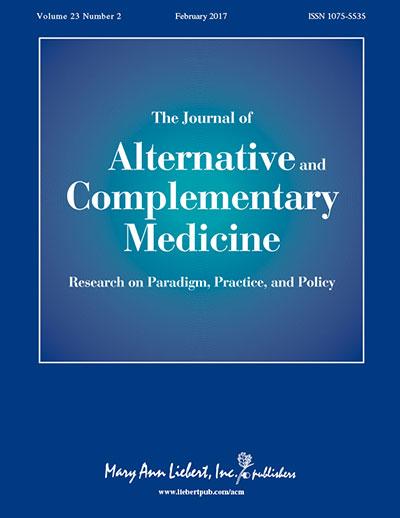 New Rochelle, NY, May 22, 2017 -A new study shows that the likelihood of health insurance reimbursement for some common clinical services differs significantly depending on whether they are provided by a complementary healthcare service provider or a primary care physician. A comparison of reimbursement rates for health services provided in a nonemergent outpatient setting is reported in the Journal of Alternative and Complementary Medicine, a peer-reviewed publication from Mary Ann Liebert, Inc., publishers. The article is available free on JACM website until June 22, 2017.
The article entitled "Insurance Reimbursement for Complementary Healthcare Services" is coauthored by James Whedon, DC, MS, Anupama Kizhakkeveettil, BAMS, MAOM, PhD, and Melissa Nagare-Kimura, MAOM, DC, LAC, CCSP, Southern California University of Health Sciences, Whittier, CA and Tor Tosteson, ScD, Geisel School of Medicine, Dartmouth College, Hanover, NH. The researchers found that compared with primary care physicians, the likelihood of reimbursement for any of the services included in the study was 69% lower for acupuncturists, 71% lower if provided by chiropractors, and 62% lower for doctors of naturopathic medicine. The authors suggest that these differences could affect access to and utilization of integrated medicine services.
"This report is particularly useful as a measure of the resistance of insurers to follow the law created with Section 2706 of the Affordable Care Act called 'Non-Discrimination in Health Care," says JACM Editor-in-Chief John Weeks, johnweeks-integrator.com, Seattle, WA. "The results suggest we have a significant enforcement issue."
###
About the Journal
The Journal of Alternative and Complementary Medicine is a monthly peer-reviewed journal published online with open access options and in print. Led by John Weeks (johnweeks-integrator.com), the Co-founder and past Executive Director of the Academic Collaborative for Integrative Health, the Journal provides observational, clinical, and scientific reports and commentary intended to help healthcare professionals, delivery organization leaders, and scientists evaluate and integrate therapies into patient care protocols and research strategies. Complete tables of content and a sample issue may be viewed on the Journal of Alternative and Complementary Medicine website.
About the Publisher
Mary Ann Liebert, Inc., publishers is a privately held, fully integrated media company known for establishing authoritative peer-reviewed journals in many promising areas of science and biomedical research, including Alternative and Complementary Therapies, Medical Acupuncture, and Journal of Medicinal Food. Its biotechnology trade magazine, GEN (Genetic Engineering & Biotechnology News), was the first in its field and is today the industry's most widely read publication worldwide. A complete list of the firm's 80 journals, books, and newsmagazines is available on the Mary Ann Liebert, Inc., publishers website.
---
Journal
The Journal of Alternative and Complementary Medicine