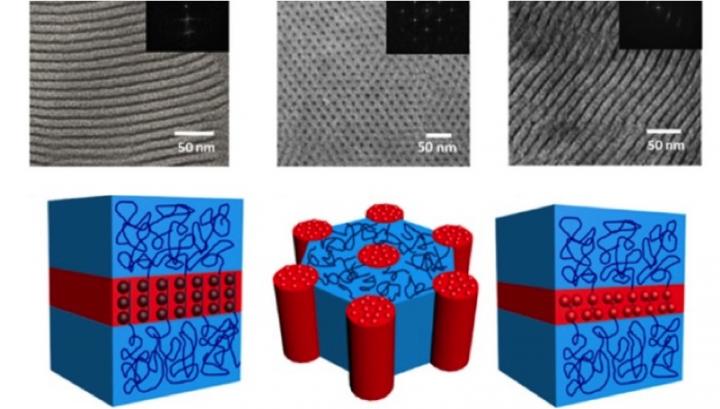 A great childhood pleasure is playing with Legos® and marveling at the variety of structures you can create from a small number of basic elements. Such control and variety of superstructures is a goal of polymer chemists, but it is hard to regulate their specific size and how the pieces fit together. This week in ACS Central Science, researchers report a simple system to make different nano-architectures with precision.
Using a variety of highly efficient chemical transformations and other techniques to ensure high yields and purity, Stephen Z. D. Cheng, Yiwen Li, Wen-Bin Zhang and coworkers designed systems to create giant molecules with 'orthogonal' ends, meaning that they only fit together with a specific partner just like Legos®. Depending on the relative amounts of different building-block molecules, these molecules come together in different superstructures -- ranging from cubes to wheels and sandwiches. Eventually, they could be employed in device-creation, where it is crucial to have precise control over the positions of the components.
###
The authors acknowledge funding from the National Science Foundation.
"Toward Controlled Hierarchical Heterogeneities in Giant Molecules with Precisely Arranged Nano Building Blocks"
The paper will be freely available on January 27th, at this link: http://pubs.acs.org/doi/full/10.1021/acscentsci.5b00385
The American Chemical Society is a nonprofit organization chartered by the U.S. Congress. With more than 158,000 members, ACS is the world's largest scientific society and a global leader in providing access to chemistry-related research through its multiple databases, peer-reviewed journals and scientific conferences. Its main offices are in Washington, D.C., and Columbus, Ohio.
To automatically receive news releases from the American Chemical Society, contact newsroom@acs.org.
---
Journal
ACS Central Science