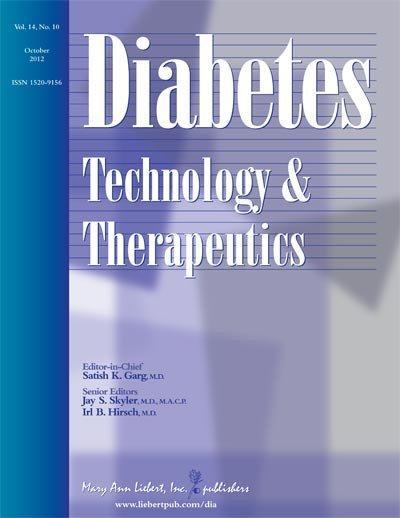 New Rochelle, NY, October 24, 2012—Full-body or X-ray scanners used for airport security screening may affect the function of insulin pump or continuous glucose monitoring (CGM) devices. People with diabetes can present a travel letter obtained from their physicians to avoid possible damage caused by exposure to imaging equipment in airports. The risk to these sensitive devices posed by scanners and the low-pressure conditions on airplanes are the focus of the Editorial "Navigating Airport Security with an Insulin Pump and/or Sensor," published in Diabetes Technology & Therapeutics, a peer-reviewed journal from Mary Ann Liebert, Inc., publishers. The Editorial is available free on the Diabetes Technology & Therapeutics website at http://www.liebertpub.com/dia.
Andrew Cornish and H. Peter Chase, MD, University of Colorado, Denver, caution that the motor of an insulin delivery pump or glucose monitoring device may experience electromagnetic malfunctioning when passed through an airport security scanner. However, little research has been published on the potential impact of that exposure.
"Given the increased use of insulin pump therapy, not only in the U.S., but around the world, with hundreds of thousands of people using this technology, it seems critical that more research is funded to better understand and potentially repair this problem," says Irl Hirsch, MD, Senior Editor of Diabetes Technology & Therapeutics and Professor of Medicine, University of Washington Medical Center-Roosevelt, Seattle, WA.
###
About the Journal
Diabetes Technology & Therapeutics is a monthly peer-reviewed journal that covers new technology and new products for the treatment, monitoring, diagnosis, and prevention of diabetes and its complications. Led by Editor-in-Chief Satish Garg, MD, Professor of Medicine and Pediatrics at the University of Colorado Denver, the Journal covers topics that include noninvasive glucose monitoring, implantable continuous glucose sensors, novel routes of insulin administration, genetic engineering, the artificial pancreas, measures of long-term control, computer applications for case management, telemedicine, the Internet, and new medications. Tables of content and a sample issue may be viewed on the Diabetes Technology & Therapeutics website at http://www.liebertpub.com/dia.
About the Publisher
Mary Ann Liebert, Inc., publishers (http://www.liebertpub.com) is a privately held, fully integrated media company known for establishing authoritative peer-reviewed journals in many promising areas of science and biomedical research, including Metabolic Syndrome and Related Disorders, Journal of Aerosol Medicine and Pulmonary Drug Delivery, Childhood Obesity, and Population Health Management. Its biotechnology trade magazine, Genetic Engineering & Biotechnology News (GEN), was the first in its field and is today the industry's most widely read publication worldwide. A complete list of the firm's 70 journals, books, and newsmagazines is available on the Mary Ann Liebert, Inc., publishers website at http://www.liebertpub.com.
Mary Ann Liebert, Inc.
140 Huguenot St., New Rochelle, NY 10801-5215
http://www.liebertpub.com
Phone: (914) 740-2100
(800) M-LIEBERT
Fax: (914) 740-2101
---
Journal
Diabetes Technology & Therapeutics