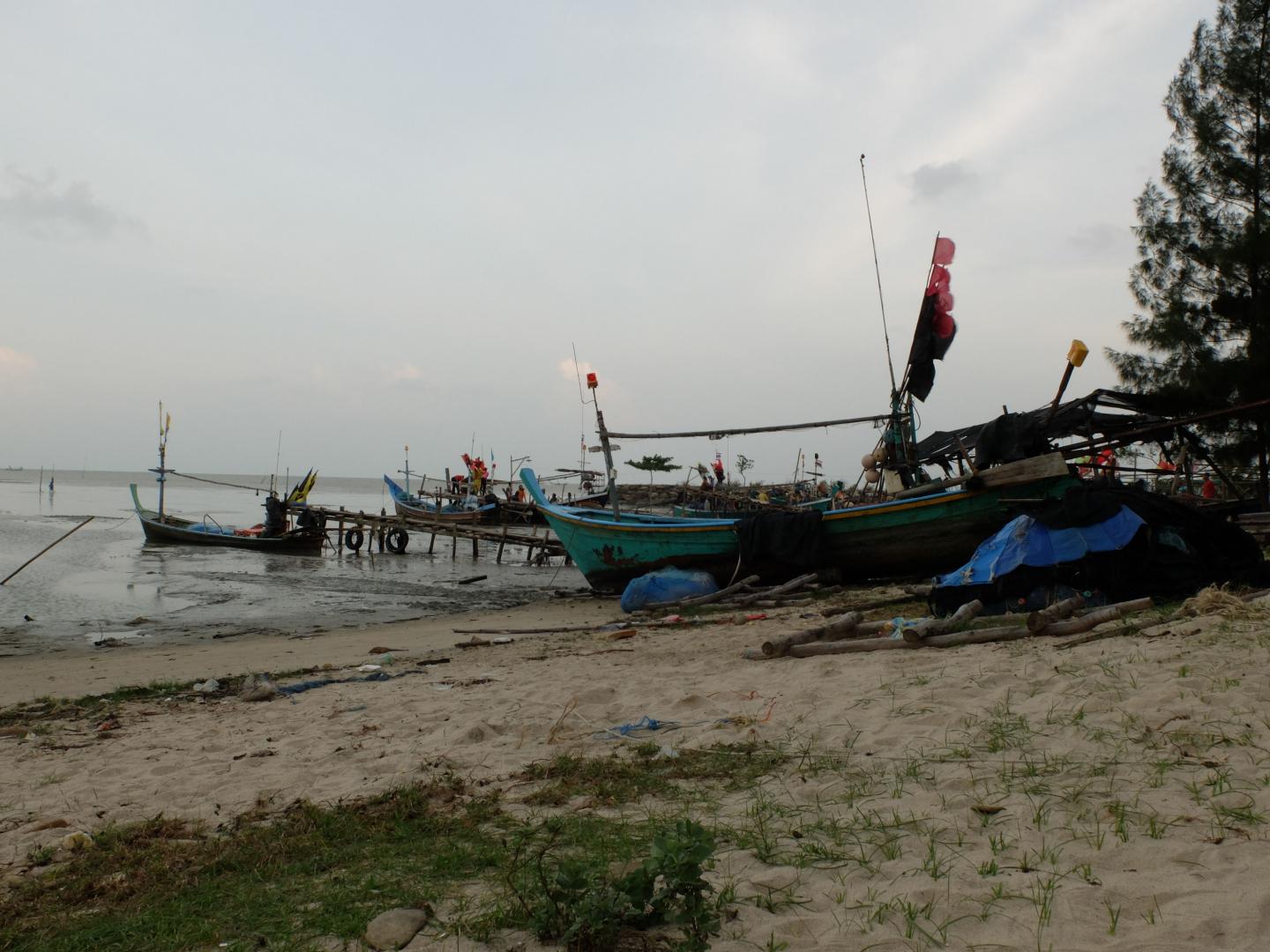 A major study aims to improve understanding of the vulnerability of Thailand's shoreline and coastal communities to storms, floods and coastal erosion under future climate change scenarios.
The Thai-coast project, led by Professor Cherith Moses from Edge Hill University, together with Dr Kanchana Nakhapakorn from Mahidol University in Nakhon Pathom, has received a total project funding value of £591,750 from the Natural Environment Research Council (NERC), the Economic and Social Research Council (ESRC) and the Thailand Research Fund, funded through the Newton Fund in Thailand.
In Thailand the problems of coastal erosion and flooding require immediate attention and, most importantly, solutions because they affect 17 per cent of the country's population - more than 11 million people.
The Thai Government's Department of Marine and Coastal Resources (DMCR) has calculated that each year, erosion causes the country to lose 30 square kilometres of coastal land. The country's Office of Natural Resources and Environmental Policy and Planning predicts the sea level will rise one metre in the next 40 to 100 years, which impacts at least 3,200 square kilometres of coastal land at a potential cost to Thailand of 3 billion baht (almost £70m).
The study aims to enhance the resilience and adaptation potential of coastal communities, applying scientific research to inform more robust and cost-effective solutions.
Professor Moses, Head of Geography at Edge Hill is the study's principal investigator. She is working alongside colleagues at the University of Brighton, University of Sussex and Ambiental Technical Solutions in the UK, Mahidol University, Chulalongkorn University and Thammasat University in Thailand and the US's National Center for Atmospheric Research and the Thailand Government on the three-year collaboration.
Professor Moses said: "We aim to establish the links between climate change, coastal erosion and flooding, and use this information to assess the interaction of natural and social processes to enhance coastal community resilience and future sustainability.
"Our collaborative team of natural and social scientists from UK, US and Thai research institutions, have complimentary, cutting-edge expertise and will work closely with Thai Government and UK and Thai industry partners to ensure that results are relevant to both policy development and practice."
The project focuses on two study areas, Nakhon Si Thammarat province and Krabi province, selected on the basis of DMCR coastal erosion data and the fact they have contrasting natural and socio-economic characteristics.
Dr Kanchana Nakhapakorn added: "Just at the start of this year, Tropical Storm Pabuk hit the Southern region of Thailand, including one of our project study sites, Nakhon Si Thammarat province. The storm, thought to be the worst that has hit the region for 30 years, caused storm surges and flooding damaging houses, powerlines and transport routes. The rains triggered flash floods in several coast provinces. The Thai-coast project team are working to enable increased preparedness and resilience to future such events that may become more regular as a consequence of climate change."
The Thai-coast project will use a multidisciplinary approach to improve understanding of hydro-meteorological hazard (storms, floods and coastal erosion) occurrence, their physical and socioeconomic, health and wellbeing effects on Thailand's coastal zone and the ways in which governance and institutional arrangements mitigate their impact.
The wider public, who inhabit Thailand's coastal communities either permanently or temporarily for work or leisure, will benefit through the advanced knowledge and awareness of identified problems and learning processes to address them.
Professor Moses said: "Thai-coast research will benefit government and policymakers, who need to plan for potential impacts caused by climate change and develop resilient strategies to deal with their impacts on natural-social systems. It will provide a link with government agencies for business/industry interests in the coastal zone of Thailand in tourism, aquaculture and associated industry and business, to assess their needs and help improve their understanding of coastal resilience in their strategic investments and management. Most importantly it will enhance the resilience of coastal communities, such as those currently affected by Storm Pabuk, in Thailand to natural hazards posed by storm impact."
###
Notes to Editors
NERC is the UK's main agency for funding and managing research, training and knowledge exchange in the environmental sciences. Our work covers the full range of atmospheric, Earth, biological, terrestrial and aquatic science, from the deep oceans to the upper atmosphere and from the poles to the equator. We coordinate some of the world's most exciting research projects, tackling major environmental issues such as climate change, environmental influences on human health, the genetic make-up of life on Earth, and much more. NERC is part of UK Research & Innovation, a non-departmental public body funded by a grant-in-aid from the UK government.
The Economic & Social Research Council is part of UK Research & Innovation, a non-departmental public body funded by a grant-in-aid from the UK government. ESRC is the UK's largest funder of research on the social and economic questions facing us today. It supports the development and training of the UK's future social scientists and also funds major studies that provide the infrastructure for research. ESRC-funded research informs policymakers and practitioners and helps make businesses, voluntary bodies and other organisations more effective.
---