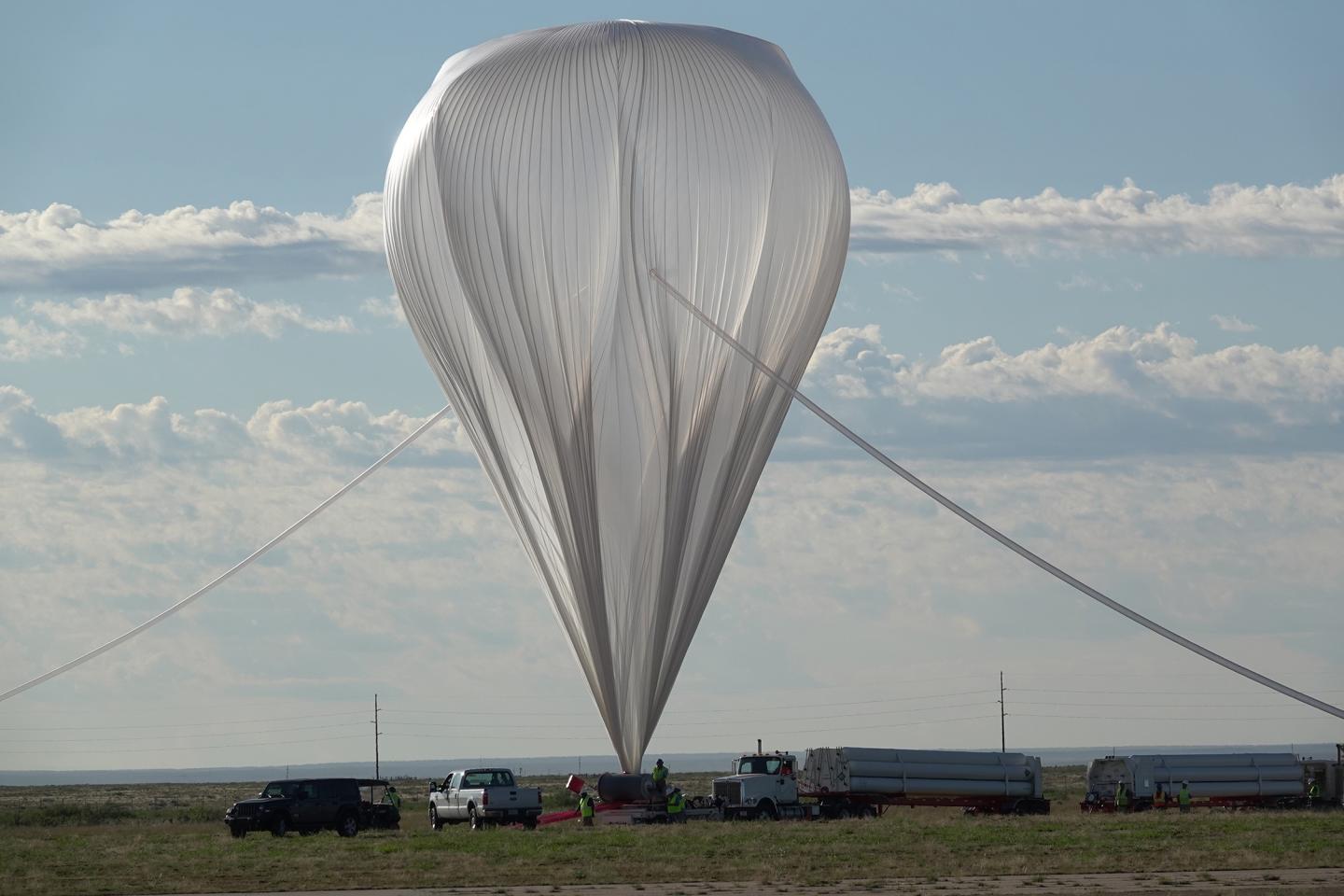 LOWELL, Mass. - In a quest to discover new Earth-like planets capable of supporting life, NASA on Saturday launched a telescope designed and built by UMass Lowell that could one day find new planets and other objects in space that have yet to be detected because they are awash in light from stars they orbit.
Launched at 11:07 a.m. EST from the NASA Columbia Scientific Balloon Facility in Fort Sumner, N.M., the telescope was lifted to the edge of the Earth's atmosphere to about 125,000 feet - roughly 3.5 times higher than the typical cruising altitude of a passenger jet - by a gigantic helium balloon some 39 million cubic feet, about the size of a football field.
The project is funded by a $5.6 million, five-year grant from NASA to UMass Lowell. Physics Prof. Supriya Chakrabarti, who directs the university's Lowell Center for Space Science and Technology (LoCSST), is leading the research team that designed and built the telescope.
Known as "PICTURE-C," which stands for Planetary Imaging Concept Testbed Using a Recoverable Experiment-Coronagraph, the telescope weighs 1,500 pounds and is about 14 feet long and 3 feet wide. The instrument boasts a unique imaging system designed to block out direct light from stars so that objects close to them, including planets that would otherwise be hidden from view by stars' glare, can be studied in detail.
"Our ultimate goal is to directly image planets similar to Earth around nearby stars. To prepare for that, in this flight, we tested the capabilities of the instrument's key technologies by imaging asteroid belt-like systems around other stars," Chakrabarti said.
PICTURE-C includes an optical control system that allows it to stay on target, which was designed and built by UMass Lowell Research Scientist Christopher Mendillo of Boston and Physics Associate Prof. Timothy Cook of Newton.
UMass Lowell Senior Mechanical Engineer Jason Martel of Ayer and graduate students Kuravi Hewawasam of Lowell and Glenn Howe of Malden contributed to the mission, along with other collaborators including researchers from NASA's Jet Propulsion Laboratory and Goddard Space Flight Center.
"In our pursuit of space exploration, we are training the next generation of astronomers, space scientists and engineers through hands-on involvement in all phases of various missions, from instrument development to data analysis," Chakrabarti said.
During the test mission, the device was aloft for several hours, after which NASA ground controllers released the telescope from the balloon, which parachuted gently back to Earth to be reused for its next mission, which is scheduled for next year.
###
UMass Lowell is a national research university located on a high-energy campus in the heart of a global community. The university offers its more than 18,000 students bachelor's, master's and doctoral degrees in business, education, engineering, fine arts, health, humanities, sciences and social sciences. UMass Lowell delivers high-quality educational programs, vigorous hands-on learning and personal attention from leading faculty and staff, all of which prepare graduates to be leaders in their communities and around the globe. http://www.uml.edu
---