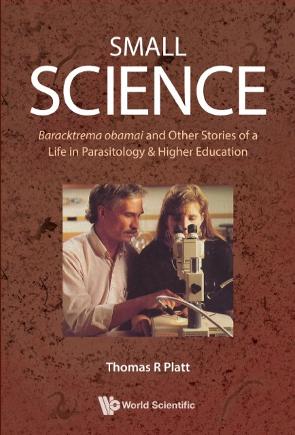 "Long, thin, and cool as hell" was how parasitologist Thomas Platt described the new genus and species of trematode (Baracktrema obamai) he named in honor of the 44th USA president and his 5th cousin, Barack Obama. That discovery marked the end of his career. How he got there is the story Small Science tells in this part-personal and part-scientific memoir. Impatience saved his life at the age of 15, and quick reflexes saved his hands from mutilation in an industrial accident as a young adult. Dr. Platt's choice to spend his life in a liberal arts setting was forged by his experience as a student-athlete at Hiram College (OH). His life was shaped by three factors: the parasites (that chose him), the love and support of Kathy, his wife of 48-years, and the decision not to pursue grant money (except once).
SMALL SCIENCE, the title of the book, is also the ethos of Platt's approach to the study of parasites both personally and guiding the young women at Saint Mary's College in South Bend, Indiana, in their required research projects during his 28-year career. He traveled extensively in search of new species of parasitic worms, from neighboring Costa Rica to the far-flung reaches of Australia and Malaysia. His love of turtles and their parasites led to the discovery of 30 new species, 11 new genera, and international recognition. The book provides perspectives on the places and people encountered along the way, details of interactions with wildlife, and interesting and accessible insights into parasite behavior in the external environment and with their hosts. Supervising 78 student research projects resulted in 15 students contributing to 12 publications in national and international journals.
The chapter "In Defense of Parasites" (where the book began) explores the questions: Why do parasites exist? What are they good for? Why can't we get rid of them? Platt provides the reader with an introduction to the organisms that formed the basis for his life's work. Subsequent chapters track his navigation of undergraduate and graduate school, a career in higher education, and the research that "kept him busy and off the street!" The road to academic success was not initially smooth. Faced with a brutal tenure rejection at the start of his career, Platt was told that "You are not the type of person we want to invest in for the next 30 years." A short detour into the business world and back to academe took some surprising turns.
SMALL SCIENCE will appeal to college/university faculty and students, particularly those with an interest in undergraduate research. Many potential readers are familiar with the uproar surrounding the naming of a parasite in honor of President Obama (Baracktrema obamai) and should find the author's personal account of his 15-minutes of fame amusing and enlightening. Finally, readers interested in the workings of higher education and scientific investigation – and are intrigued by the parasites they never want to encounter outside the pages of a book will be treated to an illuminating and enjoyable story.
When asked about the impetus for Small Science, Platt shared, "I didn't start out to write a book, just an essay. One essay led to another, and I realized I was telling a story I had never read – a career of research with undergraduates, with no money, and only your creativity and patience as the path to success. Thousands of my brother and sister faculty work in similar conditions and succeed in introducing the next generation of students to the beauty of scientific investigation." Liberal Arts colleges are the incubators for future research scientists. The dedicated faculty at these institutions shape and guide beginning students in learning how to conduct research and present their results. Their story has never been told – until now.
SMALL SCIENCE: Baracktrema obamai and Other Stories of a Life in Parasitology & Higher Education retails for US$28 / £25 (paperback) and US$58 / £50 (hardcover) and is also available in electronic formats. To order or know more about the book, or to read endorsements and reviews for the work, visit http://www.worldscientific.com/worldscibooks/10.1142/12339.
###
About the Author
Dr Thomas R Platt is Professor Emeritus at Saint Mary's College, Notre Dame, Indiana, USA, where he was Chair of the Department of Biology from 2001–2008. He is the author of more than 70 publications on parasitology and taxonomy, and the discoverer of 30 new species. He named one of the last parasites he discovered before retiring Baracktrema obamai, after then-USA President Barack Obama, who is his fifth cousin, twice-removed. He holds a PhD in Zoology from the University of Alberta, Canada.
About World Scientific Publishing Co.
World Scientific Publishing is a leading international independent publisher of books and journals for the scholarly, research and professional communities. World Scientific collaborates with prestigious organisations like the Nobel Foundation and US National Academies Press to bring high quality academic and professional content to researchers and academics worldwide. The company publishes about 600 books and over 140 journals in various fields annually. To find out more about World Scientific, please visit http://www.worldscientific.com.
For more information, contact Amanda at heyun@wspc.com.
---