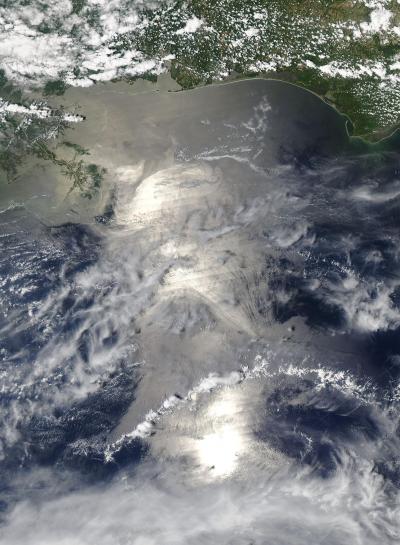 At 3 p.m. EDT on May 18, NASA's Aqua satellite swept over the Gulf of Mexico oil spill from its vantage point in space and the Moderate Resolution Imaging Spectroradiometer instrument viewed of parts of the spill within areas of sunglint off the water's surface.
Oil slicks are not always visible in natural-color satellite images. A thin sheen of oil on an already dark background may be impossible to detect. On this day, however, the slick was located in the sunglint part of the image, which makes the slick stand out.
Sunglint is the mirror-like reflection of the Sun off the water. If the ocean surface were as smooth and calm as a mirror, a series of perfect reflections of the Sun would appear in a line along the path of the satellite's northeast-to-southwest orbit. Instead, waves blur the reflection, creating a wide, washed-out strip through the ocean.
A coating of oil smoothes the sea surface relative to the oil-free water, causing it to reflect light differently. Depending on where in the sunglint area it occurs, the slick may look brighter or darker than adjacent clean water. In this image, the slick appears as an uneven shape of varying shades of bright gray-beige.
According to the May 18 National Oceanic and Atmospheric Administration (NOAA) web update of the Deepwater Horizon incident, "satellite imagery on May 17 indicated that the main bulk of the oil is dozens of miles away from the Loop Current, but that a tendril of light oil has been transported down close to the Loop Current."
The May 18 NOAA update also noted that "NOAA extended the boundaries of the closed fishing area in the Gulf into the northern portion of the loop current as a precautionary measure to ensure seafood from the Gulf will remain safe for consumers. The closed area is now slightly less than 19 percent of the Gulf of Mexico federal waters."
###
---