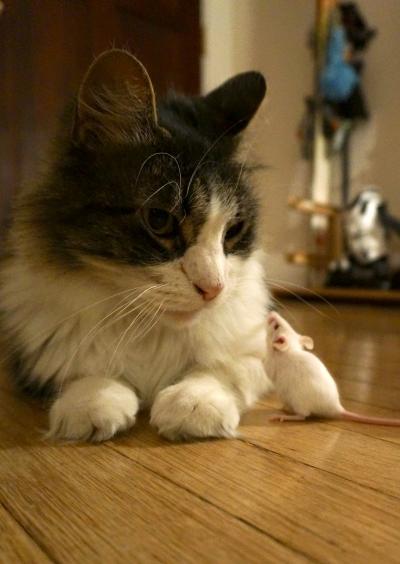 Chronic infection with the parasite Toxoplasma gondii can make mice lose their innate, hard-wired fear of cats. This loss of their innate fear may persist after the parasite is no longer detectable in their brains, suggesting that initial infection may cause permanent changes in the mechanisms underlying their fear of predators. The results are published September 18 in the open access journal PLOS ONE by Wendy Ingram and colleagues from the University of California, Berkeley.
Even after infection with Toxoplasma has been removed from rodents' brains, they continue to behave as if unafraid of the smell of cat urine, suggesting that the infection causes long-term changes in the brain. Previous studies have suggested this persistent behavioral change may be due to brain inflammation or parasite cysts within brain cells. In this study, the researchers found that this lack of fear persisted even when inflammation markers or cysts could not be detected in mice. Based on experiments with low-virulence strains of Toxoplasma and exposing mice to the parasites over a long period of time, the authors suggest that the lack of fear occurs within the first three weeks of infection. The behavioral change persists even in the absence of parasite cysts and brain inflammation, suggesting a different mechanism may be responsible, such as proteins injected by the parasite into host cells. Ingram elaborates, "It is remarkable that even after the infection has been largely or completely cleared, a profound behavioral change persists. Simply having a transient infection resulting in what is potentially a permanent change in host biology may have huge implications for infectious disease medicine."
###
Citation: Ingram WM, Goodrich LM, Robey EA, Eisen MB (2013) Mice Infected with Low-Virulence Strains of Toxoplasma gondii Lose Their Innate Aversion to Cat Urine, Even after Extensive Parasite Clearance. PLoS ONE 8(9): e75246. doi:10.1371/journal.pone.0075246
Financial Disclosure: This work was supported by NIH R01AI065537 and R01AI093132 awarded to E.A.R., an HHMI investigator award to M.B.E, an NSF graduate research fellowship to W.M.I., and a Genentech Scholars Program award to L.M.G. The funders had no role in study design, data collection and analysis, decision to publish, or preparation of the manuscript.
Competing Interest Statement: M.B.E. is co-founder and member of the Board of Directors of PLOS. This does not alter the authors' adherence to all the PLoS ONE policies on sharing data and materials. The second author, Leeanne M Goodrich, received funding from a commercial source in the form of a Genentech Scholars Program Undergraduate Research Award. This does not alter the authors' adherence to all the PLOS ONE policies on sharing data and materials.
PLEASE LINK TO THE SCIENTIFIC ARTICLE IN ONLINE VERSIONS OF YOUR REPORT (URL goes live after the embargo ends): http://dx.plos.org/10.1371/journal.pone.0075246
Disclaimer: This press release refers to upcoming articles in PLOS ONE. The releases have been provided by the article authors and/or journal staff. Any opinions expressed in these are the personal views of the contributors, and do not necessarily represent the views or policies of PLOS. PLOS expressly disclaims any and all warranties and liability in connection with the information found in the release and article and your use of such information.
About PLOS ONE: PLOS ONE is the first journal of primary research from all areas of science to employ a combination of peer review and post-publication rating and commenting, to maximize the impact of every report it publishes. PLOS ONE is published by the Public Library of Science (PLOS), the open-access publisher whose goal is to make the world's scientific and medical literature a public resource.
All works published in PLOS ONE are Open Access. Everything is immediately available—to read, download, redistribute, include in databases and otherwise use—without cost to anyone, anywhere, subject only to the condition that the original authors and source are properly attributed. For more information about PLOS ONE relevant to journalists, bloggers and press officers, including details of our press release process and our embargo policy, see the everyONE blog at http://everyone.plos.org/media.
---