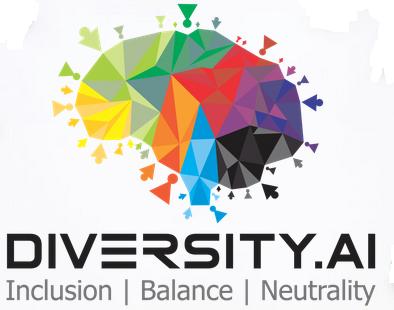 Earlier this year scientists at the Biogerontology Research Foundation contributed to the development of Aging.AI, which utilized an ensemble of deep neural networks trained on the basic features from blood tests of reasonably healthy patients of Central and Eastern European origin. The results of the study were published in the journal "Aging" and are available on the Pubmed Commons system.
Since many age-related diseases are causally, phenotypically and symptomatically related, there were very few healthy patients above the age of 60 to use in the Aging.AI system, and the oldest patient in the study was 93 years of age. When testing the system with reference blood samples, it became clear that the deep learned biomarker was population-specific and that the error rates in older age are higher because older patients are under-represented in the training sets.
"We are very happy to join the Diversity.AI think tank and would like other organizations facing similar dilemmas to participate in this think tank. Experts on AI safety often refer to the potential of AI to eliminate humans. But the real threat is in its ability to discriminate and we see that happening in machine learned predictors and classifiers today. It is imperative to have the ability to test for bias in the deep neural networks and identify strategies to make these systems fair and inclusive" said Dmitry Kaminskiy, Managing Trustee of the Biogerontology Research Foundation and Senior Partner of Deep Knowledge Ventures.
Aging is a complex biological process involving concurrent phenotypic changes in multiple physiological systems and can be highly variable between different organisms and between different members of a given species, especially as it pertains to the the rate of ageing in different tissues, organs and organ systems and to the spatiotemporal distribution of phenotypic deviation and functional detriment in different physiological systems in any given individual and between different individuals and population subgroups. As such, its high variability and the sheer number of concurrent and progressive phenotypic and physiological changes makes it difficult to distinguish between causal and merely correlative age-related physiological changes. This situation creates a unique difficulty in identifying reliable and robust biomarkers of ageing.
Given this high intrinsic variability, it is imperative that other sources of variability between distinct (e.g geographically distinct) human populations, such as the effect of distinct environments upon physiological systems and different methods and standards of deriving clinical data between different healthcare systems, are accounted for in the development of biomarkers of ageing.
"In order to adjust for such population-specific biases as it pertains to deep learning-based approaches for aging biomarker development, characterization and prediction, many distinct population groups should be included in the training sets used to characterize and predict such biomarkers. Diversity.AI is an important step forward in this direction and the Biogerontology Research Foundation is excited to establish this partnership in order to promote equality, balance and diversity in the development of ageing biomarkers in general and to improve the scientific and clinical accuracy of ageing biomarker characterization and prediction in particular" said Franco Cortese, Deputy Director of the Biogerontology Research Foundation.
Diversity.AI is an international think tank dedicated to reducing discrimination and bias in the artificially intelligent systems in the many industries where these technologies are rapidly proliferating. The problem was recently exposed by the projects including Beauty.AI, an online beauty contest judged by a panel of robot jury members and Aging.AI, which does not perform equally well in various population groups and age ranges.
"Many industries become increasingly reliant on machine learning techniques. Security, finance and healthcare are among these industries. Misrepresentation or under-representation of minorities or older patients in the training sets will naturally lead to bias that may have deleterious effects on the entire field later on and it is important to identify effective strategies to prevent this kind of discrimination and develop artificially intelligent systems to monitor and guide other artificially intelligent systems. Technologies like Blockchain can be used to make more patient data for research groups like ours available for training and testing these systems" said Alex Zhavoronkov, PhD, CSO of the Biogerontology Research Foundation and CEO of Insilico Medicine, Inc.
The Biogerontology Research Foundation is planning to organize series of workshops in the UK dedicated to preventing ageism and age-bias by machine learned systems and help invite more biogerontologists to the Diversity.AI initiative.
###
References:
Putin, Evgeny, Polina Mamoshina, Alexander Aliper, Mikhail Korzinkin, Alexey Moskalev, Alexey Kolosov, Alexander Ostrovskiy, Charles Cantor, Jan Vijg, and Alex Zhavoronkov. "Deep biomarkers of human aging: Application of deep neural networks to biomarker development." Aging 8, no. 5 (2016): 1-021. https://www.ncbi.nlm.nih.gov/pubmed/27191382
Cohen, Alan A., Vincent Morissette-Thomas, Luigi Ferrucci, and Linda P. Fried. "Deep biomarkers of aging are population-dependent." Aging (Albany NY) 8, no. 9 (2016): 2253. https://www.ncbi.nlm.nih.gov/pmc/articles/PMC5076461/
About the Biogerontology Research Foundation
The Biogerontology Research Foundation is a UK non-profit research foundation and public policy center seeking to fill a gap within the research community, whereby the current scientific understanding of the aging process is not yet being sufficiently exploited to produce effective medical interventions. The BGRF funds and conducts research which, building on the body of knowledge about how aging happens, aims to develop biotechnological interventions to remediate the molecular and cellular deficits which accumulate with age and which underlie the ill-health of old age.
Addressing aging damage at this most fundamental level will provide an important opportunity to produce the effective, lasting treatments for the diseases and disabilities of aging, which are required to improve quality of life in the elderly. The BGRF seeks to use the entire scope of modern biotechnology to attack the changes that take place in the course of aging, and to address not just the symptoms of age-related diseases but also the mechanisms of those diseases.
---