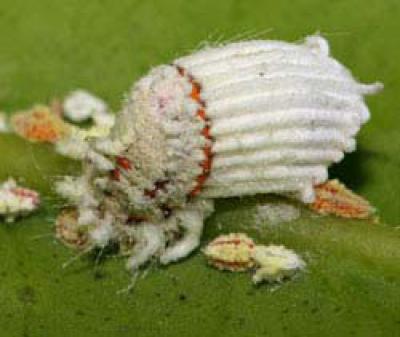 Bizarre insect inbreeding signals an end to males
A bizarre form of inbreeding could spell the end of males in one insect species, according to researchers from Oxford University. The research focused on cottony cushion scales, a hermaphroditic bug species in which females appear to fertilize their own eggs. "It turns out that females are not really fertilizing their eggs themselves, but instead are having this done by a parasitic tissue that infects them at birth," said Laura Ross, one of the study's authors. "It seems that this infectious tissue derives from leftover sperm from their fathers." In effect, the tissue enables males to father offspring with both their mates and then their daughters. According to a mathematical model developed by Ross and her co-author Andy Gardner, this odd reproductive tactic could eliminate the need for males in the species. Once the parasitic fathers become widespread in a population, females will be inclined to reproduce with them instead of regular males. Regular males, as a result, become very rare because they have a hard time finding willing mates.
Andy Gardner and Laura Ross, "The Evolution of Hermaphroditism by an Infectious Male-Derived Cell Lineage: An Inclusive-Fitness Analysis."
---
Without competition, island frogs evolve rapidly
Scientists led by Ben Evans of McMaster University have documented the rapid evolution of new fanged frog species on the island of Sulawesi, near the Philippines. The team found 13 species of fanged frog on the island, nine of which hadn't previously been described. The species differ in body size, amount of webbing in their feet, and even how they raise their young—all in accordance with the demands of their distinct ecological niches. Sulawesi has the same number of fanged frog species as the Philippine archipelago. "We would expect to find more species on the archipelago because it's so much larger, but that's not the case," Evans said. Why such diversity on the smaller island? There's less competition on Sulawesi, the researchers say. Fanged frogs in the Philippines have to compete with another genus of frogs, Platymantis. Platymantis never made to hop over to Sulawesi, leaving the fanged frogs free to spread out into new habitat niches, to which they eventually adapted. The rapid evolution of these frogs is a striking example of adaptive radiation—a concept Charles Darwin famously recorded in Galapagos finches.
Mohammad I. Setiadi, Jimmy A. McGuire, Rafe M. Brown, Mohammad Zubairi, Djoko T. Iskandar, Noviar Andayani, Jatna Supriatna, and Ben J. Evans, "Adaptive Radiation and Ecological Opportunity in Sulawesi and Philippine Fanged Frog (Limnonectes) Communities."
---
It takes a village, but only in times of plenty
Acorn woodpeckers are cooperative breeders, meaning adult birds often join breeding groups and help raise young that are not their own. Scientists have long thought that communal breeding may have evolved to help birds deal with food shortages and other difficult times. But a study by researchers from Cornell and Gonzaga shows that for acorn woodpeckers, the opposite seems to be true: Help contributed by other family members is beneficial only when the acorn crop is large. "Apparently when the crop is poor, the additional food that helpers provide to nestlings doesn't make up for the extra resources those helpers are using," said Walter Koenig, the study's lead author. "Whereas when the acorn crop is good, their help is enough to significantly increase both the survivorship of the other birds in the group and the number of young the group can fledge. At least in acorn woodpeckers, living together in a family only confers benefits when food is plentiful."
Walter D. Koenig, Eric L. Walters, and Joseph Haydock, "Variable Helper Effects, Ecological Conditions, and the Evolution of Cooperative Breeding in the Acorn Woodpecker."
---
Bacterial spite: When killing yourself is a good strategy
Spite evolves in close quarters, according to research led by Fredrik Inglis of the University of Oxford and ETH, Zurich. Inglis and his team studied a bacterial species in which individuals sometimes explode, releasing a toxin into the environment that is deadly to competing bacteria. This kamikaze-like behavior is a bit of an evolutionary mystery. How could a behavior in which an individual gives up its chance to reproduce evolve? Inglis and his team had previously developed a mathematical model showing that such spite is quite likely to evolve in bacterial colonies that are clonal, meaning individuals share the same genes. The model shows that if a few individuals sacrifice themselves to take out competitors, they increase the chances that their genes (albeit in other individuals) will be passed to the next generation. Lab experiments performed by Inglis and his team support the model. The experiments further show that spiteful species are most successful when competing with other species for the same resource patch. Spite is far less successful when multiple patches are available. The results, Inglis says, could provide insight into how and when bacteria cause disease.
R. Fredrik Inglis, Patrick Garfjeld Roberts, Andy Gardner, and Angus Buckling, "Spite and the Scale of Competition in Pseudomonas aeruginosa."
###
For the complete table of contents for the August issue, go to www.journals.uchicago.edu/an.
Since its inception in 1867, The American Naturalist has maintained its position as one of the world's most renowned, peer-reviewed publications in ecology, evolution, and population and integrative biology research. While addressing topics in community and ecosystem dynamics, evolution of sex and mating systems, organismal adaptation, and genetic aspects of evolution, AmNat emphasizes sophisticated methodologies and innovative theoretical syntheses--all in an effort to advance the knowledge of organic evolution and other broad biological principles.
---