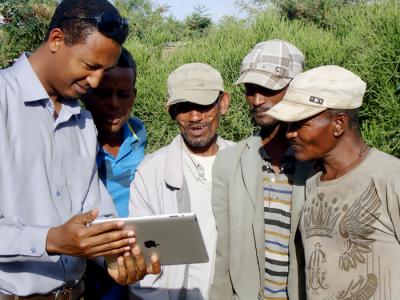 CHAMPAIGN, Ill. — Teff, a nutritious grain, is a staple in Ethiopia. Its seeds are tiny – so small that some say its name was derived from the Amharic word for "lost." Now, thanks to a creative educational initiative based at the University of Illinois, much less of the precious teff will be lost in Ethiopia.
The initiative, Scientific Animations Without Borders (SAWBO), brings practical health and agricultural information to people around the world using simple animations – often viewed on cellphones – that are narrated in local languages.
The Illinois team works with local development groups in Africa, Asia, India, and North and South America to identify areas of educational need and develop animations that meet those needs. The teff work was done in close collaboration with the Ethiopian Agricultural Transformation Agency (ATA) and Adama Science and Technology University in Ethiopia.
The idea of SAWBO is to get development information to as many people as possible in the most efficient way possible, said U. of I. entomology professor and SAWBO director Barry Pittendrigh. The animations are easy to understand and the widespread use of cellphones (and in some cases, computers) in the developing world make the videos available to a much larger audience than would be served by traditional development approaches, he said.
The latest videos address a widespread problem in teff cultivation: Ethiopian farmers sometimes plant more than 90 percent more teff seed per hectare than is needed to yield a good crop. That seed could feed a lot of hungry people.
"The traditional planting techniques will use 40 or 50 kilograms of seed per hectare, just randomly dispersing the seeds," Pittendrigh said. But other techniques, such as row planting or transplanting teff that is first sprouted in smaller plots, require a fraction of that amount (less than 1 kg to 3 kg per hectare) to grow a healthy crop, he said.
"It's a massive reduction in the amount of seed that can now instead be used for food," said SAWBO co-director Julia Bello-Bravo, who is the assistant director of the Center for African Studies and of Illinois Strategic International Partnerships at the U. of I.
The teff row-planting videos are narrated in Amharic, Afan Oromo and Tigrigna, three of the major languages in Ethiopia. Efforts are underway to translate the narrations into more languages. Illinois students and volunteers help out with the voice-overs and narrations.
SAWBO and Illinois student animators worked with Gemechu Olana, of Adama Science and Technology University, to create the teff animations and have them and other postharvest loss prevention videos narrated in local languages.
In support of such extension activities, the Ethiopian ATA purchased 640 electronic tablets and distributed them to agricultural offices, called woredas, around the country. With the animated videos on the tablets, the woredas are able to reach an estimated 168,000 teff growers, Olana said.
###
The ADM Institute for Postharvest Loss at Illinois funds SAWBO's postharvest loss prevention work. Other SAWBO support comes from the U. of I. Chancellor's Fund.
Editor's note: To reach Barry Pittendrigh, email pittendr@illinois.edu.
---