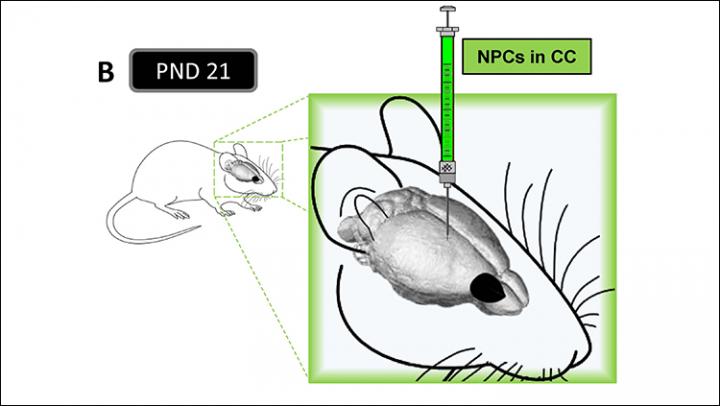 Neural stem cells can repair damaged parts of the brain and restore motor impairments in mice that display features of cerebral palsy, according to new research published in eNeuro. These results demonstrate the feasibility of using stem cells to address the underlying brain injuries responsible for this group of common movement disorders.
Michael Fehlings and colleagues induced a mild brain injury in young male and female mice that reproduces features of cerebral palsy and injected neural precursor cells into the corpus callosum -- the dense bundle of nerve fibers connecting the left and right sides of the brain, in which myelination is significantly impaired. With this approach, the researchers demonstrated recovery of lesions in the corpus callosum as well as the hippocampus and the cortex and improved walking and limb use. Although further research is needed to better understand the mechanisms underlying this recovery, the study suggests that neural precursor cells may build a "bio-bridge" that enable the brain's own oligodendrocyte cells to repair myelination lost as a result of the injury.
###
Article: Exogenous Neural Precursor Cell Transplantation Results in Structural and Functional Recovery in a Hypoxic-Ischemic Hemiplegic Mouse Model
DOI: https://doi.org/10.1523/ENEURO.0369-18.2018
Corresponding author: Michael Fehlings (University Health Network, Toronto, Canada), michael.fehlings@uhn.ca
About eNeuro
eNeuro, the Society for Neuroscience's open-access journal launched in 2014, publishes rigorous neuroscience research with double-blind peer review that masks the identity of both the authors and reviewers, minimizing the potential for implicit biases. eNeuro is distinguished by a broader scope and balanced perspective achieved by publishing negative results, failure to replicate or replication studies. New research, computational neuroscience, theories and methods are also published.
About The Society for Neuroscience
The Society for Neuroscience is the world's largest organization of scientists and physicians devoted to understanding the brain and nervous system. The nonprofit organization, founded in 1969, now has nearly 37,000 members in more than 90 countries and over 130 chapters worldwide.
---