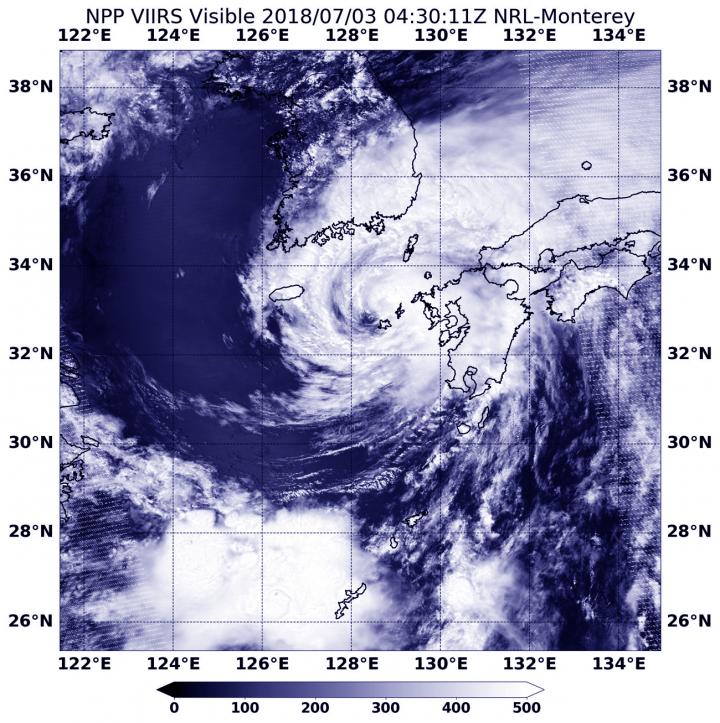 Typhoon Prapiroon is moving into the Sea of Japan and was lashing the Korean Peninsula and southern Japan when NASA-NOAA's Suomi NPP satellite passed overhead.
The Joint Typhoon Warning Center noted that animated multi-spectral imagery showed the ragged eye had become cloud filled by 5 a.m. EDT (0900 UTC), as convection began to elongate and shear (pushing the clouds and storms away from the center) with the mid-latitude westerlies (winds).
At that time,Typhoon Prapiroon was centered near 33.4 degrees north latitude and 128.9 degrees east longitude, about 44 nautical miles west-northwest of Sasebo, Kyushu Prefecture, Japan. Maximum sustained winds were near 75 mph (65 knots/120 kph). Prapiroon was moving to the north-northeast at 16 mph (14 knots/26 kph).
Prapiroon is now moving north-northeast and is weakening because of increasing vertical wind shear and its movement over cooler sea surface temperatures as it passes into the Sea of Japan.
###
For updated warnings and watches from Japan, visit: https://www.jma.go.jp/en/warn/index.html
For updated warnings and watches from South Korea, visit: https://web.kma.go.kr/eng/.
---