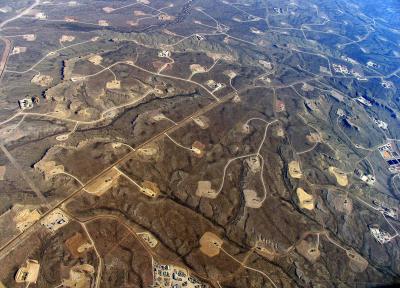 The co-authors of a new study, including two Simon Fraser University research associates, cite new reasons why scientists, industry representatives and policymakers must collaborate closely on minimizing damage to the natural world from shale gas development. Viorel Popescu and Maureen Ryan, David H. Smith Conservation Research Fellows in SFU's Biological Sciences department, are among eight international co-authors of the newly published research in Frontiers in Ecology and the Environment.
Shale gas development is the extraction of natural gas from shale formations via deep injection of high-pressure aqueous chemicals to create fractures (i.e., hydraulic fracturing), which releases trapped gas. With shale gas production projected to increase exponentially internationally during the next 30 years, the scientists say their key findings are cause for significant concern and decisive mitigation measures.
"Our findings are highly relevant to British Columbians given the impetus for developing shale resources in northeastern B.C. and the massive LNG facilities and pipeline infrastructure under development throughout the province," notes Popescu. The SFU Earth2Ocean Group member is also a research associate in the Centre for Environmental Research at the University of Bucharest in Romania.
Key study findings:
One of the greatest threats to animal and plant-life is the cumulative impact of rapid, widespread shale development, with each individual well contributing collectively to air, water, noise and light pollution.

"Think about the landscape and its habitats as a canvas," explains Popescu. "At first, the few well pads, roads and pipelines from shale development seem like tiny holes and cuts, and the canvas still holds. But if you look at a heavily developed landscape down the road, you see more holes and cuts than natural habitats. Forests or grasslands that were once continuous are now islands fragmented by a dense web of roads, pipelines and well pads. At what point does the canvas fall apart? And what are the ecological implications for wide-ranging, sensitive species such as caribou or grizzly bears?"

Determining the environmental impact of chemical contamination from spills, well-casing failure and other accidents associated with shale gas production must become a top priority.

Shale-drilling operations for oil and natural gas have increased by more than 700 per cent in the United States since 2007 and Western Canada is undergoing a similar shale gas production boom. But the industry's effects on nature and wildlife are not well understood. Accurate data on the release of fracturing chemicals into the environment needs to be gathered before understanding can improve.

The lack of accessible and reliable information on spills, wastewater disposal and fracturing fluids is greatly impeding improved understanding. This study identifies that only five of 24 American states with active shale gas reservoirs maintain public records of spills and accidents.
The authors reviewed chemical disclosure statements for 150 wells in three top-gas producing American states and found that, on average, two out of three wells were fractured with at least one undisclosed chemical. Some of the wells in the chemical disclosure registry were fractured with fluid containing 20 or more undisclosed chemicals.
The authors call this an arbitrary and inconsistent standard of chemical disclosure. This is particularly worrisome given the chemical makeup of fracturing fluid and wastewater, which can include carcinogens and radioactive substances, is often unknown.
"Past lessons from large scale resource extraction and energy development —large dams, intensive forestry, or biofuel plantations — have shown us that development that outpaces our understanding of ecological impacts can have dire unintended consequences," notes Ryan. She is a research fellow in the University of Washington's School of Environmental and Forest Sciences.
"It's our responsibility to look forward. For example, here in Canada, moving natural gas from northeastern B.C. to the 16 proposed LNG plants would require hundreds of kilometers of new pipeline and road infrastructure, and large port terminals on top of the effects of drilling. We must not just consider the impact of these projects individually, but also try to evaluate the ecological impacts holistically."
###
Simon Fraser University is consistently ranked among Canada's top comprehensive universities and is one of the top 50 universities in the world under 50 years old. With campuses in Vancouver, Burnaby and Surrey, B.C., SFU engages actively with the community in its research and teaching, delivers almost 150 programs to more than 30,000 students, and has more than 130,000 alumni in 130 countries.
Contact:
Viorel Popescu (Burnaby resident) 604.340.4228, vioreldpopescu@gmail.com (Note: Limited email and no phone contact Aug. 8-17)
Maureen Ryan (Bellingham, Wash. resident), 1.360.685.3640, moryan@uw.edu (Note: Unavailable Aug. 1-15)
Carol Thorbes, PAMR, 778.782.3035, cthorbes@sfu.ca (Note: away Aug. 1-8)
Marianne Meadahl, PAMR, 778.782.9017 (Mon-Thurs), 778.782.4323 (Fri), marianne_meadahl@sfu.ca
---
Journal
Frontiers in Ecology and the Environment