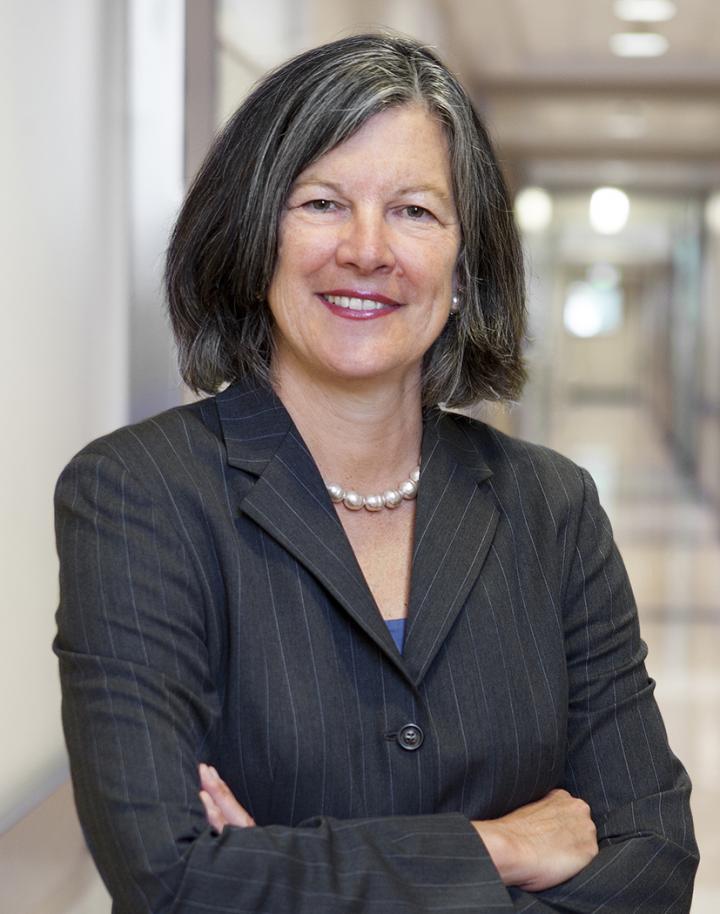 SALT LAKE CITY - The National Academy of Sciences has elected Mary Beckerle, PhD, Huntsman Cancer Institute (HCI) CEO and distinguished professor of biology and oncological sciences at the University of Utah (U of U), as a member. Beckerle is among 120 newly elected members announced in a press release during the annual meeting of the National Academy of Sciences.
Election as a member in this organization is widely accepted as a mark of excellence in scientific achievement and is considered one of the highest honors a scientist can receive. Of its more than 2,400 current members, approximately 190 have received a Nobel Prize, according to the National Academy of Sciences.
Beckerle shared she was "very surprised" to learn of her election to the prestigious group. She received a phone call this morning from a member of the National Academy of Sciences informing her of her election. Within minutes, she then received a flood of phone calls, emails, and text messages from colleagues congratulating her. "It was the most connected I have felt to my scientific community since the pandemic began, and it was lovely to be in touch with so many colleagues from around the world," added Beckerle.
Beckerle's research discovered a new pathway that is crucial in enabling cells to respond to mechanical signals in their environment. Such signals are now known to regulate cell growth and movement, two behaviors that yield critical insights into cancer biology. The Beckerle Lab is currently focused on understanding the molecular mechanisms underlying this pathway and its impact on tumor progression, particularly in Ewing sarcoma, a rare but deadly bone cancer that typically affects children and young adults.
"Dr. Beckerle's election to the National Academy of Sciences affirms what her colleagues see every day. She is a driving force as an individual scientist, yet Dr. Beckerle's hallmark is collaborative leadership that allows teams of scientists to achieve more together than they ever could alone," said Michael L. Good, MD, University of Utah interim president and CEO of University of Utah Health. In addition to leading HCI, Beckerle holds the Jon M. Huntsman Presidential Endowed Chair and also serves as associate vice president for cancer affairs at the U of U. Beckerle is only the 27th faculty member in the history of the U of U to be elected to the National Academy of Sciences.
Beckerle joined the U of U faculty in 1986, when she set up her first independent laboratory as a young scientist. Prior to coming to Utah, she earned her PhD in molecular, cellular, and developmental biology from the University of Colorado at Boulder, where she received a Danforth Fellowship. She completed postdoctoral research at the University of North Carolina at Chapel Hill and received a Guggenheim Fellowship for her studies at the Curie Institute in Paris.
She has received numerous accolades for her research, including the National Cancer Institute Knudsen Prize in recognition of her contributions to research on the genetic basis of cancer. She is also an elected fellow of other distinguished scientific organizations, including the American Philosophical Society, the American Academy of Arts and Sciences, and the Academy of the American Association for Cancer Research. She served as President of the American Society for Cell Biology and is a member of the Medical Advisory Board of the Howard Hughes Medical Institute.
As CEO of HCI, she led the organization to achieve its first-ever designation as a National Cancer Institute-Designated Comprehensive Cancer Center, the highest possible status of a cancer research institute. She also has led HCI's clinical programs to recognition as among the nation's Best Cancer Hospitals, according to U.S. News and World Report. Beckerle was appointed as a member of then-Vice President Biden's Cancer Moonshot Blue Ribbon Panel, where she co-chaired the working group on Precision Prevention and Early Detection.
"It is an incredible honor to be named alongside exceptionally talented colleagues who are part of the National Academy of Sciences," said Beckerle. "Scientific research is fascinating and motivating work, yet as a scientist, I often feel impatient. Each day, I work with the understanding that people are counting on the scientific community to make discoveries that will improve health, develop better treatments for diseases, enhance quality of life, and, wherever possible, prevent development of diseases like cancer. It is deeply humbling to see my contributions, and those of the many people who have worked in my lab over several decades, recognized in this way. My sincere hope is that the work of my research team will contribute to Huntsman Cancer Institute's vision of delivering a cancer-free frontier."
Beckerle adds that the National Academy of Sciences has a major impact in shaping science policy. She looks forward to the opportunity to contribute to the national dialogue on how to advance scientific and innovation and impact via her role as a member of this organization.
###
Past and Present U of U Researchers in the National Academies
Below are lists of current or former University of Utah faculty elected to one or more of the National Academies. Note that some were elected before or after their tenure at the university, and that some have died since their election.
National Academy of Sciences: Brenda Bass, Cynthia Burrows, Mario Capecchi, Dana Carroll, Thure Cerling, James Ehleringer, Kristen Hawkes, Christopher Hacon, James O'Connell, Baldomero "Toto" Olivera, C. Dale Poulter, Peter Stang, Wesley Sundquist, Polly Wiessner, Henry Harpending, Jesse D. Jennings, Cheves Walling, Sidney Velick, John R. Roth, Josef Michl, Ray White, Julian Steward, Jeremy Sabloff, Simon Tavaré, Henry Eyring, and Louis Goodman
National Academy of Engineering: Jindrich Kopecek, R. Peter King, Adel Sarofim, Sung Wan Kim, Gerald Stringfellow, Donald Dahlstrom, George Hill, Jan D. Miller, Milton E. Wadsworth, Thomas G. Stockham, John Herbst, Stephen C. Jacobsen, Willem J. Kolff, Alex G. Oblad, Anil Virkar, and William A. Hustrulid
National Academy of Medicine: Mario Capecchi, Wendy Chapman, Sung Wan Kim, Vivian Lee, Baldomero "Toto" Olivera, Stephen C. Jacobsen, Eli Adashi, Paul D. Clayton, and Homer R. Warner
About Huntsman Cancer Institute
Huntsman Cancer Institute (HCI) at the University of Utah is the official cancer center of Utah. The cancer campus includes a state-of-the-art cancer specialty hospital as well as two buildings dedicated to cancer research. HCI treats patients with all forms of cancer and is recognized among the best cancer hospitals in the country by U.S. News and World Report. As the only National Cancer Institute (NCI)-Designated Comprehensive Cancer Center in the Mountain West, HCI serves the largest geographic region in the country, drawing patients from Utah, Nevada, Idaho, Wyoming, and Montana. More genes for inherited cancers have been discovered at HCI than at any other cancer center in the world, including genes responsible for hereditary breast, ovarian, colon, head, and neck cancers, along with melanoma. HCI manages the Utah Population Database, the largest genetic database in the world, with information on more than 11 million people linked to genealogies, health records, and vital statistics. HCI was founded by Jon M. and Karen Huntsman.
---