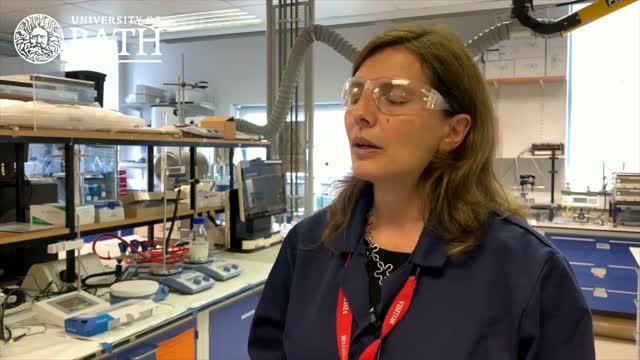 Plastic microbeads were banned from shower gels and toothpaste in the UK last year, but could still be hiding in your suncream or lipstick. Now start-up company Naturbeads, based at the University of Bath, is working with companies to replace microplastics in these products with biodegradable microbeads made from cellulose.
Whilst plastic microbeads were recently banned in the UK from rinse-off products, they are still found in many other personal care products such as suncream and cosmetics.
An estimated 30,000 tonnes of microplastics from consumer products end up in our world's oceans every year. This is equivalent to three times the Great Pacific Garbage Patch, or the plastic pollution generated by 5 billion plastic bottles.
Some of these microplastics are eaten by marine life, passing up the food chain and ending up on our own plates.
Naturbeads' biodegradable alternative to plastic microbeads could reduce microplastic pollution in our oceans, so that traces from suncream, cosmetics and other personal care products don't end up in your fish fingers.
The technology to create the cellulose microbeads was developed at the University of Bath by Professors Janet Scott and Davide Mattia from the Centre for Sustainable Chemical Technologies in 2017.
They co-funded spin-out company Naturbeads in 2018 to commercialise the technology together with Dr Giovanna Laudisio, CEO of the company. Naturbeads has now been awarded funding by a partnership between UK Research and Innovation (UKRI) and Sky Ocean Ventures (SOV), through the Plastic Research and Innovation Fund.
It will receive £582,842 to build and test a scaled-up prototype rig for the manufacture of cellulose microbeads used in cosmetic and personal care products.
Jamie Rowles, Head of Investment at Sky Ocean Ventures, said: "Despite some legislative bans, harmful plastic microbeads are still in a range of products and continue to leak into our environments. Finding equivalent replacements to these types of low-cost plastics has been a challenge for industry.
"By investing in Naturbeads, we are able to support a highly innovative technology and a passionate entrepreneurial team that is aiming to provide a biodegradable alternative that can perform like plastics and ensure the many products do not leave harmful residues in our environments for longer than nature intended."
Professor Davide Mattia, from the Centre for Sustainable Chemical Technologies at the University of Bath and co-founder of Naturbeads, said: "Our microbeads are produced using cellulose, the most abundant bio-material on Earth, and what plants and trees are made of.
"We are excited to see our technology deployed commercially and to contribute to reducing plastic pollution in our oceans."
The biodegradable microbeads are made using a solution of cellulose, which is forced through tiny holes in a tubular membrane, creating spherical droplets of the solution that are washed away from the membrane using vegetable oil. The beads are then collected, set and separated from the oil before use.
The prototype rig in this project will be used to produce kilogram-scale samples of cellulose microbeads. These will be sampled to companies in the personal care and cosmetic industry to be tested in formulations.
Naturbeads CEO and co-founder Giovanna Laudisio said: "We are thrilled to start our first project thanks to an Innovate UK grant and the support of an investor like Sky Ocean Ventures that shares our mission of reducing plastic pollution and understands the challenges of a deep tech start-up like Naturbeads."
###
Images and video available at: https://tinyurl.com/yxo7u2o2
For further information or arrange interviews, please contact Will McManus in the University of Bath Press Office on +44 (0)1225 385 798 or w.mcmanus@press.bath.ac.uk.
Notes
About the University of Bath
The University of Bath is one of the UK's leading universities both in terms of research and our reputation for excellence in teaching, learning and graduate prospects.
The University is rated Gold in the Teaching Excellence Framework (TEF), the Government's assessment of teaching quality in universities, meaning its teaching is of the highest quality in the UK.
In the Research Excellence Framework (REF) 2014 research assessment 87 per cent of our research was defined as 'world-leading' or 'internationally excellent'. From developing fuel efficient cars of the future, to identifying infectious diseases more quickly, or working to improve the lives of female farmers in West Africa, research from Bath is making a difference around the world. Find out more: http://www.bath.ac.uk/research/
Well established as a nurturing environment for enterprising minds, Bath is ranked highly in all national league tables. We are ranked 6th in the UK by The Guardian University Guide 2020, 5th for graduate employment in The Times & Sunday Times Good University Guide 2019, and 9th out of 131 UK universities in the Complete University Guide 2020.
About UKRI and Sky Ocean Ventures Partnership
In January 2019, the Government's UKRI (UK Research and Innovation) and Sky Ocean Ventures announced a partnership to develop solutions that tackle the environmental crisis of plastic pollution in the world's oceans.
The first subproject of this partnership is the UKRI-SOV Plastics Innovation and Investment Fund. This a dedicated fund deployed by Sky Ocean Ventures on an "invitation-only" basis over the next three years as a part of our ongoing impact-investment approach, using Sky's original £25m commitment to the crisis. For more information about the first winner project please visit http://www.naturbeads.com/
The second subproject is the Ocean Plastic Solutions Investment Accelerator -UK businesses can apply for a share of up to £2m to develop solutions that tackle the environmental crisis of plastic pollution in the world's oceans. The applications for the first £1m co-investment with Sky Ocean Ventures closed in March 2019 but there will be a second competition opening later this year.
About Plastics Research and Innovation Fund (PRIF)
As part of the "Clean Growth Challenge" launched by the Government's Department for Business, Energy and Industrial Strategy (BEIS), the £20 million Plastics Research and Innovation Fund (PRIF) will help to create new approaches and alternatives needed to rapidly reverse the impact that our use of plastics is having on the planet.
The PRIF has three parts which involve:
Leadership and Knowledge Exchange: UK Circular Plastics Network funding ~ £2 million
Research: Plastics 'Creativity' funding ~ £8 million
Business led research and development: Plastics 'Innovation' funding ~ £10 million
(The UKRI-SOV Partnership falls under this programme)
Expected outcomes of the PRIF:
UK leadership and knowledge exchange through a circular plastics network. The creation of a single organising body of stakeholders and the creation and publishing of a roadmap for change.
Enhanced research into sustainable materials, manufacturing and recycling processes, consumer behaviour and systems, within a context of environmental benefit.
Research and development to support innovation in new polymers, recycling processes and product design
About Sky
With 24 million customers across seven countries, Sky is Europe's leading media and entertainment company and is proud to be part of the Comcast group. That's why we believe that a company of our scale has a responsibility that goes beyond our business, and into the community.
Our Bigger Picture strategy looks at the issues that are most material to us, and talk to our people, customers and partners. That means being responsible in how we go about our business, acting on issues that matter, inspiring young people to be their best and inspiring others to take action.
We believe we can use our voice to effect real change on the critical issue of ocean health. That's why we launched Sky Ocean Rescue in 2017. The campaign has reached millions across Europe, we're on track to be free of single-use plastic by 2020 and we're investing £25million over five years in ocean-saving tech with our impact investment fund, Sky Ocean Ventures.
---