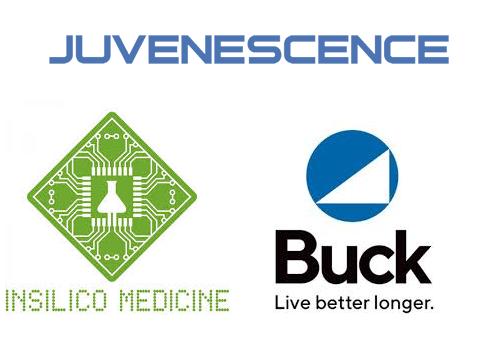 Wednesday, August 22, 2018, London, UK: The Biogerontology Research Foundation salutes its Chief Science Advisor Alex Zhavoronkov and Trustee Jim Mellon on the formation of Napa Therapeutics, a research collaboration with $100m+ commercialization potential between Juvenescence Limited (of which Jim Mellon is Chairman), Insilico Medicine Inc. (of which Alex Zhavoronkov is CEO), and the Buck Institute for Research on Aging.
Napa Therapeutics will focus on the synergistic combination of NAD+ metabolism research developed at The Buck and the deep learning-driven drug discovery engine developed at Insilico.
Insilico Medicine has established itself as a pioneer in advanced AI for aging research and drug discovery over the past several years, and has developed adversarial neural networks that compete with each other to generate and evaluate novel drug candidates with specifiable molecular properties.
Meanwhile, the Buck has made great strides in shedding light on the role of sirtuins (proteins that regulate aging, transcription, inflammation and apoptosis) in aging, and has discovered hundreds of novel target proteins via proteomic analysis, some of which are involved in major metabolic pathways including fatty acid oxidation and glucose metabolism.
By wedding Insilico's expertise and IP on advanced AI-driven drug discovery and evaluation with the Buck Institute's world-class research into the basic biology of aging and age-related disease, poised to leverage the highly scarce expertise of two leading longevity-focused organizations in order to produce a highly accelerated pathway toward the clinical development of healthspan-extending drugs.
###
About the Biogerontology Research Foundation:
The Biogerontology Research Foundation is a UK non-profit research foundation and public policy center seeking to fill a gap within the research community, whereby the current scientific understanding of the ageing process is not yet being sufficiently exploited to produce effective medical interventions. The BGRF funds and conducts research which, building on the body of knowledge about how ageing happens, aims to develop biotechnological interventions to remediate the molecular and cellular deficits which accumulate with age and which underlie the ill-health of old age. Addressing ageing damage at this most fundamental level will provide an important opportunity to produce the effective, lasting treatments for the diseases and disabilities of ageing, required to improve quality of life in the elderly. The BGRF seeks to use the entire scope of modern biotechnology to attack the changes that take place in the course of ageing, and to address not just the symptoms of age-related diseases but also the mechanisms of those diseases.
---