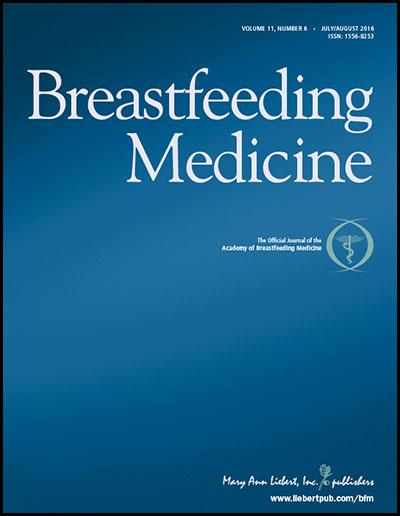 New Rochelle, NY, August 31, 2016--A new study of women 20 years after undergoing surgery for primary breast cancer shows that breastfeeding for longer than 6 months is associated with a better survival rate. Among breast cancer survivors who breastfed for >6 months, both breast cancer mortality and overall mortality risk were less after 20 years, according to the study published in Breastfeeding Medicine, the official journal of the Academy of Breastfeeding Medicine published by Mary Ann Liebert, Inc., publishers. The article is available free on the Breastfeeding Medicine website until September 30, 2016.
In "Breastfeeding Associated with Reduced Mortality in Women with Breast Cancer," Margaretha Lööf-Johanson, MD, Lars Brudin, MD, PhD, and Marie Sundquist, MD, PhD, University of Linkoping, and County Hospital, Kalmar, Sweden, and Carl Edvard Rudebeck, MD, PhD, University of Tromso, Norway, examined the link between lifetime breastfeeding history and both breast cancer-specific and overall survival among women treated for breast cancer who had lived long enough for other causes of death to contribute substantially to mortality.
"This study confirms that the long-term maternal health benefits of breastfeeding are not only preventative in nature, but that it also has the capacity to reduce the severity of breast cancer," says Arthur I. Eidelman, MD, Editor-in-Chief of Breastfeeding Medicine.
###
About the Journal
Breastfeeding Medicine, the official journal of the Academy of Breastfeeding Medicine, is an authoritative, peer-reviewed, multidisciplinary journal published 10 times per year in print and online. The Journal publishes original scientific papers, reviews, and case studies on a broad spectrum of topics in lactation medicine. It presents evidence-based research advances and explores the immediate and long-term outcomes of breastfeeding, including the epidemiologic, physiologic, and psychological benefits of breastfeeding. Tables of content and a sample issue may be viewed on the Breastfeeding Medicine website.
About the Publisher
Mary Ann Liebert, Inc., publishers is a privately held, fully integrated media company known for establishing authoritative peer-reviewed journals in many promising areas of science and biomedical research, including Journal of Women's Health, Childhood Obesity, and Pediatric Allergy, Immunology, and Pulmonology. Its biotechnology trade magazine, GEN (Genetic Engineering & Biotechnology News) was the first in its field and is today the industry's most widely read publication worldwide. A complete list of the firm's 80 journals, books, and newsmagazines is available on the Mary Ann Liebert, Inc., publisher's website.
---
Journal
Breastfeeding Medicine