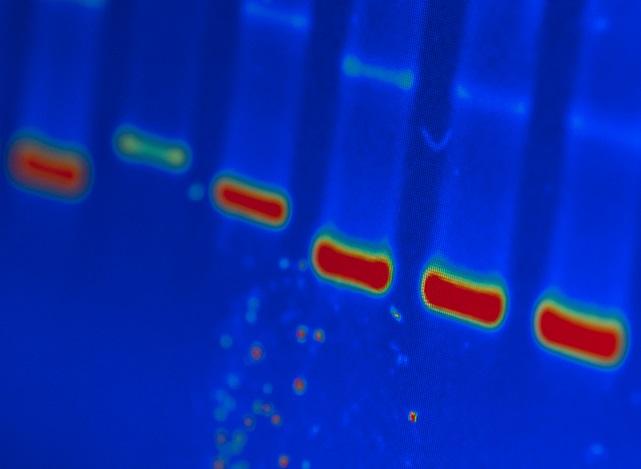 A type 1 diabetes genetic score can identify infants at risk for pre-symptomatic type 1 diabetes and could be used to enroll children into type 1 diabetes prevention trials, according to a study published this week in PLOS Medicine by Anette Ziegler of the Helmholtz Zentrum Muenchen, Germany, and colleagues.
Around 0.4% of newborns will develop autoimmunity to pancreatic beta cells in childhood and receive a diagnosis of type 1 diabetes before adulthood. In the new study, researchers calculated genetic scores from over 30 genes for more than 3000 children with no family history of type 1 diabetes but with gene variants known to convey type 1 diabetes risk and who participated in the TEDDY prospective cohort study. Each participant was enrolled at infancy, between 2004 and 2010, and followed in 3 to 6 months intervals for 10 years to track any development of islet autoantibodies and subsequent type 1 diabetes.
The upper quartile of genetic scores in the children was associated with a greater than 10 percent risk for the presymptomatic stage of multiple islet autoantibodies by age 6. This compares to a background population risk of 0.4%. Almost half the children in the study who developed pre-symptomatic or symptomatic diabetes were identified by this score.
The finding "greatly extends the possibilities of enrolling participants into clinical trials aimed at evaluating type 1 diabetes prevention strategies that could be applied in infancy and before the development of autoimmunity," the authors say.
###
Research Article
Funding:
This work was supported by U01 DK63829, U01 DK63861, U01 DK63821, U01 DK63865, U01 DK63863, U01 DK63836, U01 DK63790, UC4 DK63829, UC4 DK63861, UC4 DK63821, UC4 DK63865, UC4 DK63863, UC4 DK63836, UC4 DK95300, UC4 DK100238, UC4 DK106955, and Contract No. HHSN267200700014C from the National Institute of Diabetes and Digestive and Kidney Diseases (NIDDK), National Institute of Allergy and Infectious Diseases (NIAID), National Institute of Child Health and Human Development (NICHD), National Institute of Environmental Health Sciences (NIEHS), Juvenile Diabetes Research Foundation (JDRF), and Centers for Disease Control and Prevention (CDC). This work was supported in part by NIH/NCATS Clinical and Translational Science Awards to the University of Florida (UL1 TR000064) and the University of Colorado (UL1 TR001082), and by iMed-the Helmholtz Initiative on Personalized Medicine. E.B. is supported by the DFG Research Center and Cluster of Excellence - Center for Regenerative Therapies Dresden (FZ 111). Dr. Akolkar from the NIDDK was involved in the design and conduct of the study as well as the review of the manuscript, and approval to submit the manuscript. Otherwise, the funding and supporting sources were not involved in the design or conduct of the study; in the collection, management, analysis, or interpretation of the data; in the preparation or review of the manuscript; or in the approval or decision to submit the manuscript.
Competing Interests:
A patent has been applied for (LU100334) with the title "Method the risk to develop type 1 diabetes" by Helmholtz Zentrum München Deutsches Forschungszentrum für Gesundheit und Umwelt (GmbH). EB, AGZ, CW and JK are one of the inventors. The patent includes the genetic score that is examined in the manuscript. RAO has a personal funding from Diabetes UK to study the biology of Type 1 diabetes (this includes a research grant to work on genetic risk scores in Type 1 diabetes). RAO has a UK Medical Research Council confidence in concept grant to turn a type 1 diabetes genetic risk score into a diagnostic test for clinical practice. AB, MH, KV, MNW, ML, ATH, BIF, AKS, WAH, JPK, AL, MJR, JXS, JT, BA, SSR have declared that no competing interests exist.
Citation:
Bonifacio E, Beyerlein A, Hippich M, Winkler C, Vehik K, Weedon MN, et al. (2018) Genetic scores to stratify risk of developing multiple islet autoantibodies and type 1 diabetes: A prospective study in children. PLoS Med 15(4): e1002548. https://doi.org/10.1371/journal.pmed.1002548
Author Affiliations:
DFG-Center for Regenerative Therapies Dresden, Faculty of Medicine, Technische Universität Dresden, Dresden, Germany
Institute of Diabetes Research, Helmholtz Zentrum München, Munich, Germany
Forschergruppe Diabetes, Technical University of Munich, Klinikum Rechts der Isar, Munich, Germany
Forschergruppe Diabetes e.V. at Helmholtz Zentrum München, Munich, Germany
Health Informatics Institute, Morsani College of Medicine, University of South Florida, Tampa, Florida, United States of America
Institute of Biomedical and Clinical Science, University of Exeter Medical School, Exeter, United Kingdom
Institute of Computational Biology, Helmholtz Zentrum München, Neuherberg, Germany
Barbara Davis Center for Childhood Diabetes, University of Colorado Denver, Aurora, Colorado, United States of America
Pacific Northwest Diabetes Research Institute, Seattle, Washington, United States of America
Department of Clinical Sciences, Clinical Research Centre, Skåne University Hospital, Lund University, Malmo, Sweden
Center for Biotechnology and Genomic Medicine, Medical College of Georgia, Augusta University, Augusta, Georgia, United States of America
Department of Pediatrics, Turku University Hospital, Turku, Finland
Department of Physiology, University of Turku, Turku, Finland
National Institute of Diabetes and Digestive and Kidney Diseases, National Institutes of Health, Bethesda, Maryland, United States of America
Clinical Islet Transplant Program, University of Alberta, Edmonton, Alberta, Canada
National Institute for Health Research, Exeter Clinical Research Facility, Exeter, United Kingdom
Center for Public Health Genomics, University of Virginia, Charlottesville, Virginia, United States of America
In your coverage please use this URL to provide access to the freely available paper: http://journals.plos.org/plosmedicine/article?id=10.1371/journal.pmed.1002548
---