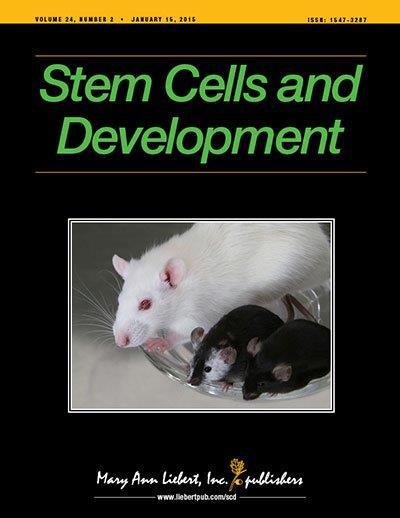 New Rochelle, NY, January 20, 2015-- Multipotent cells isolated from the human umbilical cord, called mesenchymal stromal cells (hUC-MSCs) have shown promise for use in cell therapy to treat a variety of human diseases. However, intriguing new evidence shows that hUC-MSCs isolated from women with gestational diabetes demonstrate premature aging, poorer cell growth, and altered metabolic function, as reported in an article in Stem Cells and Development, a peer-reviewed journal from Mary Ann Liebert, Inc., publishers. The article is available free on the Stem Cells and Development website until February 17th, 2015.
Jooyeon Kim and coauthors from University of Ulsan College of Medicine, Kyung Hee University College of Medicine, and Seoul National University Bundang Hospital, Seoul, Korea, compared the growth and viability characteristics of hUC-MSCs from the umbilical cords of pregnant women with and without gestational diabetes. They evaluated cell growth, cellular senescence, mitochondrial function-related gene expression as a measure of metabolic activity, and the stem cells' ability to differentiate into various cell types such as bone and fat cells. They report their findings in the article "Umbilical Cord Mesenchymal Stromal Cells Affected by Gestational Diabetes Mellitus Display Premature Aging and Mitochondrial Dysfunction."
"We are only just beginning to scratch the surface of understanding how environmental and gestational stressors of all kinds affect stem cell populations," says Editor-in-Chief Graham C. Parker, PhD, The Carman and Ann Adams Department of Pediatrics, Wayne State University School of Medicine, Detroit, MI. "The work described offers a non-invasive assay to help determine risk of developmental clinical vulnerability."
###
About the Journal
Stem Cells and Development is an authoritative peer-reviewed journal published 24 times per year in print and online. The Journal is dedicated to communication and objective analysis of developments in the biology, characteristics, and therapeutic utility of stem cells, especially those of the hematopoietic system. A complete table of contents and free sample issue may be viewed on the Stem Cells and Development website.
About the Publisher
Mary Ann Liebert, Inc., publishers is a privately held, fully integrated media company known for establishing authoritative peer-reviewed journals in many promising areas of science and biomedical research, including Cellular Reprogramming, Tissue Engineering, and Human Gene Therapy. Its biotechnology trade magazine, Genetic Engineering & Biotechnology News (GEN), was the first in its field and is today the industry's most widely read publication worldwide. A complete list of the firm's 80 journals, books, and newsmagazines is available on the Mary Ann Liebert, Inc., publishers website.
---
Journal
Stem Cells and Development