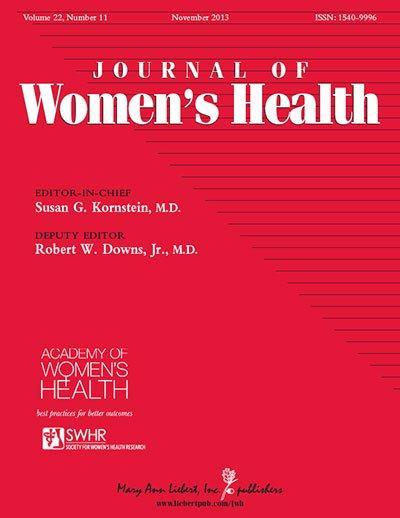 New Rochelle, NY, May 8, 2014—When Massachusetts enacted its own statewide health insurance reform in 2006, low-income women transitioned from receiving free, federally subsidized screening for breast and cervical cancer and cardiovascular disease risk to an insurance-based payment system. The effects on screening rates in this vulnerable population are explored in Journal of Women's Health, a peer-reviewed publication from Mary Ann Liebert, Inc., publishers. The article is available free on the Journal of Women's Health website at http://online.liebertpub.com/doi/full/10.1089/jwh.2013.4612.
A group of authors from Harvard Medical School, Brigham and Women's Hospital, Massachusetts General Hospital, and several women's health centers and community hospitals in Boston, MA gathered data to evaluate whether the prevalence of screening mammography, Pap smear, and blood pressure measurement improved, stayed the same, or declined pre- and post-health insurance reform. In the article "Preventive Care for Low-Income Women in Massachusetts Post-Health Reform," the authors reviewed screening information for women treated at five community health centers between 2004 and 2010, spanning the period before and after the introduction of health reform.
"There are lessons learned from the Massachusetts experience of health care reform that can help inform health care changes nationally," says Susan G. Kornstein, MD, Editor-in-Chief of Journal of Women's Health, Executive Director of the Virginia Commonwealth University Institute for Women's Health, Richmond, VA, and President of the Academy of Women's Health.
###
About the Journal
Journal of Women's Health, published monthly, is a core multidisciplinary journal dedicated to the diseases and conditions that hold greater risk for or are more prevalent among women, as well as diseases that present differently in women. The Journal covers the latest advances and clinical applications of new diagnostic procedures and therapeutic protocols for the prevention and management of women's healthcare issues. Complete tables of content and a sample issue may be viewed on the Journal of Women's Health website at http://www.liebertpub.com/jwh. Journal of Women's Health is the official journal of the Academy of Women's Health and the Society for Women's Health Research.
About the Academy
Academy of Women's Health is an interdisciplinary, international association of physicians, nurses, and other health professionals who work across the broad field of women's health, providing its members with up-to-date advances and options in clinical care that will enable the best outcomes for their women patients. The Academy's focus includes the dissemination of translational research and evidence-based practices for disease prevention, diagnosis, and treatment of women across the lifespan.
About the Publisher
Mary Ann Liebert, Inc., publishers is a privately held, fully integrated media company known for establishing authoritative peer-reviewed journals in many promising areas of science and biomedical research, including Population Health Management, Journal of Men's Health, Metabolic Syndrome and Related Disorders, and Breastfeeding Medicine. Its biotechnology trade magazine, Genetic Engineering & Biotechnology News (GEN), was the first in its field and is today the industry's most widely read publication worldwide. A complete list of the firm's 80 journals, books, and newsmagazines is available on the Mary Ann Liebert, Inc., publishers website at http://www.liebertpub.com.
Mary Ann Liebert, Inc.
140 Huguenot Street, New Rochelle, NY 10801
http://www.liebertpub.com
Phone: (914) 740-2100
(800) M-LIEBERT
Fax (914) 740-2101
---