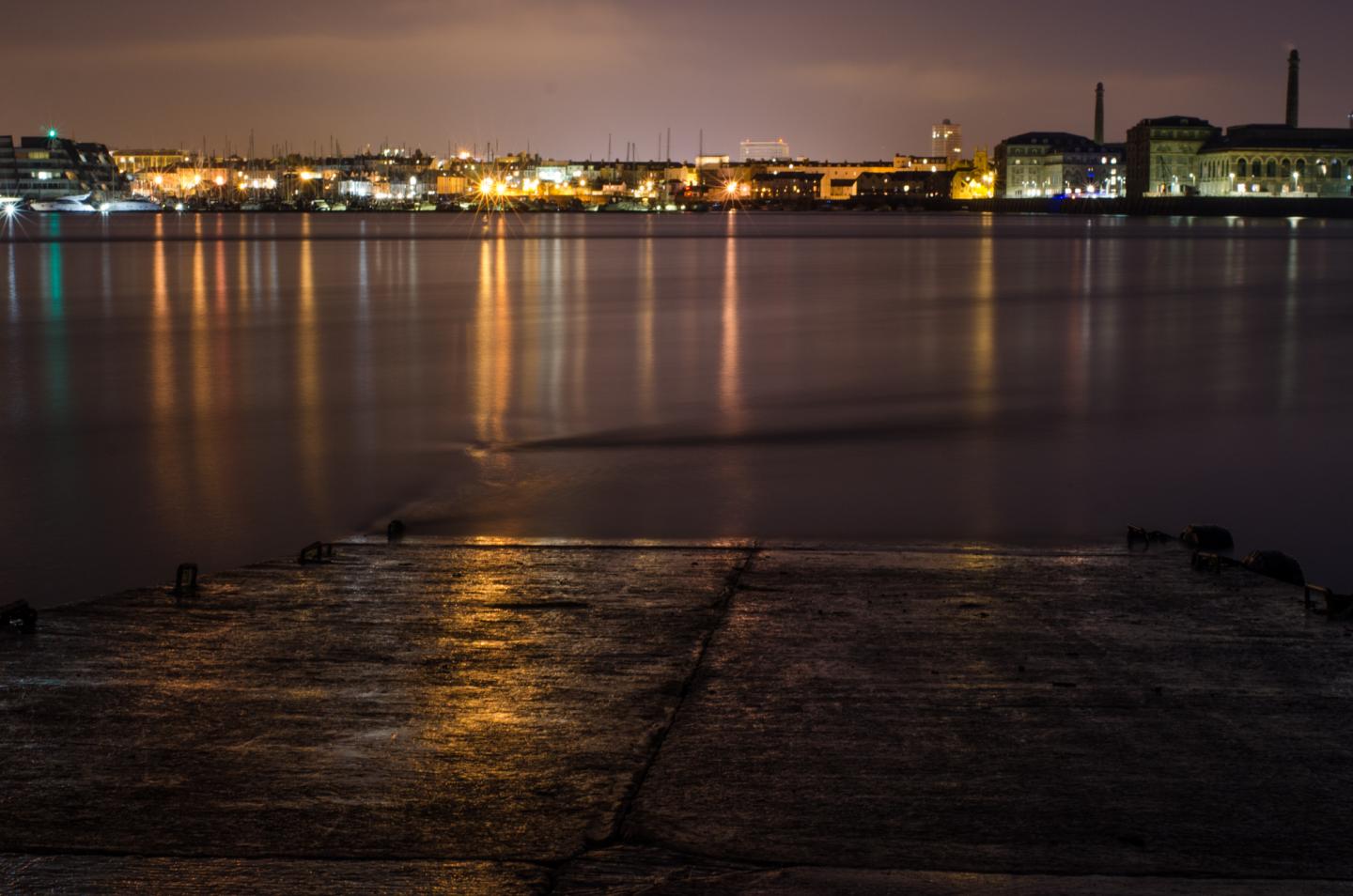 Marine ecosystems can be changed by night-time artificial lighting according to new research published in the Royal Society journal Biology Letters. The results indicate that light pollution from coastal communities, shipping and offshore infrastructure could be changing the composition of marine invertebrate communities.
Researchers from the Universities of Exeter and Bangor used a raft in the Menai Strait to monitor how artificial light at night affects the settlement of marine invertebrates into new habitats. Light is an important cue which guides the larvae of marine invertebrates as they search for suitable habitats to settle, grow and reproduce.
The researchers found that artificial light both suppressed and encouraged colonisation by several species common to British coasts, including sea squirts and keel worms. These species are often referred to as fouling invertebrates as they adhere to manmade structures sometimes causing problems in marinas, dockyards and aquaculture facilities.
The results indicate that artificial light - increasingly used in coastal environments - could encourage unwanted fouling in marinas and dockyards, but also alter the abundances of these species in the wider environment where they can provide important ecosystem services.
Coral larvae, for example, use light to identify optimum habitats to settle in and grow into reef building adult structures. As tropical waters tend to be clearer than UK waters artificial light can penetrate deeper and disrupt a wider range of organisms.
Dr Tom Davies from the University of Exeter said: "We know that artificial light at night alters the behaviour of many marine animals but this is the first study to show that it can disrupt the development of ecological communities in the marine environment. Further research is urgently needed to assess what level of light can be considered 'safe' so that legislation can be put in place to minimise future light pollution from new and existing developments."
Dr Stuart Jenkins of the School of Ocean Sciences at Bangor University said: "This is an important first step in developing understanding of the way artificial light may be affecting marine coastal assemblages. Our research showed that levels of artificial light, commonly found in urbanised and developed coastal areas, can have important effects on the development of communities inhabiting hard surfaces in shallow water."
Dr Katherine Griffith, also from the School of Ocean Sciences, added: "With urbanisation on the increase, many coastal areas around the globe will become vulnerable to the effects of artificial light pollution. Therefore, further research on how artificial light may disrupt marine communities is vital if we are to mitigate these impacts."
Night-time lighting alters the composition of marine epifaunal communities will be published in the Royal Society journal Biology Letters.
###
Contact
University of Exeter Press Office
+44(0)1392 722 062 / +44(0)7827 309 332
Twitter: @UoE_ScienceNews
pressoffice@exeter.ac.uk
For urgent enquiries outside normal office hours please ring +44(0)7867 536 750 or email pressoffice@exeter.ac.uk
About the University of Exeter
The University of Exeter is a Russell Group university and in the top one percent of institutions globally. It combines world-class research with very high levels of student satisfaction. Exeter has over 19,000 students and is ranked 7th in The Times and The Sunday Times Good University Guide league table, 10th in The Complete University Guide and 12th in the Guardian University Guide 2014. In the 2014 Research Excellence Framework (REF), the University ranked 16th nationally, with 98% of its research rated as being of international quality. Exeter was The Sunday Times University of the Year 2012-13.
The University has four campuses. The Streatham and St Luke's campuses are in Exeter and there are two campuses in Cornwall, Penryn and Truro. The 2014-2015 academic year marks the 10-year anniversary of the two Cornwall campuses. In a pioneering arrangement in the UK, the Penryn Campus is jointly owned and managed with Falmouth University. At the campus, University of Exeter students can study programmes in the following areas: Animal Behaviour, Conservation Biology and Ecology, English, Environmental Science, Evolutionary Biology, Geography, Geology, History, Human Sciences, Marine Biology, Mining and Minerals Engineering, Politics and International Relations, Renewable Energy and Zoology.
The University has invested strategically to deliver more than £350 million worth of new facilities across its campuses in the past few years; including landmark new student services centres - the Forum in Exeter and The Exchange at Penryn - together with world-class new facilities for Biosciences, the Business School and the Environment and Sustainability Institute. There are plans for another £330 million of investment between now and 2016.
http://www.exeter.ac.uk/cornwall
About the University of Exeter's Environment and Sustainability Institute (ESI)
The Environment and Sustainability Institute is a £30M interdisciplinary centre, based on the Penryn Campus, undertaking cutting-edge research into solutions to problems of environmental change; in so doing it is enhancing people's lives by improving their relationships with the environment. The ESI has three research themes: clean technologies, natural environment, and social science and sustainability. It is engaging with hundreds of businesses in Cornwall, the Isles of Scilly and beyond to translate its research and expertise across these themes into innovative business practice, products and services.
The ESI building has been designed to achieve a BREEAM 'Outstanding' status, the highest classification available under the BRE Environmental Assessment Method which is the leading and most widely used environmental assessment method for buildings
The ESI was formally opened in April 2013 and has been funded by the European Regional Development Fund Convergence Programme (£22.9M) and the South West Regional Development Agency (£6.6M), with significant support from the Higher Education Funding Council for England.
The University of Exeter and Falmouth University are founding partners in the Combined Universities in Cornwall (CUC), a unique collaboration between six universities and colleges to promote regional economic regeneration through Higher Education, funded mainly by the European Union (Objective One and Convergence), the South West Regional Development Agency and the Higher Education Funding Council for England, with support from Cornwall Council.
---