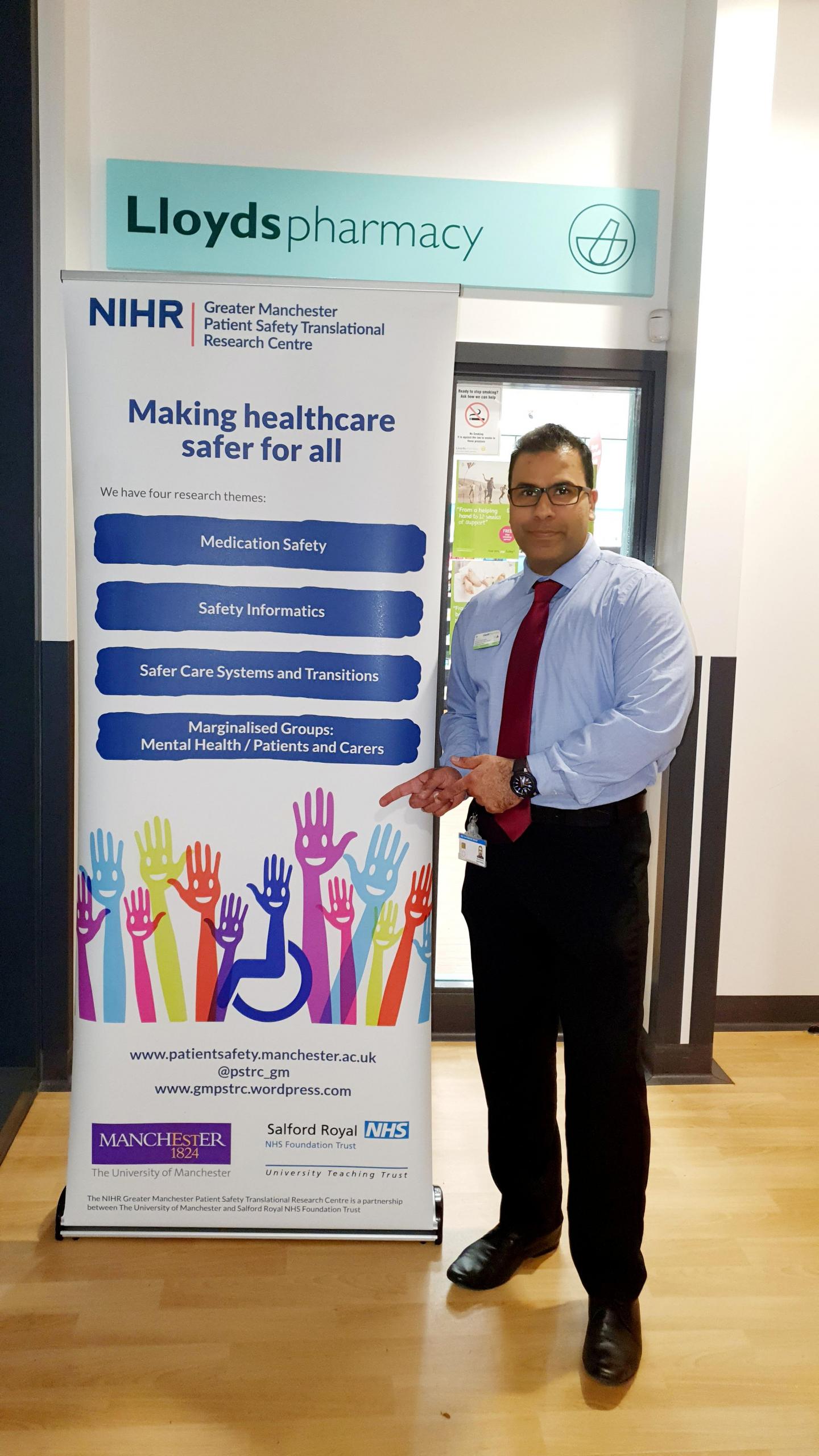 LloydsPharmacy is piloting an innovative new service that offers extra help and support to mental health patients. Funded by The National Institute for Health Research Greater Manchester Patient Safety Translational Research Centre (NIHR GM PSTRC), which is a partnership between The University of Manchester and Salford Royal, the pilot is being carried out in ten community pharmacies in Greater Manchester.
The new service, referred to as AMPLIPHY*, enables pharmacists to provide personalised support to people who have been newly prescribed a medicine for depression or anxiety, or those who have experienced a recent change to their prescription.
The pilot programme has been funded and designed by researchers at the NIHR GM PSTRC in collaboration with LloydsPharmacy. Central to the programme is the ability for patients to lead the direction of support they receive. They set their own goals and objectives and the pharmacist supports them in these. The goals can be anything, from wanting to spend more time outside to taking up a new hobby.
Professor Darren Ashcroft, Deputy Director of the NIHR Greater Manchester PSTRC, said:
"The NIHR Greater Manchester PSTRC focuses on improving patient safety across four themes which include Medication Safety and Mental Health. AMPLIPHY covers two of these areas and we believe it has the potential to make a difference to patients, by providing enhanced support for their care in the community."
Dr Hayley Gorton, who has helped develop the project and deliver training with the NIHR GM PSTRC and is Senior Lecturer in Pharmacy Practice at the University of Huddersfield, said:
"Community pharmacists are the most visited healthcare provider in England and 1.6 million people visit one every day. They represent a significant opportunity when looking at how to improve patient safety in the treatment of mental health conditions. We welcomed the opportunity to work with LloydsPharmacy on this pilot because we could see the potential for real impact. In our previous research**, pharmacy teams themselves suggested the incorporation of a service related to medicines for mental health problems."
During an initial consultation, a pharmacist will discuss the medication with the patient, chatting through the correct way to take it as well as what to do if they experience any potential side effects. If they have any further questions or concerns it will be ensured they know who to contact at the pharmacy.
After the initial consultation, AMPLIPHY includes another meeting 7 to 14 days later, then a follow-up every time the patient picks up a prescription, for the first three months of treatment. It doesn't have to be a face to face consultation; it is up to the patient.
Gary Pickering, Professional Support Manager at McKesson UK, parent company of LloydsPharmacy, said:
"We're excited to be involved in a partnership that is helping to improve the lives of people living with mental health conditions. The AMPLIPHY service has been designed with patients in mind. Ten pharmacies are delivering the service, all of which have been chosen because of the pharmacist's desire to be engaged in the project and enthusiasm to make a difference. All the pharmacists involved have received specialised training, which includes suicide awareness training to further improve patient safety."
The aim is to recruit twelve people into the service in each of the 10 community pharmacies, generating a sample group of at least 100 patients.
Gary continues:
"Treatment for mental health conditions can often present ups and downs for patients during the first few months. As such, treatment failure rates can be quite high. By supporting the patients through this journey and giving reassurances that what they're experiencing is normal, the hope is that the treatment outcomes will significantly improve. Pharmacists see patients regularly and already offer advice on medications. They are ideally placed to provide support and counselling for mental health patients and to help make sure their treatment is as effective as possible. It's essential that we use this pilot as an opportunity to listen and to learn so we can find out what people want and expect from their interactions with pharmacists."
The pilot is set to run until April 2020 when its impact will be evaluated before a decision is made on the next steps.
Participating pharmacies are located across Greater Manchester, and one is LloydsPharmacy, Health and social Care Centre, Salford.
###
Notes for editors:
*Advancing Mental heaLth Provision In PHarmacY
**Gorton HC, Littlewood D, Lotfallah C, Spreadbury M, Wong KL, et al. (2019) Current and potential contributions of community pharmacy teams to self-harm and suicide prevention: A qualitative interview study. PLOS ONE 14(9): e0222132. https://doi.org/10.1371/journal.pone.0222132
Media enquiries:
Greater Manchester Patient Safety and Translational Research Centre
Mary Vingoe - Communications Manager
Tel: 0161 2067265 / 07738880152
Email: mary.vingoe@srft.nhs.uk
About the NIHR Greater Manchester Patient Safety Translational Research Centre: The NIHR Greater Manchester Patient Safety Translational Research Centre is a partnership between The University of Manchester and Salford Royal Foundation Trust in collaboration with The University of Nottingham, which aims to make healthcare safer in primary care and transitions of care. It's funded by the National Institute for Health Research (NIHR) for five years from 2017 until 2022 and is one of three PSTRC in England. The Greater Manchester PSTRC conducts research across four themes: Safety Informatics, Medication Safety, Safer Care Systems and Transitions, and Safety in Marginalised Groups.
For more information visit - http://www.patientsafety.manchester.ac.uk/
About the University of Manchester: The University of Manchester, a member of the prestigious Russell Group, is the UK's largest single-site university with 38,600 students. It has 20 academic schools and hundreds of specialist research groups undertaking pioneering, multi-disciplinary teaching and research of worldwide significance. The University is one of the country's major research institutions, rated fifth in the UK in terms of 'research power' (REF 2014), and has had no fewer than 25 Nobel laureates either work or study there. The University had an annual income of £1 billion in 2014/15. Visit http://www.manchester.ac.uk
ABOUT THE NIHR: The National Institute for Health Research (NIHR) is the nation's largest funder of health and care research. The NIHR:
Funds, supports and delivers high quality research that benefits the NHS, public health and social care.
Engages and involves patients, carers and the public in order to improve the reach, quality and impact of research
Attracts trains and supports the best researchers to tackle the complex health and care challenges of the future.
Invests in world-class infrastructure and a skilled delivery workforce to translate discoveries into improved treatments and services
Partners with other public funders, charities and industry to maximise the value of research to patients and the economy
The NIHR was established in 2006 to improve the health and wealth of the nation through research, and is funded by the Department of Health and Social Care. In addition to its national role, the NIHR supports applied health research for the direct and primary benefit of people in low- and middle-income countries, using UK aid from the UK government.
This work uses data provided by patients and collected by the NHS as part of their care and support and would not have been possible without access to this data. The NIHR recognises and values the role of patient data, securely accessed and stored, both in underpinning and leading to improvements in research and care. http://www.nihr.ac.uk/patientdata
McKesson UK
Ness Staite - Corporate PR Executive
Tel: 07408 813902
Email: Ness.staite@mckesson.uk
About McKesson UK
McKesson UK is a leading provider of integrated healthcare services to the NHS specialising in medicines, pharmaceutical care and primary care patient services. It comprises LloydsPharmacy, AAH Pharmaceuticals, LloydsPharmacy Clinical Homecare, John Bell & Croyden, MASTA, LloydsPharmacy Online Doctor and ECHO.
With over 24,000 employees, including over 300 nurses, more than 1,500 community pharmacies, a UK-wide logistics network and dispensing in excess of 150 million items a year, McKesson UK works in partnership with the NHS, community pharmacies and medicines manufacturers to help UK citizens live longer, with better health. McKesson UK provides customers, the NHS and patients with high levels of service, value, efficiency and innovation.
McKesson UK is part of McKesson Corporation, one of the world's largest healthcare organisations, employing over 78,000.
About LloydsPharmacy
LloydsPharmacy has around 1,500 pharmacies across the UK. These are based predominantly in community and health centre locations and include 262 LloydsPharmacy in Sainsbury's stores. The company employs over 19,000 staff and dispenses more than 150 million prescription items annually.
LloydsPharmacy Online Doctor has helped treat over 1.3 million patients in the UK. They offer a safe and easy way to consult with a registered clinician online, and convenient same-day collection in LloydsPharmacy or discreet delivery.
LloydsPharmacy is part of McKesson Europe AG; a leading international pharmaceutical wholesale and retail pharmacy company.
With strong brands and circa 38,000 employees, McKesson Europe is active in 13 European countries. Every day, the company serves over 2 million customers - at around 2,300 McKesson-owned pharmacies and at over 7,000 participants in the brand partnership schemes. With 118 wholesale branches in Europe, McKesson Europe supplies more than 50,000 pharmacies and hospitals every day with more than 100,000 pharmaceutical products.
McKesson Corporation, San Francisco, USA, is the majority shareholder in McKesson Europe AG. McKesson Corporation, currently ranked 6th on the FORTUNE 500, is a global leader in healthcare supply chain management solutions, retail pharmacy, community oncology and specialty care, and healthcare information technology.
---