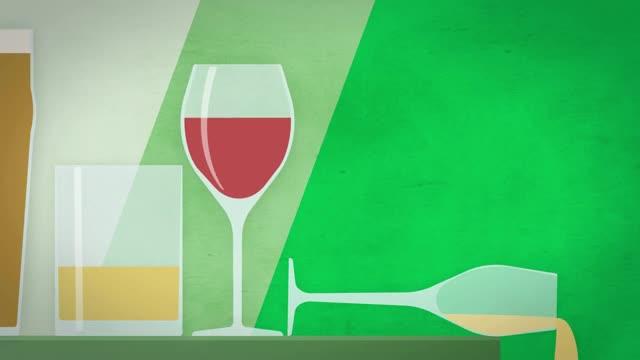 (Vienna, 4 July, 2017) Citizens across the EU are consuming an average of 2 alcoholic drinks per day, placing drinkers at a 21% increased risk of developing colorectal cancer, in addition to other digestive cancers, a report finds.
The report, launched today by United European Gastroenterology, revealed that the average daily intake of alcoholic drinks was 'moderate' (between 1 and 4 drinks per day) in all 28 EU states, placing these citizens at a heightened risk of both colorectal and oesophageal cancer.
'Heavy' drinkers (people that consume more than 4 drinks per day) were found to be at an increased risk of pancreatic, liver and gastric cancer. These three cancers, coupled with colorectal and oesophageal cancer, are the five most common digestive cancers worldwide, causing almost three million deaths per year and contributing to over a third of global cancer deaths.
No countries within the EU were found to have 'light' alcohol consumption (on average, less than 1 alcoholic drink per day per capita).
The European Alcohol Endemic
Alcohol consumption across the European region is higher than in any other region in the world, with over one fifth of the European population over the age of 15 drinking heavily at least once a week. As a result, the continent suffers from the highest proportion of ill health and premature death directly linked to alcohol.
Despite high levels of consumption throughout Europe, research shows that as many as 90% of people are unaware on the link between alcohol and cancer.
In light of these alarming statistics, tackling the harmful use of alcohol is a main priority for the upcoming Estonian presidency of the Council of the European Union.
How to Tackle Europe's Alcohol Crisis
Consumers are provided with mixed-messages on recommended units, glasses and volumes of alcohol. UEG are therefore calling for a pan-European approach to the provision of clear and consistent information about the health risks of drinking alcohol to help eradicate confusion on appropriate levels of consumption.
Professor Markus Peck, leading digestive health expert, comments; "One of the main challenges in addressing high drinking levels is how deeply embedded alcohol consumption is within the European society, both socially and culturally. Political action like minimum pricing and reducing access to alcohol needs to be taken now to prevent many future casualties. Research then has to follow to help generate data and allow us to fine-tune future political activity".
Increased pressure on the alcohol industry to develop clear and responsible labelling, together with a tightening of regulations on the marketing of alcohol, are other important steps outlined within the report to help tackle the crisis. France is a country leading the way in this regard, where stricter marketing, coupled with regulations for drinking at work, has contributed to a decline in alcohol consumption and digestive cancer incidence as a result.
###
Notes to Editors
About the Report
'Alcohol and Digestive Cancers Across Europe: Time for Change' is a report produced by UEG with support from the European Association for the Study of the Liver (EASL), the Association of European Cancer Leagues (ECL), the European Liver Patients Association (ELPA), Pancreatic Cancer Europe (PCE), EuropaColon and Eurocare (The Alcohol Policy Alliance). Canvassing the opinions of leading European digestive cancer specialists, stakeholder organisations and patient groups, the report highlights the scale of alcohol consumption across Europe, its direct and indirect impact on digestive cancers and the alarming lack of awareness of the link between alcohol and digestive cancers among members of the public and many healthcare professionals.
Media Enquiries
For further information and to schedule an interview with Professor Markus Peck, please email media@ueg.eu or phone Luke Paskins on +44 (0)1444 811099
About Professor Markus Peck
Professor Markus Peck is a member of the UEG Public Affairs Committee and former Secretary General of EASL (European Association of the Study of the Liver).
About UEG
UEG, or United European Gastroenterology, is a professional non-profit organisation combining all the leading European societies concerned with digestive diseases. Together, its member societies represent over 22,000 specialists, working across medicine, surgery, paediatrics, gastrointestinal oncology and endoscopy. This makes UEG the most comprehensive organisation of its kind in the world, and a unique platform for collaboration and the exchange of knowledge. Find out more by visiting http://www.ueg.eu
References
1. United European Gastroenterology, Alcohol and Digestive Cancers. Available at: https://spink.sharefile.com/d-s9b8ba75e47644849
2. Cancer Research UK, Worldwide cancer mortality statistics. Available at: http://www.cancerresearchuk.org/health-professional/cancer-statistics/worldwide-cancer/mortality#heading-Zero
3. Republic of Estonia Ministry of Social Affairs, Estonian presidency of the Council of the European Union: priorities and main topics in health. Available at: https://ec.europa.eu/health/sites/health/files/nutrition_physical_activity/docs/ev_20170308_co_07_en.pdf
---