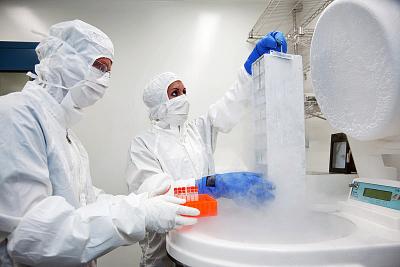 CINCINNATI – Cincinnati Children's Hospital Medical Center has been named one of five national Centers of Excellence for Molecular Hematology to find new gene and cell therapies for inherited diseases affecting blood cells.
The National Institute of Diabetes, Digestive and Kidney Diseases, one of 19 National Institutes of Health, has approved a five-year, $3.4 million grant for Cincinnati Children's to establish the multi-disciplinary center. The center blends Cincinnati Children's extensive research and clinical expertise, including its close collaboration with research affiliate, the University of Cincinnati College of Medicine.
A key aim of the Cincinnati Center for Molecular Hematology is to accelerate the discovery of new therapeutic approaches for conditions like sickle cell anemia, thalessemia, leukemia, immunological disorders and other blood cell-based diseases, according to Yi Zheng, Ph.D., director of Experimental Hematology and Cancer Biology and director of the new center. The center will also help speed the transition of new therapies from the research laboratory to clinical trials.
"We have a strong basic research pipeline at Cincinnati Children's and the ability to rapidly translate basic research into the clinic," Dr. Zheng said. "The medical center is one of the few institutions in the country that can claim excellence in basic science, expertise in genetic manipulation under Good Manufacturing Practice conditions, and also provide outstanding cell and gene therapies and patient care at a single location."
The challenge is to understand and correct diseases caused by interactions between mutated genes and environmental factors that adversely affect blood cells. Researchers believe that successfully applying molecular and cell therapeutics to blood cells that can be transplanted into patients will provide life-long cures for inherited diseases.
Cincinnati Children's is already working on gene therapy trials for new treatments of sickle cell anemia, X-SCID (X-linked severe combined immunodeficiency), solid cancers such as rhabdomyosarcoma and Ewing's sarcoma, and a number of other diseases.
The NIDDK grant helps fund four research cores that support the research activities of multiple investigators. The cores are vital to the rapid and efficient translation of original discoveries from the laboratory to the clinic, Dr. Zheng said
The research cores supported by the grant are:
The Translational Core. The core includes 10,000-square-feet of tightly controlled "clean room" laboratory space. The facility can manipulate human cells outside of the body to create cell products for therapeutic use in specific diseases. It also produces viral vectors to allow the delivery of specific genetic information for treating disease
The Genomics and Genetics Core. The core provides leading edge genomic analysis of blood cell diseases and determining the normal genetic traits of blood stem and progenitor (early stage) cells.
The Mouse Xenotransplant/Transgenic Core. The core maintains specialized mouse strains and provides mouse transplant and transgenic services that allow scientists to study mouse models of human disease.
The Flow Cytometry Core. This laboratory allows scientists to analyze and sort different types of blood cells.
The center designation comes after years of basic science discoveries in genetics and genomics have put researchers on the threshold of exciting new therapeutic approaches for blood cell disorders, according to Arnold Strauss, M.D., director of the Cincinnati Children's Research Foundation, chief medical director of the medical center, and chair of pediatrics at the UC College of Medicine.
"We are on the verge of being able to use novel interventions to treat and really cure disorders, such as sickle cell anemia, that severely impair normal lives for children and adolescents and cause premature death in young adults," Dr. Strauss said. "After 40 years of watching afflicted children suffer and die, I am incredibly excited that the time is arriving for their cure."
Helping secure the center of excellence designation is a decade of rapid growth in Cincinnati Children's research activities and in its reputation. The medical center is the nation's second largest pediatric research organization as measured by NIH funding, which totaled over $115 million in fiscal 2009 – an increase from $12.3 million just a decade ago. The medical center currently has 950,000 square feet of research laboratory space, with plans underway for an additional 300,000 square feet.
The expansion has included establishment of nearly two dozen research cores, with capabilities ranging from creating and maintaining stem cell lines to one of the largest academic bioinformatics and computing centers in the nation.
###
About Cincinnati Children's
Cincinnati Children's Hospital Medical Center is one of just eight children's hospitals named to the Honor Roll in U.S. News and World Report's 2010-11 Best Children's Hospitals. It is ranked #1 for digestive disorders and highly ranked for its expertise in pulmonology, cancer, neonatology, heart and heart surgery, neurology and neurosurgery, diabetes and endocrinology, orthopedics, kidney disorders and urology. Cincinnati Children's is one of the top two recipients of pediatric research grants from the National Institutes of Health. It is internationally recognized for quality and transformation work by Leapfrog, The Joint Commission, the Institute for Healthcare Improvement, the federal Agency for Healthcare Research and Quality, and by hospitals and health organizations it works with globally. Additional information can be found at www.cincinnatichildrens.org.
---