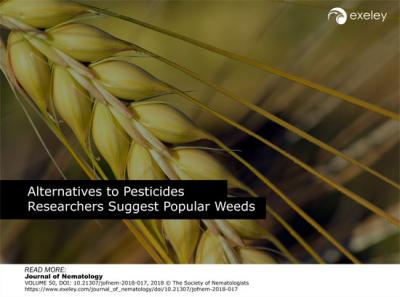 Nematodes, also known as roundworms, are one of the most numerous animal species on earth. As simple as they seem, many of them live as parasites in plants, insects and animals; habitats also include, soil, sea as well as fresh water. Researchers perform studies on nematodes, since many of them are beneficial in medicine, agriculture or veterinary science, while others damage the crops by feeding on them or by transmitting various viruses and bacterial diseases into the plant cells.
A major issue for researchers is the control of plant parasitic nematodes and the protection of crop systems. Since pesticides commonly used to combat plant attacking nematodes are often highly toxic and dangerous for the environment and non-target organisms, researchers try to find natural alternatives.
Studies suggest that botanic soil amendments with weeds may help to combat nematodes. Dr. Nikoletta Ntalli and colleagues in their Nematicidal Weeds, Solanum nigrum and Datura stramonium article published in Journal of Nematology analysed two popular and globally distributed weeds: Solanum nigrum Linn. and Datura stramonium Linn., commonly known as black nightshade and jimsonweed, researching their abilities to control nematodes.
Researchers reported on S. nigrum and D. stramonium extracts for egg hatch inhibition as well as paralytic impact on Meloidogyne sp. (the genus of the nematodes that was controlled in the study) for the first time. Additionally, when soil infested with nematodes was treated with S. nigrum seeds paste, the number of females per gram of tomato roots was the lowest ever reported.
The research findings aim at new, ecological tactics to control plant parasitic nematodes that are especially difficult to manage in protected areas inside the soil. The chemical industry rarely sustains the development of nematicides, and most of the old formulations are now banned due to toxicological and ecotoxicological reasons. Alternative control measures for an ecological control of nematodes are already introduced in many countries since under new laws, farmers are compelled to look for such. The significance of the presented study and tested methods lie not only in its proven efficiency, but more importantly in its cost effectiveness and ease to perform. Since both S. nigrum and D. stramonium are commonly and globally existing weed species, often directly situated at the site, their soil incorporation presents as an interesting alternative to the popularly used pesticides.
###
The original article is fully available for reading at: https://www.exeley.com/journal_of_nematology/doi/10.21307/jofnem-2018-017 DOI: 10.21307/jofnem-2018-017
About Journal of Nematology journal:
Journal of Nematology is the official publication of the Society of Nematologists since 1969. The journal publishes original papers on all aspects of basic, applied, descriptive, theoretical or experimental nematology and adheres to strict peer-review policy. Other categories of papers include invited reviews, research notes, abstracts of papers presented at annual meetings, and special publications as appropriate.
https://www.exeley.com/journal/journal_of_nematology
About Exeley:
Exeley Inc. is a New York based company that focuses on offering innovative publishing services to Open Access publications worldwide. Amongst the technological solutions delivered, the functionalities include: responsive webpage design, full-text XML, integration with social media sites and performance metrics including altmetrics.
Exeley Inc.
https://www.exeley.com
---
Journal
Journal of Nematology