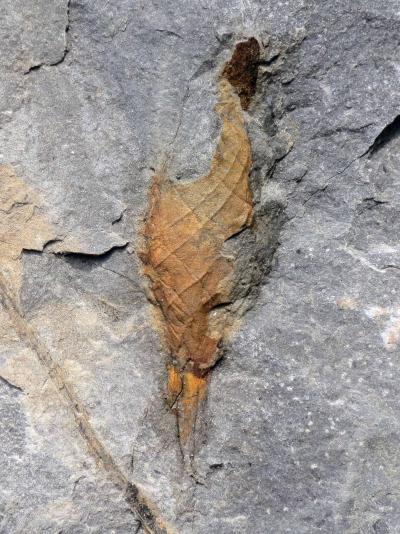 Sharks, swamps and a tropical rainforest teeming with life – it's not what comes to mind when you think of Yorkshire, England. But for the first time evidence of Doncaster's 310-million-year-old past, including a fossilised shark egg case, has been discovered in a derelict mining tip.
Some of the fossilised plants and creatures may even be new to science, and as well as the egg case, several horseshoe crabs and some previously unrecorded seed pods are amongst the finds. All had been preserved in rocks that formed within the coal and shale deposits in what is one of only a small handful of similar fossil locations left in the UK. The findings have been published in the international journal, Geological Journal.
Palaeontologist Dean Lomax, a visiting scientist at the University of Manchester's School of Earth, Atmospheric and Environmental Sciences, said: "The fossils unlock a window into a long distant past, buried deep beneath residents' feet. They are proof that parts of Yorkshire were once a tropical water-logged forest, teeming with life that may have looked something similar to today's Amazon delta, a mix of dense forest, lakes, swamps and lagoons.
"The shark egg case is particularly rare and significant, because it's soft bodied and an unusual object to find fossilised. We hope that future organised collecting of the site may reveal further rare discoveries, such as dragonflies, beetles, spiders and further evidence of vertebrates. And who knows, maybe we will even find the actual shark."
After visits to all the redundant pit tips by Lomax, along with Peter Robinson from Doncaster Heritage Services and local fossil collector Brian Williams, Edlington was identified as being the only tip in the borough where fossils could potentially still be collected, as all of the others have been landscaped and turned into parks.
Peter Robinson said: "For all three of us this site and the fossils we've discovered here are very close to our hearts. We are all locally born and bred and take great pride in uncovering, interpreting and preserving a very important piece of the borough's geological past. For me this site is particularly special as my father, Michael Robinson, was the National Coal Board's geologist for Yorkshire Main and it is his bore core samples and records which are helping us understand the geological layers that these fossils came from".
"We hope this important discovery will encourage ex-miners from the borough to bring forward and donate fossil specimens from the now defunct collieries, which were collected whilst extracting coal from the pit face. We have heard many stories of some of the wonderful fossils that have been found."
The fossils are being stored at Doncaster Museum where they have been integrated into the museum's fossil collection.
###
Notes
Images of the fossils collected are available on request.
Link to the paper: http://onlinelibrary.wiley.com/doi/10.1002/gj.2602/abstract
The plant fossils have been identified with the assistance of Dr Chris Cleal from the National Museum of Wales, a world renowned palaeobotanist. The research, storage and publication of the collection has been funded by Esmée Fairbairn as part of a two year project called C.I.R.C.A (Catalogued, Interpreted, Researched, Conserved, Accessible), to research and manage the museum's paleontological collections, which was completed in May this year.
Dean Lomax
Twenty-four-year-old Dean Lomax is a palaeontologist from Balby, Doncaster. He works on palaeontological projects across the world, specifically in Europe and the USA. He researches fossils writes books, articles and scientific papers, including descriptions of new species. He is an Honorary Visiting Scientist at The University of Manchester and is currently resident palaeontologist at Doncaster Museum & Art Gallery. He has appeared in national newspapers, radio and TV and is the author of the newly published book, "Dinosaurs of the British Isles". His passion for palaeontology stems from his interest in dinosaurs from early childhood. Follow him on Twitter: @Palaeo7 & check out http://www.deanrlomax.co.uk for more info.
Yorkshire Main
Yorkshire Main Colliery (originally Edlington Colliery), opened shortly after the first two shafts were sunk in 1909 and was mined continuously until it closed in 1985 at the end of the miner's strike. The mine was one of a number of deep mines where three coal seams were worked – the Barnsley Main, Dunsil and Swallow Wood seams. Just prior to closure there is some evidence to suggest that the deeper Parkgate seam was reached and prepared for coal extraction. The terrestrial and marine fossils found at Edlington Pit Tip derive from these mined seams and represent the waste material discarded from the processing of the coal.
---
Journal
Geological Journal